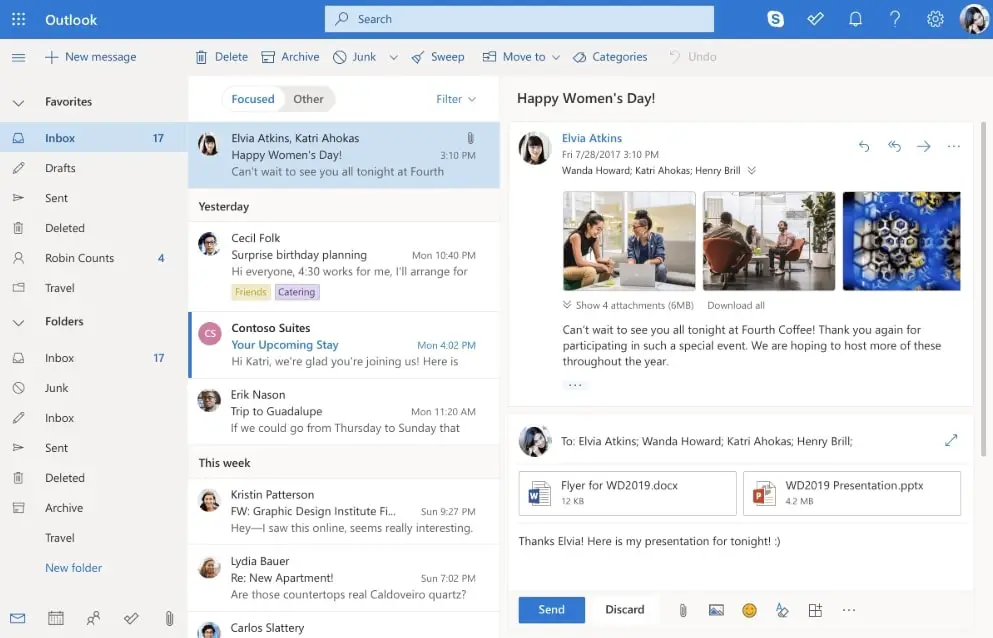 Note: This is a guest post written by Alan J
If you have ever been a part of the corporate work, then you must have encountered Microsoft Outlook. It is, without a doubt, one of the most popular email programs with over 400 million users across the globe.
It would not be wrong to say that Microsoft Outlook works wonders for corporations and individuals alike in the business world. Outlook helps a majority of individuals manage their email correspondence every day, however, many users never take the time to understand how to organize their Outlook and make it work better for them for optimal productivity.
In this digital age, we are aware of the fact that every individual is looking for effective ways to increase their efficiency and with a plethora of emails we are all trying to deal with every day, it can sometimes be nerve-wracking and exhausting to make use of its most powerful features. There are a variety of things you can do to at least maximize your productivity and take better control of your emails.
Take a look at the tips and tricks below to enhance the efficient use of this crucial email program.
Consider Organizing Your Emails into Files
Being a part of the corporate world means that your emails fall into a few broad categories. From crucial emails from clients to comment responses and emails from the admin like password reset and benefits info, and info related to upcoming campaigns and events- it can be frustrating and time-consuming to keep track of everything.
In order to streamline your email use, the first step should be taking time to organize them into different folders. One thing that you need to remember is that it can be daunting to separate a long list of emails into categories especially if you have an overflowing inbox.
Still, automatically filing emails into specific folders that are intuitive and easy to navigate makes the most sense for you. This is more likely to save you from the hassle of spending hours searching for that old email from your client among thousands of others. Needless to say, a list of streamlined folders will motivate you to go through each email as it arrives instead of procrastinating and putting it off until later.
There is a good chance that you are wondering how to organize your folder. Well, it is as simple as 1,2,3- all you have to do is create a New Folder by clicking on the main folder. Next, consider scrolling down to "Apply Rule" and choose "Move Messages From" and you are done!
Schedule Meetings More Efficiently Than Ever
Does the below-mentioned scenario ring a bell with you?
Boss: Totally blown away by all the ideas, let's discuss all of them in detail over call!
You: That sounds great! What is a good time to talk to you?
Boss: What about Friday at 3:00 p.m. sharp?
You: This Friday?
Boss: Yes.
You: Apologies, I have a commitment. Are you free on Saturday?
Boss: I have to go out on Saturday afternoon. What about Monday morning?
You must have experienced the pain of making failed attempts to schedule meetings with your boss and other team members. Not only is it extremely inefficient but it is infuriating as well. Rather than wasting time over trying to schedule a meeting, it is much better to respond to the initial email with a meeting request.
In case, the time doesn't work for both parties and it's an internal meeting, you can easily see when schedules align. But, if it's with someone outside your team, all you have to do is reply to them with "Decline and Propose New Time". This is one effective way to save a lot of your precious time and effort in back-and-forth typed out responses.
Recover Deleted Items
At some point in your professional life, you might have accidentally permanently deleted an Outlook item that you did not intend to send into the abyss. If have done this, then you must be fully aware of the terror associated with permanently deleting an important email.
Most of the Outlook users already know how to recover an email that has just been moved to the trash folder. But less do users know the way to recover messages that have been permanently deleted as well. In case you are lucky enough to have a Microsoft Exchange account, you are more likely to restore these emails because they are often available on the server. To recover email in no time, ensure that you are using the spectrum Bakersfield internet.
Ending Note
With the tips mentioned in this article, you can be on your way to simplify your email management while using Outlook. So, make sure you leverage these tips and tricks to increase your efficiency and productivity and manage your digital office with Outlook like never before!