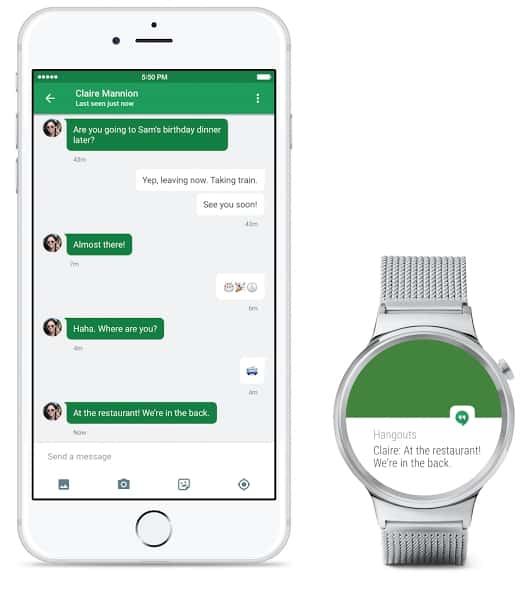 Apple Watch was out. But for most, it's too expensive and it only has 1 design (although you can get a different size and different types of bands).
Android smartwatches are varied and some of them are really affordable. The problem was of course, they could only be used with an Android smartphone.
Apple iPhone users were stuck with only an Apple Watch.
Notice that I used past tense on these last sentences. Because those remarks were all in the past.
As of today, you can now hold an iPhone on one hand and wear an Android watch on another. It's blasphemy and it's good.
According to a Google blog post earlier today, Android Wear watches will now work on an iPhone – though it will only support current and newer watches (such as the LG Watch Urbane). Suffice to say, future watches running Android Wear should be able to run on an iPhone.
Functionalities will obviously be limited, considering how Apple likes to limit you from accessing certain things but I'm sure it's good enough for notifications, and more.
According to Google, here are some of the things you can do:
Get your info at a glance: Check important info like phone calls, messages, and notifications from your favorite apps. Android Wear features always-on displays, so you'll never have to move your wrist to wake up your watch.
Follow your fitness: Set fitness goals, and get daily and weekly views of your progress. Your watch automatically tracks walking and running, and even measures your heart rate.
Save time with smart help: Receive timely tips like when to leave for appointments, current traffic info, and flight status. Just say "Ok Google" to ask questions like "Is it going to rain in London tomorrow?" or create to-dos with "Remind me to pack an umbrella."
This is a good day for Apple fans, especially those who can't shell out some cash for the pricey Apple Watch. Apple seems to be happy with the idea too because it gave a green light for the Android Wear on iOS app to appear on the App Store.