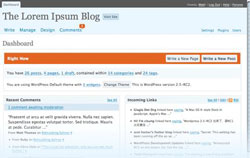 So, here is another of those WordPress 2.5 Review/Impression posts that you have already found lingering around the whole web :D Yes, it is big, at least on the Administration side of it.
If you are just a reader, you'll probably won't notice the change at all at your end.
If you are a WordPress blogger who asks "Should I upgrade to WordPress 2.5?", then read on!
The Update Process
I was using the Automatic Upgrade WordPress plug-in to update my WordPress version, so it was a very minimal effort :) I was a bit scared at first as usually leaving things to go automated would turn to a disaster. However, since I've made a post about this plug-in before, it feels wrong not to trust it as it will make me a hypocrite!
The plug-in didn't disappoint me *phew*. After a minute of clicking next, next, and next, my WordPress version was updated to 2.5!

 
First Impression
My first impression of version 2.5 was: "Wow". It's good. It's sleek. It looks as nice as the screenshots that have been lying around over the other blogs. Some bloggers hate the new look and the colors, but I like it so much. People are complaining that it takes time to get used to. Of course! Anything that changes will require you a bit of re-learn. It's not much. It's just that A is not under B anymore, but you'll still find the same feature there, if not more.
The Goods
It looks so good that I feel like writing more posts :) (P.S: You can change your color themes if you don't like the default one, which is called "Fresh".
Everything is laid out better than 2.3. It will take some time to get used to, but assuming you've never used WordPress before, 2.5 is more organized.
I like the new "Manage Post" screen. It gives you a nice overview of your whole posts and their statistics. With a glimpse look, you'll be able to find how many comments do posts have and also posts where you haven't put tags on (very handy!)

The new "Manage Post" Screen
The new "Gallery" feature rocks! I also love how the new uploading works. Previously, you have to browse through a whole mess of images to grab one to your posts. This time, it's all more organized and you can even filter to certain month and year to find your images.
I also like it how every post has its own Gallery of media (images, etc).
Built-in Gravatar! I can throw away my Gravatar plug-in after upgrading. However, enabling the Gravatar requires a bit of code snippet on your theme file (the comment.php). I'll put up a post on how to enable Gravatar on WordPress 2.5 soon.
It's supposed to be more secure. Of course, I don't usually really care about security updates, until it's too late.
Upgrading a plug-in is too easy now. On the plug-in screen, you can simply click on "upgrade automatically" and you'll skip the whole pain process of downloading, unzipping, and uploading the files to your server through an FTP client.
A bigger space to write posts. You can even go Full Screen! Nice.
The Bad
I always get an error of: "Specified file failed upload test" every time I've uploaded an image. Haven't tried to find out what this error means. Images were actually uploaded though and I could use it on the posts, so I'll just close my eyes on the error message.
 
Some plug-ins incompatibility. The important ones (to me) are compatible with 2.5. When I looked at the plug-ins screen, the plug-ins was all screaming for updates as soon as 2.5 were out. So make sure you update them first before upgrading.
I'm still not sure why changing the theme screen is still set as the default when you go to the Themes (or Design) menu. You'll probably edit your theme files more often than changing your theme. However, this is just a minor "wish list" to me.
That's it really. The updates are nothing serious toward the users end, but definitely are great for the post writers. A sleek interface and smoother experience of writing posts and managing libraries making an upgrade to this WordPress version a must! 
Before you upgrade yours though, please be sure that you have checked all of your plug-ins compatibility with WordPress 2.5 here. One of my plug-in failed to work properly, but I can't afford to wait anymore to upgrade to 2.5 :)