Plantronics Voyager Focus UC Review – The Voyager Legend UC (Unified Communications) from Plantronics is a great Bluetooth headset that gives you seamless listening and speaking experience on both a PC and a phone. It's, however, simply not designed for superior audio quality for music listening. It's for those who are always mobile, on the call, and prefer compactness/subtlety while on the move.
For music lovers, the good news is now here. Plantronics' new product, the Voyager Focus UC offers you the best of both worlds: superior audio quality (both for calls and music listening) and a seamless UC experience.
The Voyager Focus UC combines all the good stuffs from BackBeat Sense [design, quality, comfort], Voyager Legend UC [superior call quality through wind and noise cancellation on the microphone boom], and BackBeat PRO [active noise cancellation/ANC] into a single product. And I love it.
Plantronics Voyager Focus UC Review – Packaging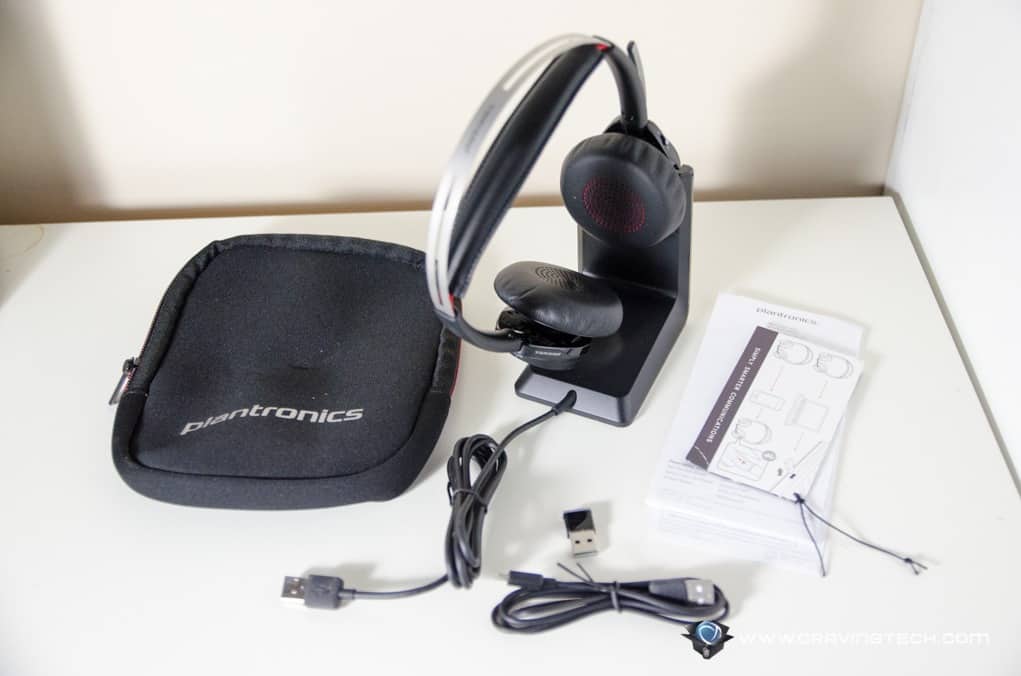 Plantronics Voyager Focus UC Review – Design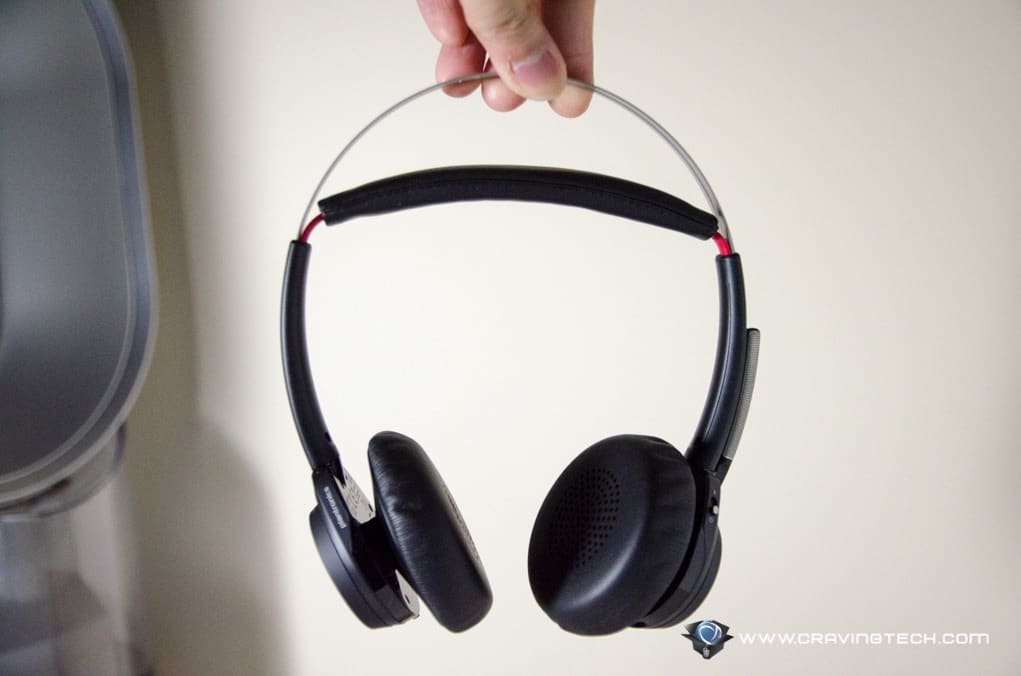 Borrowing the design from BackBeat Sense, the Voyager Focus UC is stylish and minimalist. With a mixture of black, grey, and red in different materials, the unit showcases a professional look for the office without looking bland.
The metal headband is durable and the ear cushions are soft and thick, giving you the extra comfort you need. I've tested wearing the headset for hours in the office and can vouch for the comfort.
The Voyager Focus UC weighs 155 grams, which is only 15 grams heavier than the BackBeat Sense, but it has an Active Noise Cancelling and a more superior microphone boom. The headset can also be worn either way [left or right], by pushing the boom to the other direction. The headset automatically switches the left and right channels accordingly, and the buttons' positioning is kept the same. Whichever way you prefer the boom to be, you've got it covered.
Charging the headset can be done via a traditional microUSB connector (good when you are traveling), or better, through the included charging cradle. The cradle can be placed on the desk to charge the headset when needed. Placing the headset on the cradle is straightforward and doesn't involve mocking around trying to find where the connectors connect with one another.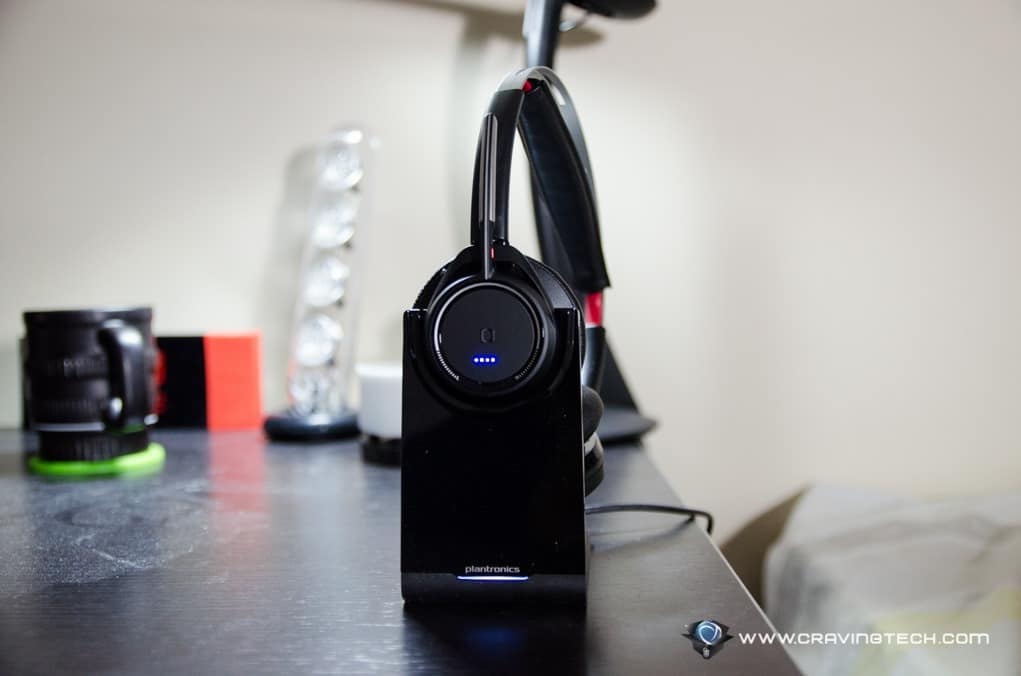 Plantronics Voyager Focus UC Review – Features
Unified Communication
With the included USB-dongle, simply plug it to an empty USB slot on your laptop or desktop. You can then voice communicate through your computer on supported applications like Skype or Lync, plus, it enables you to direct all incoming audio from your PC to the Voyager Focus UC.
Paired it to your phone (via Bluetooth 4.0) and the headset can smartly handle both alternately. For example, I can listen to a tune on my iPhone 6 and when I receive a notification on my desktop PC, the headset will pause my music and direct its attention to my PC. It then auto resumes my music. Or when I watch a YouTube trailer on my PC and a call comes through my phone, it knows what to prioritise so I can pick the call up seamlessly.
I've also tested playing a media (music, movie, etc) alternately between my PC and my phone with the headset connected to both. It switched its source between one and another perfectly.
Smart Sensors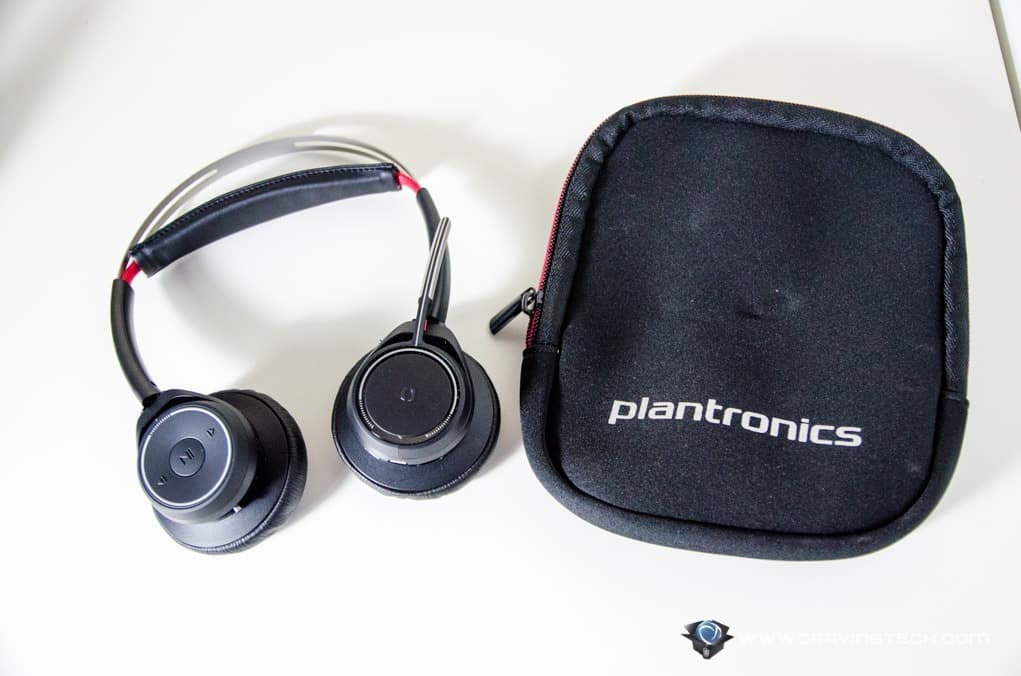 There are lots of automation through smart sensors within this lightweight headset. For example, taking the headset off will automatically mute the microphone during a call. Wear it back and it will unmute itself. You can always check the status from the USB dongle (red color means muted, etc) or turn these sensors on/off through the Plantronics Hub free app. Should you manually mute the microphone and forget about it, the device will warn you that the mute is still on when you are trying to speak.
If you are listening to music on your smartphone, taking the headset off will auto-pause your currently-playing track (like the BackBeat Sense). Wear it back, and it auto-resumes. Whenever it has to pause or resume a music, it even auto-fades (in and out) automatically. Neat.
There are also buttons and other controls located on the headset, so you can change the volume or other playback controls. You can also turn OpenMic on to hear your surroundings while listening to music.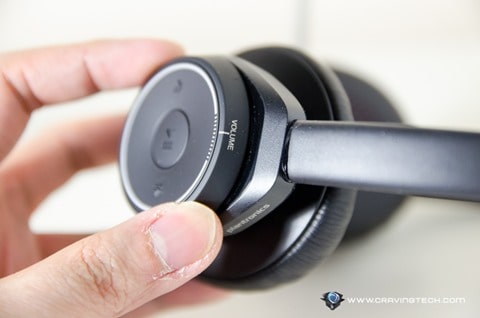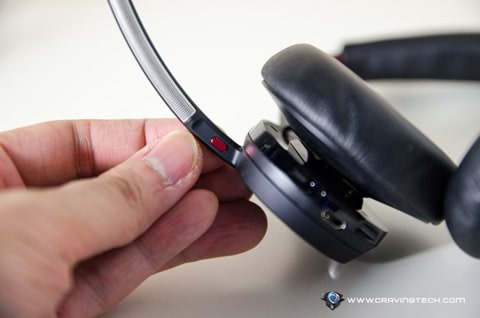 Active and Passive Noise Cancellation
Open plan office encourages collaboration and breaks down barriers such as walls and private offices. However, it can also be noisy, especially when you just need your own space to concentrate on your work. Or trying to hear one another on a phone call without the background noise.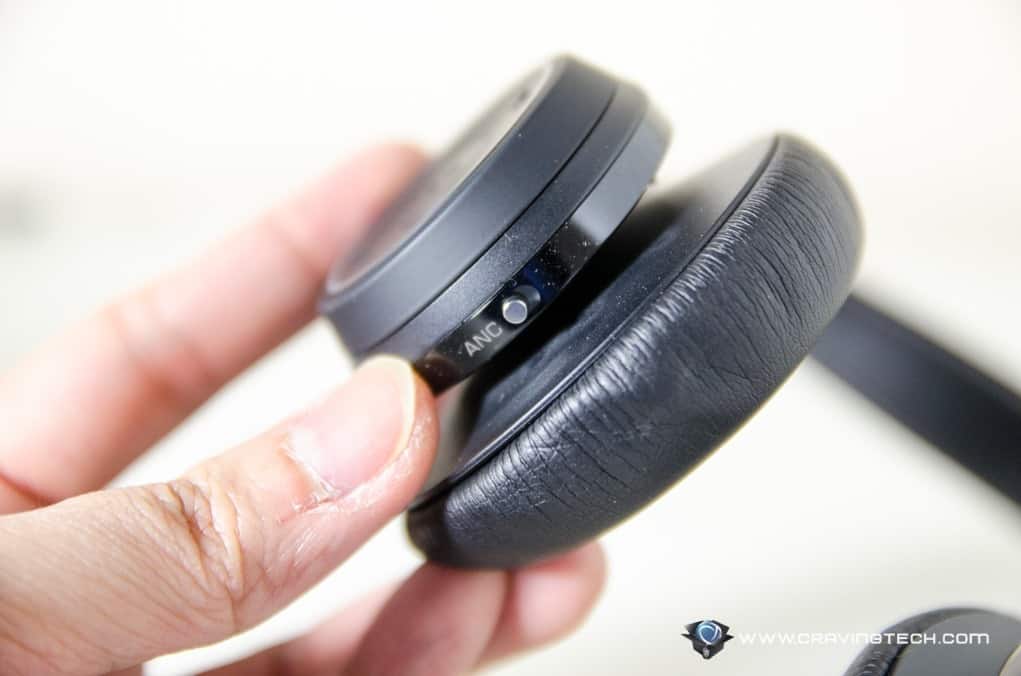 Plantronics Voyager Focus UC comes with Active Noise Cancelling feature that can be switched on and off. When it is switched on, it dynamically monitors different kinds of background noise and uses 3 microphones to cancel them out (in a nutshell). Certain noise in certain frequencies will be analysed and cancelled, such as our office's server fan noise, building's exhaust fan, and certain tone in conversations. As a result, I could really focus on what's coming through the headset – be it music or call conversations. It's a technology that makes the headset versatile in different situations. Though it should also work well on the plane, I was told that the BackBeat PRO's ANC was made better for handling airplane's engine noise.
We've actually tried a phone call inside a somewhat busy cafe and could hear the other end clearly. Even the caller was happy with how clear my voice is, thanks to all the technologies thrown inside.
Plantronics Voyager Focus UC Review – Conclusion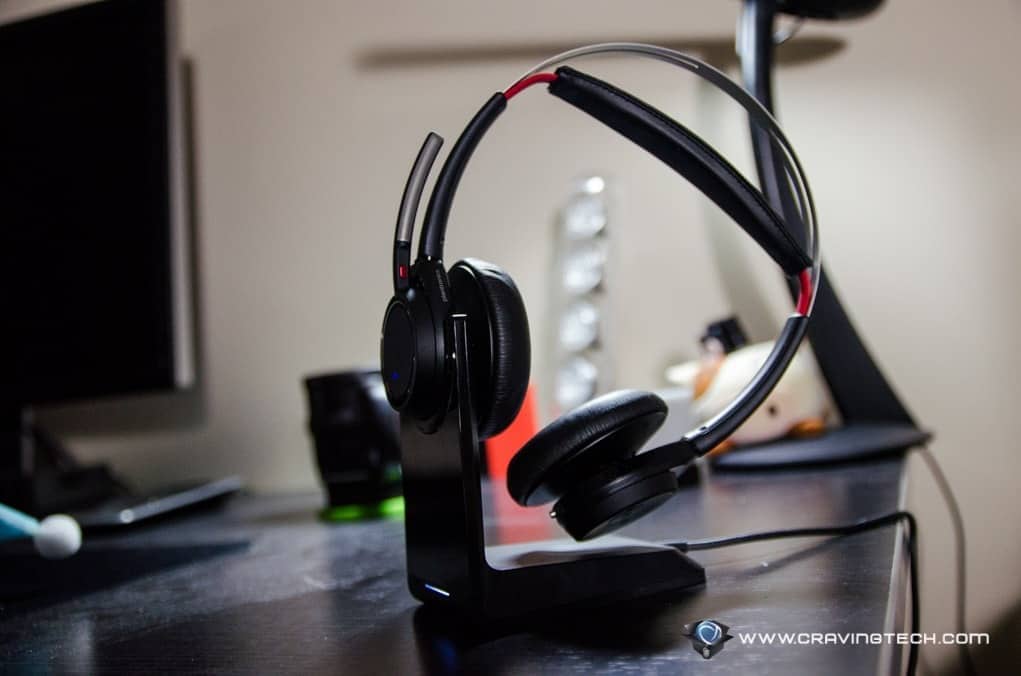 For personal use, owning a Plantronics Voyager Focus UC headset is like owning both a PC headset and a Bluetooth headset. For business use, what you get is a superior headset for high quality communications in whichever device you are on, plus an awesome headphones for media listening while you are not busy.
The behavior of smart sensors and manual controls may sound confusing for some at first, because they do different things at different times (for example, the mute button when on call turns into the OpenMic button when listening to media such as music). Thankfully, they work seamlessly and all the complex logic are being processed inside. All you need to do, is to wear and use it naturally.
The audio is crisp with a good amount of Bass, and if you turn ANC on, you can really get immersed in the music while you concentrate on work. I'm pretty happy to replace my Bowers & Wilkins P3 with the Voyager Focus UC.
Plantronics Voyager Focus UC has everything that you want from a headset. Oh, and I haven't even talked about how far the wireless range is (up to 45 meters). Or how cool it is to be able to just get up from my office chair, head to the kitchen to make coffee, while still listening to a funky tune and knowing that I won't miss any calls coming from either my phone or PC. Goodbye, pesky cables.
Plantronics Voyager Focus UC Review – Pros
+ Seamless, unified communications
+ High audio quality (both music and calls)
+ Comfortable to wear, lightweight
+ Carrying case included
+ Handy charging cradle, which also serves as a stand
+ Dynamic noise cancellation, identifies your environment and reacts accordingly to cancel noise
+ Good battery life; ANC auto turns itself off when you take the headset off your head
+ Smart sensors makes it natural so you don't have to remember all the buttons to press
+ Bluetooth 4.0
Plantronics Voyager Focus UC Review – Cons
– Prefer BackBeat Sense's case with pockets to carry the cables
– Wearing it outside with the microphone boom might look funny to some
– Require 2 USB slots, though you don't need to charge and use the USB dongle at the same time.
Disclosure: Sample was sponsored for the review but all opinions are mine