GravaStar Review – Speakers don't have to be boring. While sound quality is definitely the most important feature on a speaker, one should not forgo design and aesthetic.
The GravaStar from Zoeao is definitely the most sci-fi-looking Bluetooth speaker I've ever come across with. The alien-bot-looking speaker will definitely be the eye-catcher in the room, and hopefully, tickle your ears as well with its loud and clear sound, and a good bass thumping.
GravaStar Review – Packaging
Packaging is pretty simple and the box includes a USB Type-C charging cable and a 3.5mm audio cable to hook the speaker to a non-Bluetooth device. The wired connection option also allows you to use GravaStar to play games and movies on many media devices.
GravaStar Review – Design & Features
GravaStar Blutooth Speaker definitely looks like it's coming from the future, or out of this planet. Its design will appeal to those who love science fiction movies, or simply want a cool-looking speaker on the desk.
It's really amazing to see how detailed the GravaStar is at close, and every part of the body has been made perfect. An incredible craftsmanship.
The metallic body is made with Zinc Alloy Shell and according to Zoeao, the spherical body allows sound waves to resonate, which enhances audio quality.
With a 1.6kg weight and non-pocketable body, you probably can't really call it a portable Bluetooth speaker (even when you have folded back its legs), but you will not be disappointed should you decide to carry it outdoor with you.
The sound is clear, loud, and has quite a prominent bass. It's definitely powerful enough to deliver (20W) and at the same time, long enough to last (around 30 hours of battery time at 65% output).
Who doesn't love lights? Thanks to the large battery capacity, you can turn the lights on and off to enhance the mood party. The lights don't really do anything or sync to the music, but definitely make the GravaStar look cooler.
To my surprise, the GravaStar has a built-in DAC (Digital-to-Analog Converter) which is Kalimba DSP, a 80MHz RISC CPU & 80MHz
Qualcomm QCC3006 chip. Thanks to all these, GravaStar has an audio quality that does not disappoint at all, even if it's powered by a battery.
Now, I had my doubts when I had an offer to review this speaker. I mean, speakers should be.. speakers, right? The team should just focus more on making speakers that sound good and not on a cool-looking design. Thankfully, I was wrong because the GravaStar's sound quality and clarity are beyond my expectations when I tried it on for the first time.
The sound is room-filling (even when not at the loudest volume), vocal is clear, and the bass is punchy without hearing distortions (things that normally happen on a portable, Bluetooth speaker).
Apart from sound & looks, the team also equips the GravaStar with a touch screen interactivity where you can just swipe up and down to change its volume instantly. I'm honestly happy enough if they just provide a hard slider button, but hey, why not?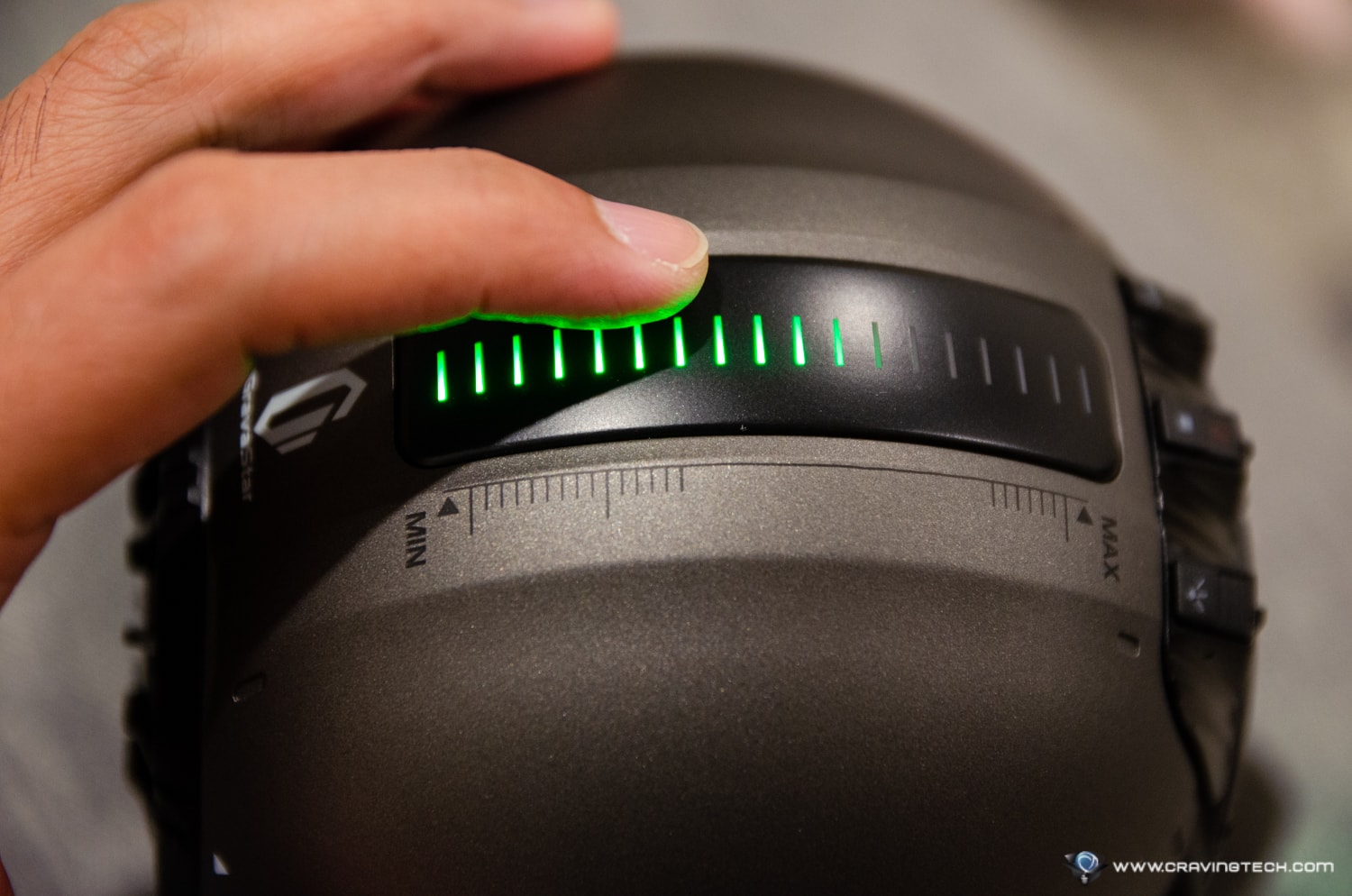 With True Wireless Stereo (TWS) feature, GravaStar can also be connected with a second speaker to give you stereo sound – though I honestly haven't tested this yet as I'm pretty happy with my music coming out of GravaStar alone. You can also purchase an extra GravaStar unit to create a robot army to conquer the earth pair them up together this way.
GravaStar Review Conclusion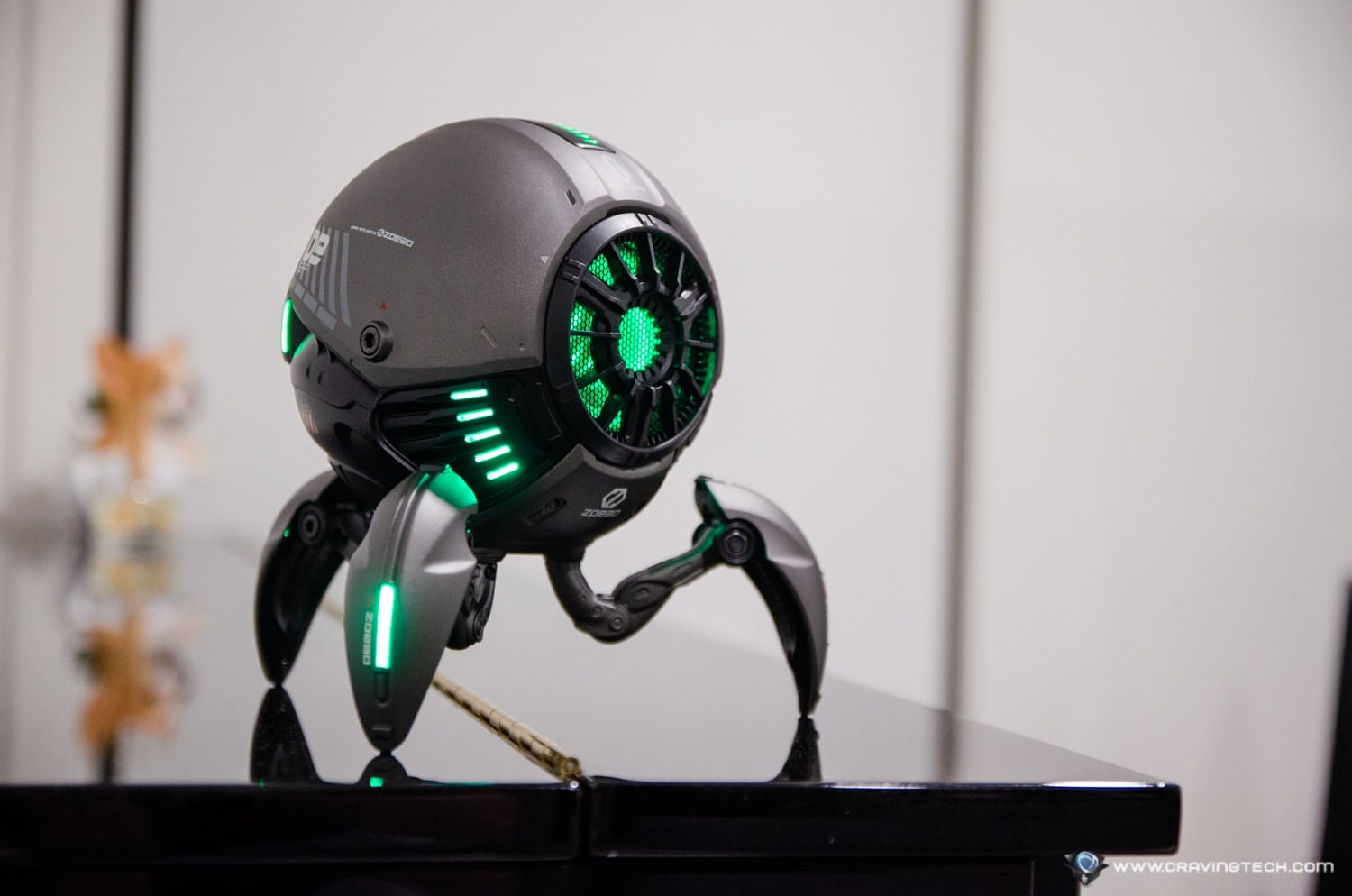 GravaStar breaks through many wrong perceptions about cool-looking Bluetooth speakers. It looks as good as it sounds, comes with long battery life, and more powerful than a traditional, portable speaker you've probably owned.
Its menacing and sci-fi design may not be for everyone, especially if you are looking for a simpler & more elegant design. But if you are after a cool-looking speaker to enhance your gaming room, or see jaw-dropping party guests, GravaStar will definitely not disappoint you – both eyes and ears!
GravaStar is at Indiegogo at the moment and has raised 731% more than its original goal by the time this review is written.
UPDATE: Check out the official site of GravaStar.
Disclosure: GravaStar review sample was supplied for reviewing but all opinions are mine and not paid