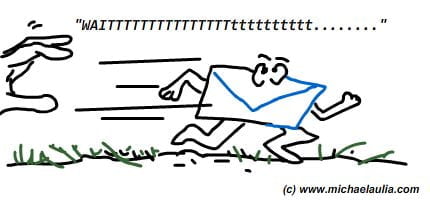 is probably the first word you say when you realize that you just sent an email that wasn't meant to be sent yet. Well some of you probably use a more "dramatic" word than that, but let's not go into it :)
If you are one of the few people who sometimes regret sending an email a few seconds after you click on that "Send" button, then you'll be pleased with the latest feature from Gmail: "Undo Send". This is an even better feature than Gmail's Goggle.
How does it work?
By enabling this feature, Gmail will hold sending the email for 5 seconds. If in those 5 seconds you press the "Undo" link, Gmail will stop the sending process and you can add your forgotten attachments or holding your hasty words back.
To enable Gmail's Undo Send feature, simply click on the Lab icon on the top of your Gmail's dashboard page.
Then, Enable the feature (just search for "Undo send" on your browser to quickly go to the feature).
Too bad that we don't have options yet to specify the delay (it's defaulted to 5 seconds now). From my past experience, however, a few seconds were all I need to realize how foolish and clumsy I am.
Source: Gmail's official blog.