Note: This is a guest post written by IT expert and Edimax Managing Director, Norman Hsu
Consumers are embracing mobile and wireless technologies in almost every aspect of their lives, which extends to protecting their homes and loved ones. Savvy tech companies have this corner of the wireless market on lockdown, offering smartphone-integrated security systems that allow you to secure your home via your phone from anywhere in the world.
Edimax Technology, one of Taiwan's leading tech innovators, has just increased consumer options in the wireless home security space with the launch of three wireless cameras.
These cameras were showcased as part of the Taiwan Excellence delegation at the recent CeBIT conference, and add to the company's pioneering suite of products and services.
IT expert and Edimax Managing Director Norman Hsu highlights the importance of staying up to date with security technology, pointing out that "older systems can be particularly vulnerable to attacks as hackers may have found their weaknesses. It's a good idea to invest in the latest systems for your own peace of mind".
Wireless security technologies have real-world, measurable implications, with the Australian Bureau of Statistics reporting that the number of burglary victims in Australia has decreased over the past five years.
Many home security experts are attributing this drop in burglaries to an uptake in homeowners using wireless security technology
With the landscape of home ownership changing in Australia (and worldwide), more and more people are long-term renters—a population that still deserves to protect their loved ones and valuable possessions.
Hsu highlights how wireless security systems make this protection more accessible for all. Wireless systems can be easily dismantled and reinstalled somewhere else; they're a perfect option for renters.
Whether you're a homeowner, a renter wireless security systems are a cost-effective, innovative way to keep tabs on activity around your home.
Here's your key to unlocking the top five wireless home security systems on the market.
[1] Edimax wireless cameras
Edimax Technology recently released three new home security systems that allow you to secure your house from your smartphone.
From a sleek yet simple wireless peephole camera to a plush monitoring system complete with fisheye camera and motion, temperature, and humidity sensors, there's an option for every budget.
IC-6220DC: a wireless peephole door camera that enables you to see, listen, and answer the door from your smartphone whether you are at home, in the office or on the road.
IC-6230DC: a wireless door camera that hooks securely over the door without screws or installation tools. Includes an advanced motion detection system with passive infrared (PIR) sensor, mobile push notifications and powerful night vision for clear imagery in the dark and low light.
IC-5170SC: integrates a full HD Wi-Fi fisheye camera with two door or window sensors, one PIR heat-based motion sensor and a temperature and humidity sensor. It can secure your property and instantly show you real-time events via your smartphone.
[2] BeOn Bulb
A smart bulb that features a battery backup that'll let the lights shine without power, a microphone that listens for your doorbell or burglar alarm, and a Bluetooth radio that syncs with your smartphone.
BeOn's bulbs also learn your usage patterns—let the system know you'll be out for the evening and the bulbs will automatically mimic your typical lighting changes to make it look like you're home.
[3] August Smart Lock 2.0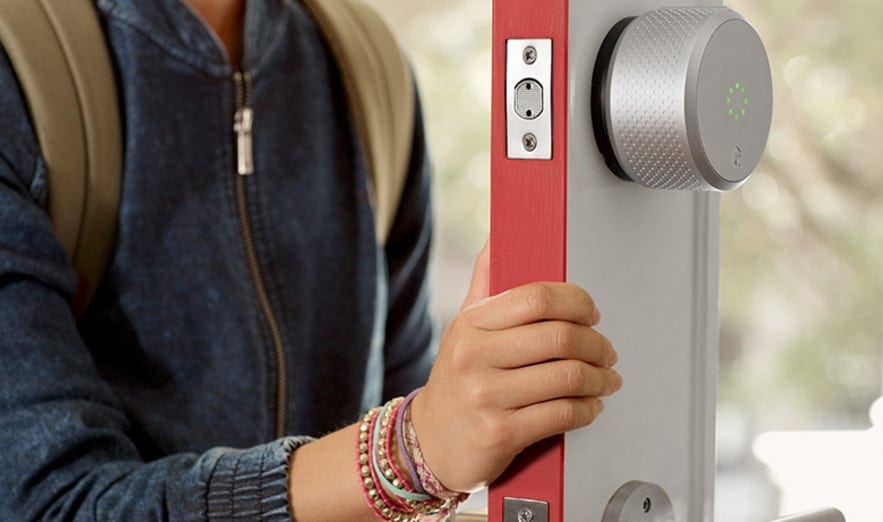 The second-generation August Smart Lock is a valuable improvement on an already successful product. The lock is larger than a standard doorknob but is still unobtrusive, and also retrofits to most deadbolts.
With a simple software interface, the lock is easy to install and it integrates with Siri via Apple's HomeKit software, as well as the Works with Nest platform, Logitech Harmony, and Comcast's Xfinity Home.
[4] Nest Cam
An indoor home security camera with 24/7 live video, 130° wide-angle view and all-glass lens that lets you look after your home in 1080p HD, day and night.
The Nest Cam sends alerts or snapshots to your nominated phone or email when it detects activity, and boasts a quick and easy setup (download the app and you are ready to go). Its built-in speaker and microphone also lets you talk and listen through the app.
[5] Salient eye
The top five's only free system, Salient Eye takes any camera-equipped phone or tablet with Android 2.2 or higher and converts it into an instant security device. You can opt in to texts and emails complete with links to photo evidence of what's happening at home, and has a siren that you can only turn off after you've entered your four-digit disarm code.
It also has a companion app, Salient Eye Remote that lets you arm and disarm the camera from a second Android device.
Automatic trash can is also a necessary gadget for your smart home.