CORSAIR HS65 SURROUND Review – CORSAIR makes great gaming headsets, both wired and wireless. And even on their more-affordable, wired headsets, they always manage to include something cool in. For example, the previous HS80 RGB Wireless headset I reviewed has a built-in Dolby Atmos support and it only retails for around A$179.
This time, the CORSAIR HS65 SURROUND, only retails for A$119 but it comes with Dolby Audio 7.1 Surround Sound and also SonarWorks SoundID technology to help you in customising the audio to your taste. If you are the type who doesn't know what to do with an EQ (Equaliser) like myself, you're going to love getting some help in tweaking your sound profile.
CORSAIR HS65 SURROUND Review – Unboxing and Packaging Contents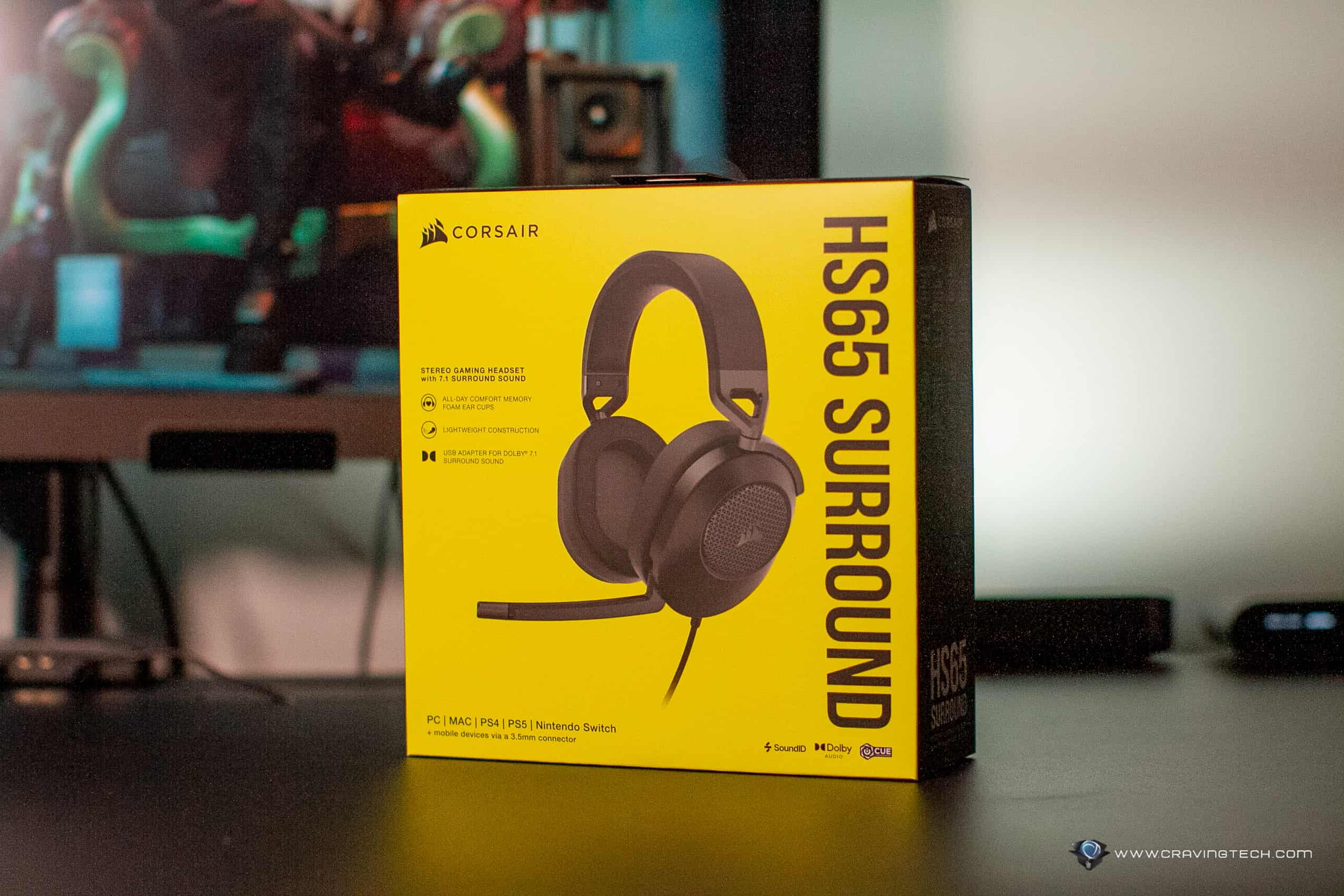 CORSAIR HS65 SURROUND Review – Design & Features
The CORSAIR HS65 SURROUND has a design that I actually really like. For A$119, I'm expecting a bland, all-plastic look on the headset which makes it look cheap. However, the HS65 SURROUND has unqiue combination of materials and slightly different colour (Black and Dark Silver/Grey). The external part of the earcups also have some nice speaker-grills alike with the CORSAIR logo being attached in the middle.
While it's not going to win the looks over CORSAIR's more premium headset like the Virtuoso RGB Wireless XT, I'm digging this. The headset also has lightweight aluminium-reinforced construction which increases its durability.
The microphone boom can't be detached or moved horizontally, so it is pretty basic in terms of use but I've had no problems in getting my voice heard. You do need to speak a bit louder because you can't wiggle the omnidirectional microphone closer to your mouth as it can only move vertically (up and down).
The memory foam ear pads are pretty comfortable. The headset overall gives a tighter fit so you get more passive noise isolation but the ear pads are large enough that they don't press onto my ears.
Volume control is located on the left side and it's very easy to reach. That's pretty much the only control you have on the headset which makes it simple to use. The rest of the options can be tweaked and changed through the iCUE software.
So let's get into the star of the show here: SonarWorks SoundID. Through a series of tests, iCUE can tweak the sound signature to suit your preference and you don't even need to understand sound channels and frequencies. This is done by you selecting a short song in a continuous loop and then picking whether you like A or B (or if you think they are the same). I can notice at times that one option has a heavier, punchier Bass than the other, or highlighting the vocals in the music. Obviously there are other things being tweaked behind the scene, but the process makes it simpler for you to pick how you want your headset to sound.
You can further tweak your SoundID later if you wish and you can't change some settings if you enable your SoundID.
I think it'd be good if there are game sound samples used for the SoundID personalisation (after all, this is a gaming headset), but for now, listening to music sounds good too.
Something that I also didn't expect when I was wearing the CORSAIR HS65 SURROUND is how good its audio positioning is. I've been playing Overwatch 2 with the headset and there were a lot of moments where I could hear flankers trying to overrun our defensive position. In a game at Eichenwalde, I could hear the enemy's Junkrat flying past through the choke point – which I then communicated to my teammates and dealt as Cassidy. At the same time, I could also hear Pharah's jet hovering above our position and we managed to take that threat quickly as well. I wish I could share some clips as usual but alas, Overwatch 2 beta doesn't support replay just yet so you'll have to take my words for it!
I love how the headset sounds (probably thanks to SoundID that tweaks the EQ to my taste) and can hear many sound details in the game that can win you matches for sure.
The Dolby Audio 7.1 Surround Sound is also cool and makes it feel like the sound are coming from around you in real life. If you like watching horror movies, you'd want to enable this mode on all the time. In games, this also makes it more immersive as if you are actually in the middle of a fight but if you don't like how it feels, you can just use the Stereo mode and it's as good.
CORSAIR HS65 SURROUND Review Conclusion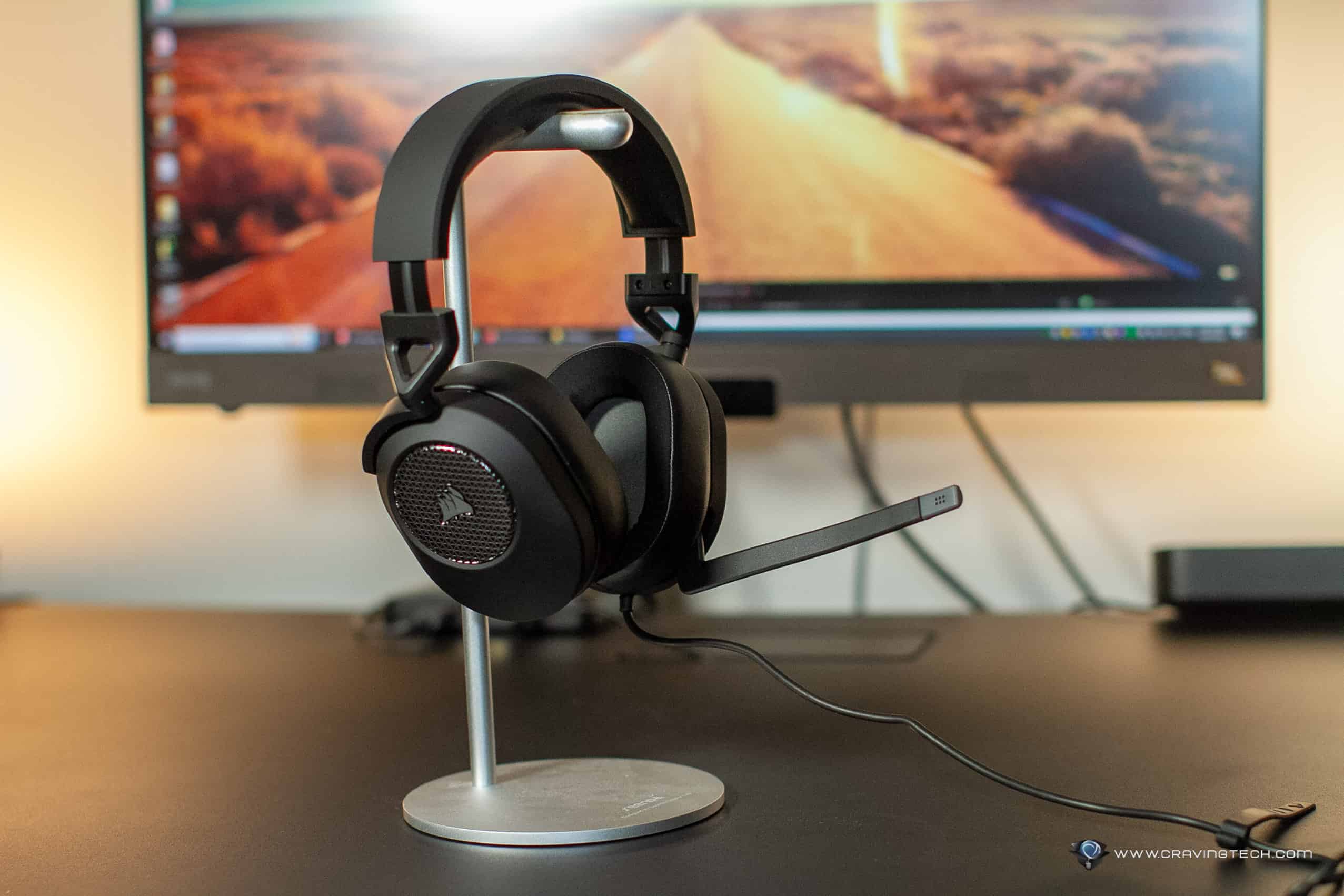 CORSAIR HS65 SURROUND doesn't cost a fortune as a wired gaming headset and it also comes with all the core features you want from a gaming headset. It has a really good sound profile with excellent audio positioning and details while playing games. Thanks to SoundID, you can also tweak the headset to your preference without having to understand sound channels and frequencies. You no longer has to select a "Bass Boost" or a specific preset because the process makes it easier to tweak everything.
For just A$119, you can get yourself a really good, CORSAIR wired gaming headset and this makes it an excellent gift as well for a fellow gamer.
Disclosure: CORSAIR HS65 SURROUND review sample was supplied for reviewing.
CORSAIR H65 SURROUND Review
Summary
A wired gaming headset from CORSAIR with excellent value overall
Pros
Looks pretty good for the price
Feels durable
Comfortable
SoundID helps you in tweaking the sound profile that suits your preference
Surround Sound
3.5mm option to connect to consoles and other audio devices
Excellent sound detail and positioning in games
Cons
Microphone quality is average, and is not flexible
Might be tight for those with bigger heads or with glasses
Headband material can easily show wear and tear after wearing the headset for a while