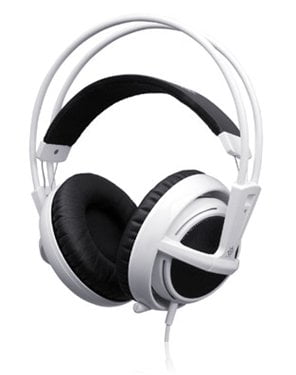 In a recent announcement early this month, SteelSeries has made its most popular headset, Siberia v2, to go "global". Now, you can enjoy one of the finest headsets (according to reviewers and users) on the PS3, Xbox 360, PC, Mac, and even on your Apple's media device like the iPad, iPhone, or iPod. I have received a confirmation that I"ll get a chance to review the Siberia v2 for iPad/iPhone/iPod so keep an eye on the radar when the review pops up at Craving Tech.
Check the official press release below from SteelSeries.
STEELSERIES INTRODUCES THE STEELSERIES 7H AND SIBERIA V2 HEADSETS FOR IPOD®, IPHONE® AND IPAD®
The Award-Winning Headsets Are Now Available in a Refreshed Design To Meet Apple® Performance Standards for Music, Mobile, and Gaming
HANOVER, GERMANY – CEBIT, Mar. 2, 2011 –SteelSeries, the leading manufacturer of premium audio peripherals and accessories, today announced that the award-winning SteelSeries 7H and Siberia v2 Headsets will now be available to music lovers and mobile gamers to use with their iPod®, iPhone® and iPad™. The alternative designs have been collaborated to meet Apple's performance standards; both featuring a single 3.5mm jack for combined audio and voice and an inline remote that controls audio and call controls. Each headset includes SteelSeries' signature features including original designs for long lasting comfort, optimized soundscapes, and a retractable microphone to be used while answering calls or stored in the left earcup while just listening to music.
"We're proud to announce the addition of our award-winning Siberia v2 and 7H headsets to the new SteelSeries line-up of audio options for the iPod, iPhone and iPad," said Bruce Hawver, SteelSeries CEO. "SteelSeries is bringing unique features like the retractable microphone system to consumers who want more out of their headset than what a set of typical earbuds can provide. Instead, we're offering full size, circumaural headset options that combine superior comfort and truly audio."
Featuring noise dampening leather earcups, the Siberia v2 is lightweight thanks to its trademark headband suspension. One of SteelSeries highest award-winning headsets, the Siberia v2, also features 50mm driver units with an optimized soundscape for entertainment including music, movies and gaming. For iPod, iPhone and iPad users, the Siberia v2 will be available in white with an MSRP of $99.99 / €94.99.
More information about SteelSeries' newest category of audio for iPod, iPhone and iPad users can be found at http://SteelSeries.com.
#########
STEELSERIES ANNOUNCES SIBERIA v2 HEADSET FOR CONSOLE GAMERS
The Award-Winning Siberia v2 Headset Will Provide Gamers With Superior Audio and Voice Functionality; Optimized Features For PlayStation® 3, Xbox 360®, PC and Mac Gamers
HANOVER, GERMANY – CEBIT, Mar. 2, 2011 –Kicking off CeBIT 2011, SteelSeries, the leading global manufacturer of gaming peripherals, announced today the new SteelSeries Siberia v2 for PS3®. The headset, which is also compatible with Xbox 360®, PC and Mac®, will provide gamers with superior comfort through its leather earcups and over-the-head, lightweight suspension; impressive audio reproduction with for optimal directional sounds; along with the convenience of independent audio/voice volume, and the new, multi-level settings of SteelSeries LiveMix™.
"Premium quality features and versatility for multi-platform gamers is what distinguishes our new headset apart from all the rest," said Bruce Hawver, SteelSeries CEO. "We've combined the comfort and superior soundscape of the Siberia v2 headset that PC and Mac gamers have come to praise and integrated it with original function and features like multi-level LiveMix for Xbox 360 and PlayStation 3 gameplay, creating the ultimate universal headset option for both computer and console gamers."
The lightweight SteelSeries Siberia v2 for PS3® features 50mm driver units for superior sound reproduction of the optimized gaming soundscape. The SteelSeries signature retractable microphone system picks up clear, unidirectional voice communication and can be easily stored in the left earcup when not talking with teammates and just listening to your game or entertainment.
Located on the cord, the SteelSeries Siberia v2 for PS3® features an in-line AudioMixer with controls for independent voice and game volume as well as SteelSeries LiveMix™ features. The in-line remote allows the LiveMix feature to be accessible to all platforms from Xbox 360 and PlayStation 3 to PC and Mac. Unique to the new headset, gamers will have the ability to select between four LiveMix settings from OFF to HIGH. The LiveMix levels range from OFF, which is unaltered in-game and voice sound to LOW (game sound is reduced by 5db when your teammates are talking), MEDIUM (game sound is reduced by 15db), to HIGH (game sound is reduced by 25db).  By providing optional levels of LiveMix, users will have the ability to control how much of the game sound they want to hear balanced over the voice communication.  By employing this method of reducing game volume, instead of increasing voice volume, the user is never subjected to higher volume than desired.
The 12ft cord includes a USB connection for power, audio, and microphone connection on PS3 and Xbox 360 as well as 3.5mm connections for PC and Mac connection. The Headset includes RCA cable connectors for analog stereo connection to the television.  For Xbox 360 compatibility, the headset includes the SteelSeries AudioMixer connection allowing for voice compatibility through the Xbox 360 controller, while other platform voice compatibility happens through the USB or 3.5mm connections.
The SteelSeries Siberia v2 for PS3® will be available starting in Q3 2011 for $119.99 / €119.99 MSRP.
###
Be sure to stay up to date with contests, promotions, and information on where to buy locations for these new headsets, online at SteelSeries' Facebook and Twitter pages.