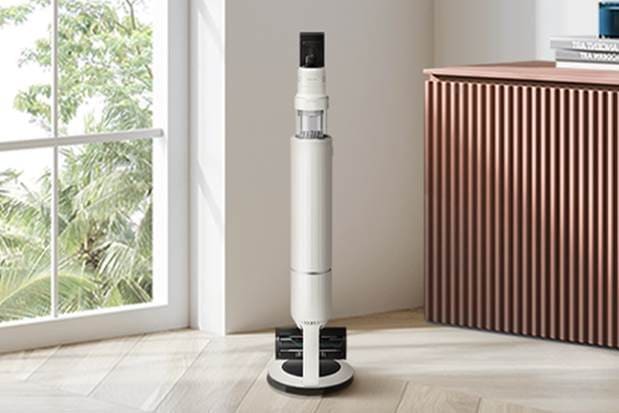 Samsung Electronics Australia is expanding its Bespoke Home line-up with the introduction of the Bespoke Jet AI premium cordless stick vacuum range. Bespoke Jet AI Vacuum is designed to enhance Australian lifestyles by delivering Samsung's most powerful suction, up to 280W, powered by the lightest stick motor on the market and double the battery capacity of its predecessor with up to 100 minutes of run time.
According to Jeremy Senior, Vice President of Consumer Electronics at Samsung Australia, the Bespoke Jet AI was developed based on consumer feedback. It features innovative AI technology that automatically adjusts suction while vacuuming different floor types, eliminating the need to change brush heads. Additionally, the vacuum's All-in-One Clean Station feature offers an enhanced dust management performance, with Air Spin Edge technology for efficient debris removal and a 99.999% Multi-layered Filtration System to trap fine dust.
The Bespoke Jet AI introduces an AI Cleaning Mode, enabled by Samsung's AI Optimum Tech, which detects brush load and air pressure to classify the floor type and automatically applies the optimal suction power and brushroll speed. This feature received AI verification from UL Solutions, a leading independent safety science organisation, highlighting its advanced capabilities.
The vacuum also offers SmartThings and Smart Wi-Fi connectivity, allowing users to customise their vacuuming experience and maintain peak performance through smart self-diagnosis functions.
The vacuum comes in 280W and 250W models and will be available via Harvey Norman from September 2023.
The Bespoke Jet AI comes in 280W and 250W models, and are now available for purchase through Samsung's Online Store, with nationwide availability via Harvey Norman starting in September 2023. The retail prices for the models are $1,599 (VS28C9769QG/SA) and $1,499 (VS25C9759QG/SA). Also available in Satin Greige colour.
To find out more, head off to Samsung Bespoke Home.