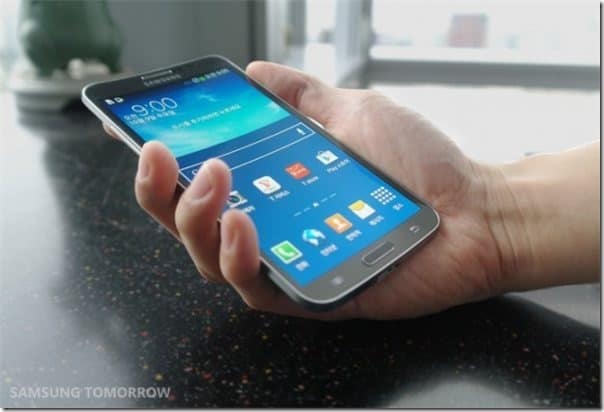 Remember the Samsung's ad to promote future flexible OLED display products during the CES 2013? Well, apparently we don't have to wait that long. Even though the new GALAXY ROUND does not look like the one in the ad, it does have…..a flexible curve with Full HD Super AMOLED flexible display, as reported by Samsung Tomorrow.
It has a similar design with the recently released Samsung GALAXY Note 3. It weighs about 154 grams with 7.9mm thickness. It also has a gigantic 5.7" screen and offers more comfortable grip, thanks to the curved display. It probably fits in the hand quite well, but I can't really comment on that unless if I give it a go myself. Not sure how it's going to fit into the pocket now, since it's curvy.
Samsung also introduces a new Roll Effect that can be triggered by pushing the phone down on one side's edge, enabling users to check for notifications, time, or battery (similar functionality to the universally magic Home button on other smartphones).
Samsung GALAXY ROUND is available tomorrow (10th of October 2013) in Korea with Luxury Brown option. Oh and by the way, this is the Samsung video ad I was talking about earlier.
Is Samsung innovating? Oh, yes. Is curved display useful though on a smartphone? I'm not too sure, but it would be really cool if you can fold your phones or tablets all the way one day into a small cube.