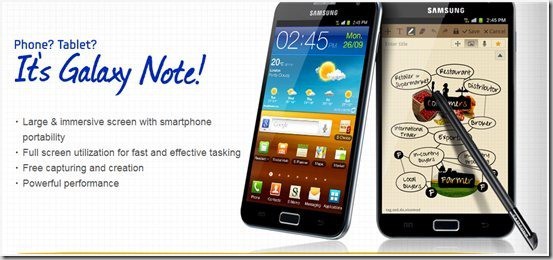 Samsung GALAXY Note is one of the latest smartphones (a mini tablet?) that gives you the core benefits of a tablet but also portability like a smartphone. The size stands in the middle between a standard smartphone and a tablet, making it the most portable tablet around (though at the expense of a smaller size).
Samsung GALAXY Note is powered with a 1.4GHz Dual Core Processor, 5.3" HD Super AMOLED Screen, 1080p Full HD video recording & playback, Android 2.3, 8 Megapixels camera (rear) and 2 Megapixels (front), and also the magic pen called the S Pen (an advanced smart pen).
The phone is also very thin and light, similar to the Samsung GALAXY Nexus, although the screen is of course much bigger.
The GALAXY Note has a 16 GB internal memory but the storage is expandable with a microSD (up to 32 GB). This way, you can buy multiple microSD cards, store different media in it, and then swap them around when you need to. This technically gives you an "unlimited" storage capability on the GALAXY Note.
I have been sponsored a Samsung GALAXY Note from Samsung as part of the Samsung Street Squad team (apart from the GALAXY S2 and GALAXY Nexus) and so far I'm loving it. The S Pen allows personalisation on your photos or any screenshots you took with the phone.
If you like to draw diagrams or sketches where ever you go, the Samsung GALAXY Note is definitely for you here. You can take a screenshot anytime by using the S Pen and then add your own sketches and personalisation on that screenshot. Then, simply share it on your social media through a few presses.
On the latest Fact Checkers Unit episode (FCU2), the Samsung GALAXY Note is used in the movie:
or you can also view my personal video that I made for the Samsung Street Squad team yesterday below:
What do you think of the Samsung GALAXY Note?
Note: This post is sponsored by Samsung