For the past year, I have spent countless hours in playing Overwatch, a game by Blizzard that won The Game of The Year 2016 Award. When we are talking about playing First Person Shooter (FPS) games like Overwatch, there are two things that affect your game the most. The first one is your skills. This includes muscle memory, precision, reaction and reflex, aim, good decision making, and creativity. The other one is your gaming devices, and particularly for FPS games, your mouse.
You need a high precision mouse that can give you the ability to execute your split second decisions perfectly and seamlessly. Then comes ROCCAT Kone EMP, a gaming mouse by ROCCAT.
ROCCAT Kone EMP Review – Packaging
ROCCAT Kone EMP Review – Design & Features
First of all, I have to say that visually, the mouse is very pretty with 2 LED illumination strips along the sides that are configurable to your preference.  But don't let the looks deceive you, as this pretty little thing is a force to be reckoned with. Its ergonomic design allows a natural grip and smooth movements. It is also coated with Pro-Grip surface for better control and I really love the generous thumb rest area. Secondly, The Kone EMP is perfect for gamers with medium to large hands and works great with a palm grip style.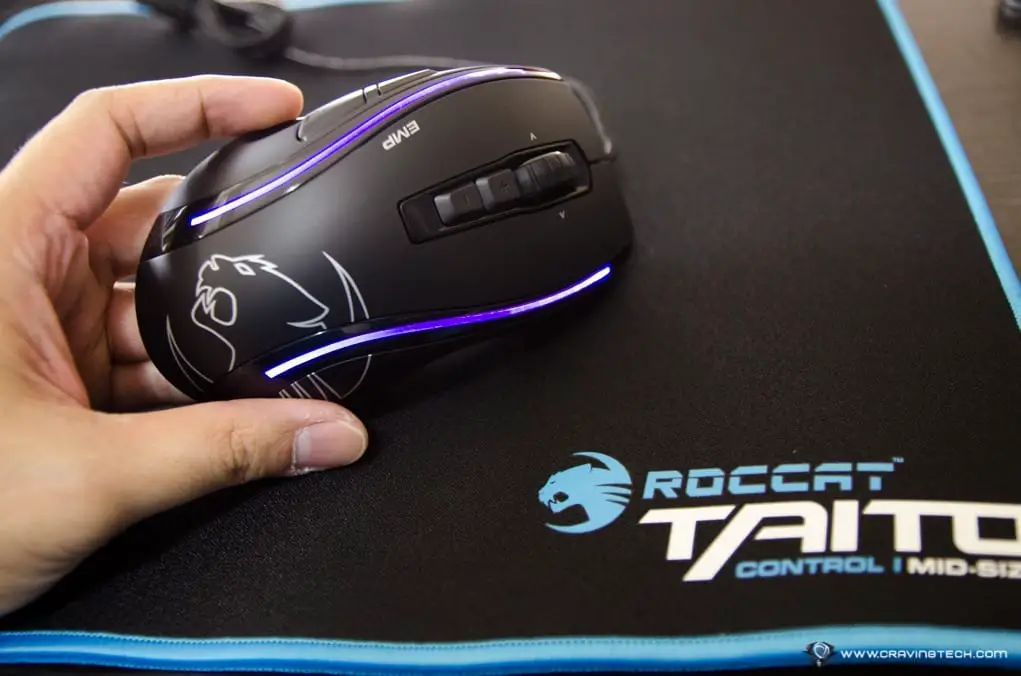 There are nine buttons on this mouse, but what intrigued me the most is the mouse wheel which in addition to scrolling up and down, you can also tilt it right and left, allowing opportunity for more customised controls.
The [+] and [-] buttons next to the wheel are also welcomed as they can be used to quick switch between a few DPI settings that you can define through ROCCAT Swarm (which we will discuss later).
I found that DPI quick switch is very useful especially in playing Overwatch where every Hero has their own style of play and capabilities.
Using Tracer in Overwatch for example, you would want to have a higher DPI settings to match her swift movement. However, when you are using a hitscan hero such as McCree, you would want a lower DPI settings for more controlled aim.
The Kone EMP uses an optical sensor from PixArt called Owl-Eye. This brand new technology allows mouse movements to be transmitted continuously, allowing better precision and a more natural movements. To those familiar with gaming sensors, this is a modification of the PixArt 3360 (which is a superior sensor on a gaming mouse) dubbed the PixArt 3361.
The ROCCAT Kone EMP is supported by ROCCAT Swarm that you can easily download from their website. It serves as the driver for the mouse but also unlocks all the customisations and advanced options on the Kone EMP.
Some settings that I found very helpful are:
DPI switcher, which can hold up to five different DPI settings
Button assignment screen which also implement the Easy-Shift technology allows you to define the secondary function of each button.
Illumination settings under the advanced settings
Macro manager that allows you to define custom controls for various games
Profile manager in the unlikely event you are sharing your gear with another person.
To accompany The Kone EMP, I also had the privilege to try the ROCCAT Taito Control Mid Size mouse pad.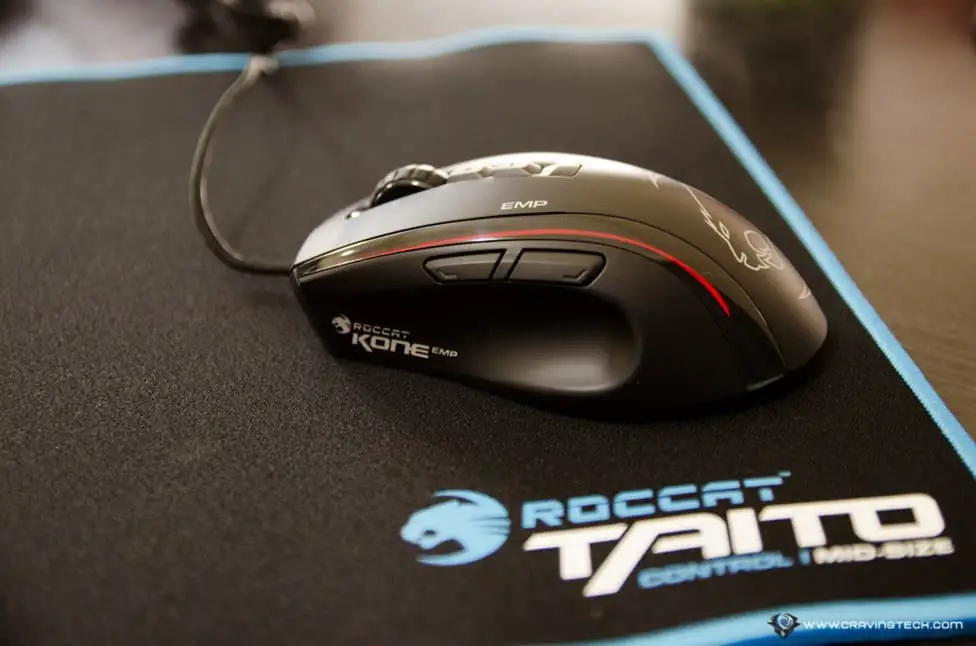 This mouse pad is 400 mm x 320 mm in size and it is actually perfect for me. I have always liked larger mouse pads as I normally play with a smaller sensitivity and DPS settings, it gives me the ability to make wider mouse movements. However, if this is too large for you, you can get the mini-size version which is 275 mm x 220 mm.
The bottom side of the Taito Control 1 has a tight grip on the surface of your desk ensuring that it does not move around.
This mouse pad is definitely a great complement to The Kone EMP.
Finally, after switching to ROCCAT Kone EMP, I have a better control and precision in executing my in game decisions. The Taito Control mouse pad is also a great addition to my gaming arsenal, taking my game to a whole new level!

ROCCAT Kone EMP is available now in Australia and can be purchased for A$99 at major retailers like Scorptec. For smaller hands under 100 grams, stay tuned as we'll also be reviewing the Kone Pure Owl-Eye.
Disclosure: Sample was supplied for reviewing but all opinions are mine