Note: This is a guest post written by Harry Collins – Oukitel, a world-renowned mobile device brand, is pleased to announce the launch of their latest masterpiece – the Oukitel OKT3 Tablet! As a powerful and cost-effective tablet, Oukitel OKT3 combines advanced hardware specifications and excellent software performance to bring users an excellent experience. What's even more surprising is that OKT3 will be launched during the AliExpress 618 promotion, and it will only cost $149.99! This is a rare opportunity not to be missed!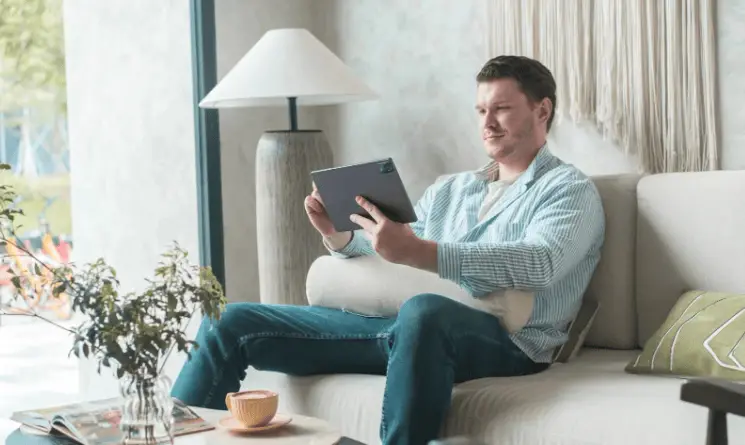 Appearance and Display
In terms of appearance, Oukitel OKT3 uses exquisite hardware + plastic hot-melt shell material, which perfectly combines sturdiness and aesthetics. The size is 246.4*161.51*7.4mm, and the weight is only 510 grams, which is light and easy to carry. The 10.51-inch LCD display is equipped with full high-definition (FHD) resolution, providing users with clear and delicate visual enjoyment. The touch screen adopts advanced Incell multi-touch technology, which is responsive and smooth in operation.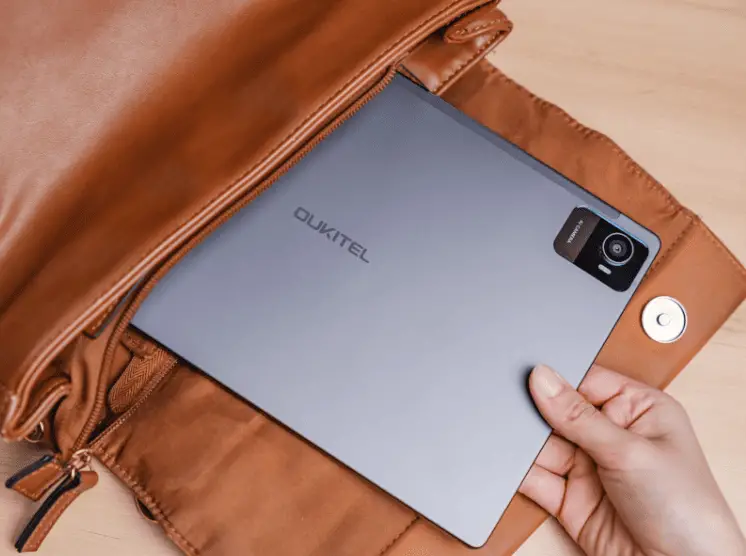 Excellent performance
Powerful processor, smooth experience
Oukitel OKT3 is equipped with powerful Spreadtrum T616 dual-core A75 2.0GHz + hexa-core A55 1.8GHz processors, allowing you to enjoy unparalleled running speed and smooth multitasking capabilities. Whether it's watching high-definition videos, playing games, or handling office tasks, OKT3 can handle it with ease.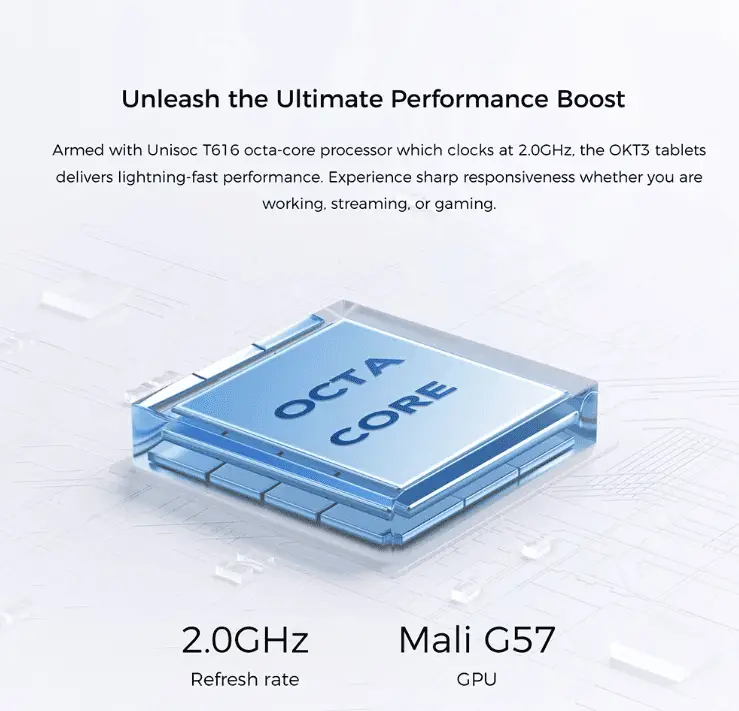 Massive storage, enjoy playing
Oukitel OKT3 has built-in 8GB DDR memory and 256GB EMMC storage space, OKT3 provides a large-capacity storage space, allowing you to save your files, pictures and videos at any time. Play without worrying about running out of storage space!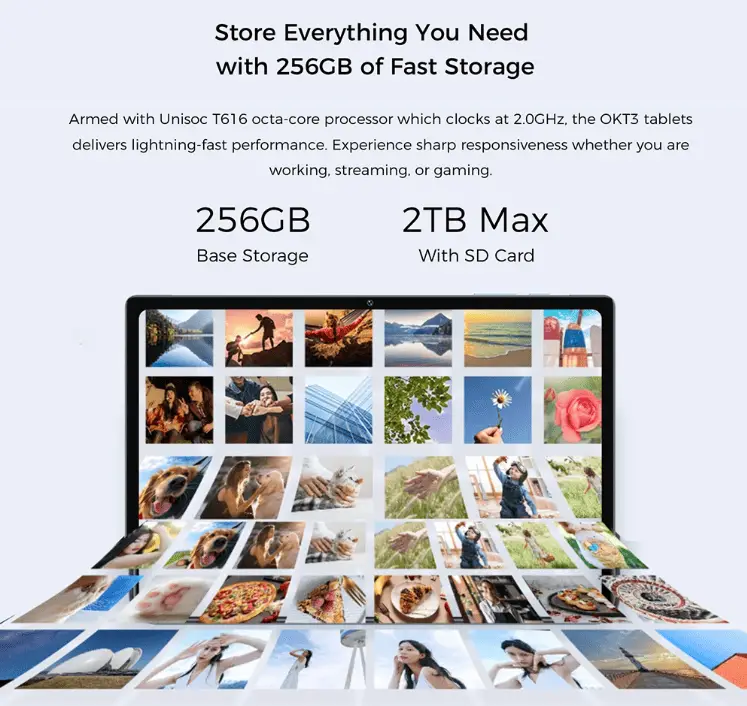 High-definition camera, record beautiful moments
Oukitel OKT3 tablet front camera with fixed-focus 8MP lens lets you look your best in selfies and video calls. The rear camera is equipped with an auto-focus 16-megapixel lens, which can capture more details and record your beautiful moments.
New Android system, strong support
The Oukitel OKT3 tablet is equipped with the latest Android system—Android 13.0, which brings users a smoother and more stable operating experience. Users can easily access Google, Chrome, Gmail, Maps, YouTube, Photos and many other applications to meet various daily needs. At the same time, OKT3 also supports multiple languages, allowing users to switch and use freely.
Multimedia entertainment, ultimate enjoyment
The OKT3 tablet computer provides extensive multimedia support and supports multiple video formats, such as H.264, MPEG4, H.263, VP8 and VP9, allowing you to enjoy watching high-definition movies at any time. In terms of audio formats, it supports MP3, AAC, AAC+ and AMR-NB, etc., allowing you to listen to music and podcasts. In addition, OKT3 also supports a variety of common image formats, such as JPG, JPEG, GIF, BMP and PNG, allowing you to enjoy and share wonderful photos at any time.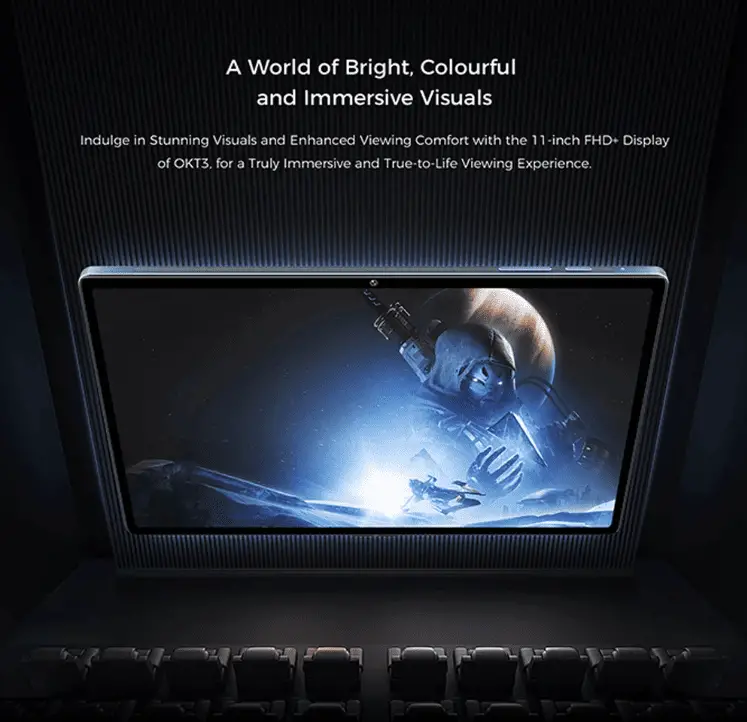 Office tool, improve work efficiency
Oukitel OKT3 tablet also has built-in commonly used office software, including EPUB, WORD, EXCEL, POWERPOINT, PDF and TXT, etc., allowing you to view and edit files at any time during mobile office. Whether processing emails, creating reports or viewing e-books, OKT3 can meet your various office needs.
Stable and reliable environmental adaptability
Oukitel OKT3 Tablet PC has a wide range of environmental adaptability. The working temperature range is 0-45 degrees Celsius, and the working humidity requirement is 10%-90% non-condensing. The storage temperature range is -10~60 degrees Celsius, and the storage humidity requirement is 5%-90% without condensation. Regardless of extreme temperature or humidity conditions, OKT3 can operate stably, ensuring data security and device reliability.
All-round connectivity, unlimited possibilities
Oukitel OKT3 supports multiple connection methods, including Type-C data connection, which can be easily connected to PC or external devices; Type-C charging interface, which supports fast charging, allowing you to save time and play more; it also supports WiFi and Bluetooth functions , can quickly connect to wireless networks and external devices, providing a more convenient experience.
Stable battery life, long-lasting companionship
Oukitel OKT3 is equipped with a high-capacity lithium battery with a capacity of 8250mAh, providing up to 6 hours to 10 hours of battery life. Whether you're on the go, at work, or at home, you'll enjoy long-lasting battery life without frequent recharging.
In addition, OKT3 has also obtained third-party certifications such as FCC, CE and ROHS to ensure that product quality and safety meet international standards. Whether in terms of appearance design, hardware specifications or software support, OKT3 has demonstrated the professionalism and exquisiteness of the Oukitel brand.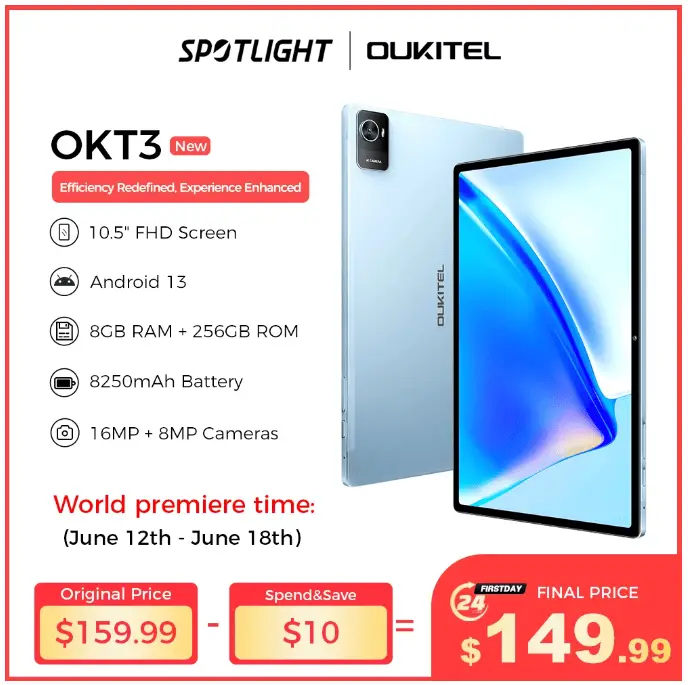 where to buy
The Oukitel OKT3 Tablet will be on AliExpress World Premiere Promotion starting June 12th. During the event, the tablet with a normal retail price of US$249.99 is on sale at a discounted price of US$149.99. If you buy OKT3 during the 618 AliExpress promotion, you can not only get a great price discount, but also enjoy the high-quality and reliability. Act now, go to the AliExpress website to snap up OKT3 tablets, making your life more convenient and enriching! In addition, use the following exclusive code: OUKITELOKT3 ($20) to get a bigger discount! The promotion period is from June 12th to 18th, don't miss it!
For more details on these exciting products, visit the official Oukitel website.