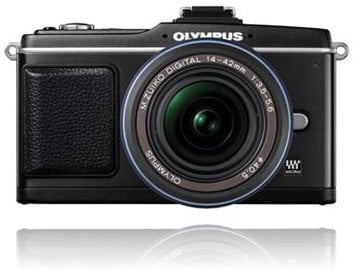 A digital camera that delivers a digital SLR performance and quality in compact size? That kind of news always interest me. It seems that nowadays, lots of digital camera vendors are heading toward that direction: to provide a DSLR quality camera in compact mode.
The PEN E-P2 is also an interchangeable lens digital camera, so you'll be able to "customize" it as you take pictures in different environment and settings.
Below is the official PEN E-P2 press release from Olympus.
The digital camera market continues to transform with the launch of the new Olympus PEN E-P2. Delivering high-resolution digital SLR image quality in a compact size synonymous with the Olympus PEN E-P1, the Olympus PEN E-P2 boasts enhanced usability with the addition of a VF-2 Live Viewfinder and new creative Art Filter effects to encourage creative expression for both still photography and movie capture.
The Olympus E-P2 is the latest member to join the Olympus PEN camera range. Building on the innovation and creative capabilities of the E-P1, this new model similarly eliminates the traditional digital-SLR quick-return mirror and uses a SLR-sized image sensor. This results in a radically compact and highly portable interchangeable lens camera that takes superb SLR quality pictures.
VF-2 Live Viewfinder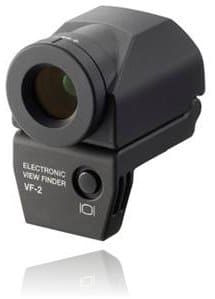 A new detachable high-definition VF-2 Live Viewfinder that is included with the E-P2 takes the PEN shooting experience to a new level with its superbly clear 1.44 million dot resolution and a 100 per cent field of view. This new electronic viewfinder allows you to see real-time previews of selected settings before taking a photo and is especially useful for bright outdoor shooting. With a sophisticated optical design that utilises aspheric lens elements, distortion is minimal and live picture quality is outstandingly clear across the entire viewing frame. The VF-2 attaches to the E-P2 body via a new accessory port.
Expanding the range of Art Filters to eight with an additional two new filters, the Olympus E-P2 encourages you to express your creative genius in both still shooting and movie capture modes. Making it easy for virtually anyone to take more creative photos, the new Diorama and Cross Process filters allow you to recreate effects reminiscent of those achieved through selective focusing with a tilt-lens and traditional film processing methods.
A new picture mode, i-ENHANCE, works to ensure the key photographic subject stands out with exceptional clarity and presence. i-ENHANCE can also be used in iAUTO mode for users who prefer easy fuss-free automatic exposure photography, popular on the Olympus range of compact digital cameras. The Olympus PEN E-P2 also offers HD movie recording at 720p resolution with CD quality stereo sound, and the ability to apply Art Filter effects to movie capture.
Olympus' Product Manager, Ray Okubo commented: "Just like the Olympus PEN E-P1 launched earlier this year, the Olympus PEN E-P2 is set to revolutionise the digital camera market. Its sophisticated and stylish form complemented by the latest innovative features is set to give both beginners and more experienced photographers the chance to take their photography skills to a completely new level."
Key features:
Iconic, classic design: Mirror-less design for light, go-anywhere portability with metal exterior for a premium, high quality feel
Effortless creativity for powerful images: Shooting functions include an expanded range of eight Art Filters, including the new Diorama and Cross Process filters and an i-ENHANCE Picture mode that make the key photographic subject standout with exceptional clarity and presence. Like the PEN E-P1, the Olympus PEN E-P2 offers HD movie and CD quality linear PCM audio recording with the ability to apply Art Filter effects to movie recordings
New accessory port expands possibilities: In response to feedback from many PEN E-P1 users the new Olympus PEN E-P2 includes a new accessory port enabling the use of the VF2 – a detachable high-definition Live Viewfinder
Even easier to use: A live control icon display allows for easy, intuitive selection of camera settings, while Continuous-Tracking AF makes focusing on moving subjects easier than ever
Built-in Image Stabiliser: The E-P2 features a sensor-shift image-stabiliser (IS) built into the camera body that is effective up to 4 shutter speeds for handheld photography. Image stabilisation can be applied to almost any lens mounted to the camera body, inclusive of Micro Four Thirds and Four Thirds types lenses (via the MMF-1 lens adapter) without lens-based IS capability, and even non-dedicated lenses such as legacy OM (via the MF-2 mount adapter) and other brand lenses (via suitable third-party lens mount adapters).
The Olympus E-P2 will be available in a stylish black finish with a stainless steel and aluminium clad body. Scheduled for release in Australia in December 2009, pricing is yet to be announced. For detailed product and accessory descriptions, please visit www.olympus.com.au.