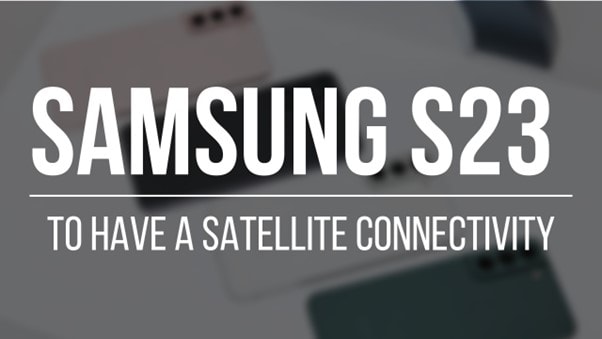 Note: This is a guest post written by Jeeva Shanmugam
Apple often revolutionizes the tech industry with its incomparable products or features indeed, Apple again set its trademark with the launch of satellite connectivity features throughout its iPhone and Apple Watch lineups.
It is natural that Android manufacturers copy Apple's features and business moves, whether it is a good or bad business decision Android will copy it from Apple like how they take out the charger from the box and sell it separately, but say it to save the environment.
Either way, replicating good features is always welcome, Android makes the feature available on all budget ranges and enables accessibility to even poor people who can't afford to buy an iPhone.
Similarly, To provide access to 24 satellites for emergency communication instead of cellular networks, Apple teamed with Globalstar and provided $450 million in funding. It turns out that Samsung is following Apple's lead and developing the same technology with the Galaxy S23 series set to launch in a few months, there are rumors that Samsung may take inspiration from the iPhone 14's satellite connectivity.
Satellite connectivity is being discussed for the Samsung Galaxy S23 series
In order to set up satellite communications features for the next Galaxy S23 series, it has been reported that Samsung is actively coordinating with Iridium Communications. 66 Low Earth Orbit (LEO) satellites operated by Iridium Communications provide consumers with calling and data services.
Samsung looks to aim to use the satellite connection in the Galaxy S23 series for more than simply Apple's emergency SOS, with the goal of transmitting data such as text messages and low-capacity photographs at hundreds of kbps.
While Huawei is collaborating with Beidou satellites to deliver satellite connection to the Mate 50 Pro series, Apple teamed with Globalstar for its iPhone 14 series. It makes perfect sense for Samsung to include the revolutionary feature in its forthcoming flagship series, which is expected to launch in February of 2023.
The Samsung Galaxy S23 Ultra is also said to include a new fingerprint sensor. Samsung will make use of Qualcomm's third-generation 3D ultrasonic fingerprint sensor, claims @RGCloudS on Twitter. It goes without saying that increased speed and precision are anticipated. This version may additionally have the 3D Sonic Max sensor's larger scannable region, which is occasionally used.
I see large antennas are needed and pricey satellite connectivity for smartphones in order to support voice calls and high-speed data transfer. The integration of a big antenna onto the smartphone is challenging since smartphones have become thinner over time.
So, tech giants have to figure out a way to integrate Antennas into a smartphone or they are in a situation to innovate a new piece of tech that can replace the current antennas used in smartphones.