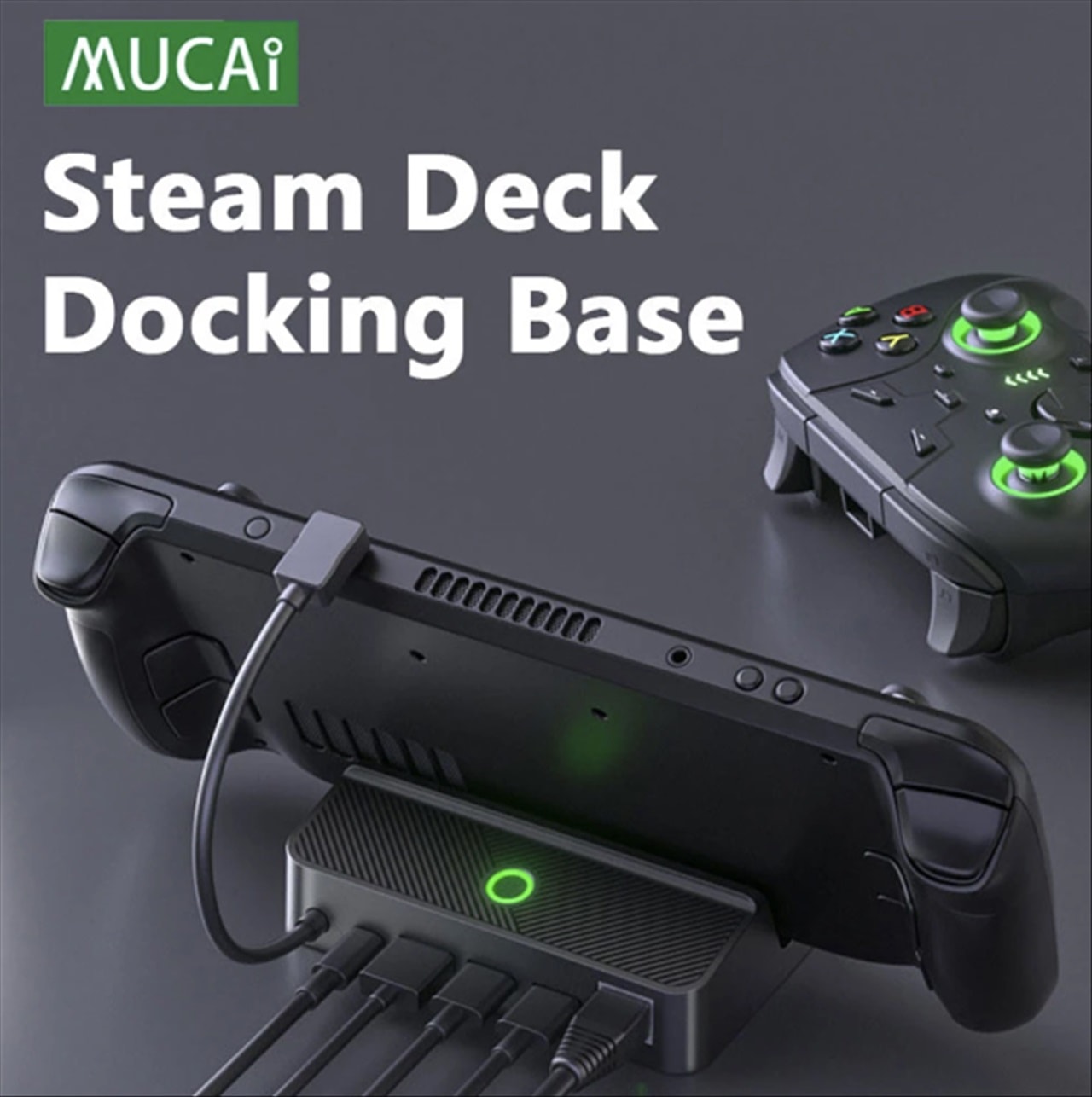 Note: This is a guest post written by Larry Hopkins
The SteamDeck docking station of the manufacturer MUCAI is currently enjoying a historically low discount of -44% on the AliExpress platform, only selling for $19.99.
It is reported that MUCAI's SteamDeck docking station has a 5-in-1 port slot: 1 USB 3.0 port (or choose a 1000Mbps RJ45 jack, the promotional price is $30.99), 2 USB 2.0 ports, 1 can support 60Hz 4K resolution HDMI 2.0 port and a fast-charging USB-C port. Not only that, but this model also reserves enough space to accommodate a mouse, keyboard, and even a high-definition camera. Supports Steam Deck, Switch, Phones, Tablets, and Laptops.
Performance And Features 
Steam Deck TV Stand
The TV stand is specially designed for Steam Deck, equipped with 4K 30Hz HDMI output, USB Type-C PD charging port, and 2 USB 2.0 (2 options: USB3.0*1 or 1000Mbps RJ45 jack) data ports. You can also enjoy playing video games on your TV while your device is charging.
4K 30Hz HDMI Output
The dock has a 4K HDMI output, the dock can project game pages from your Steam platform to your TV or monitor. Gamers will have a better gaming experience when playing games on the big screen.
Steam Deck Fast Charging
The base supports a maximum of 100W, enough to charge your Steam Deck, it is recommended to use the original AC adapter, the maximum charging speed of Steam Deck is 45W.
Hub and Stand in One
The docking station combines the functions of a hub and a stand and can be used with your case. You don't need to buy extra hubs and stands for your Steam Deck, which not only makes it easier to project on your monitor but also keeps your desktop neat and organized.
Wide Compatibility
The charging dock is not only suitable for Steam Deck, but also compatible with Nintendo Switch (inverted), tablet, smartphone, etc. with a USB-C port. They come in a gift box, making them the perfect gift for your gaming-loving friend. (excluding any devices/consoles)
During the year-end discount period before December 31, you can use the Coupon Code: STEAMDECK5, and get a discount of $5 without a threshold, (This discount is valid within December) and the price is as low as $19.9 Dollar.
You can also check out their store, they sell similar items at cheaper prices on Aliexpress, check out MUCAI Electron Store.