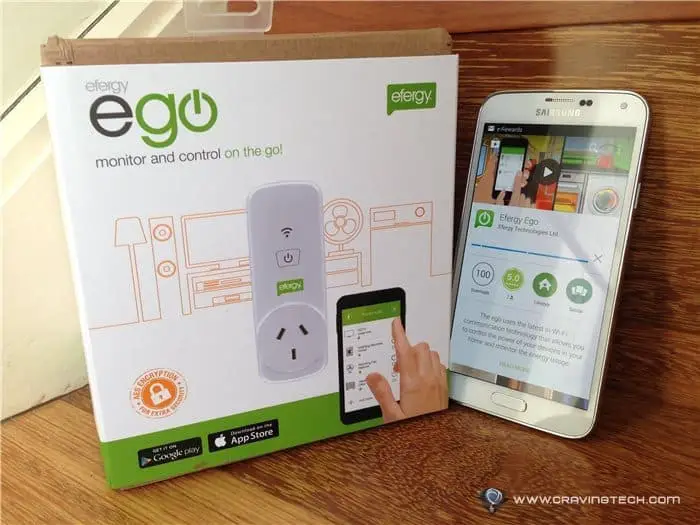 Efergy Ego Review -Monitoring and controlling you power outlet anytime anywhere is now easier than ever, thanks to the new Efergy Ego.
With the help of the app available in App Store and Google Play, the new Efergy Ego "power plug" acts as an intermediary between your device's cable and the power socket.
Installation is very easy. Simply plug Efergy Ego to your normal power socket and turn the power on on. Then, open the app, enter your WiFi details, and the devices will magically appear on the list! You can then setup the appliance name and the location, as well as to lock the appliance so to prohibit other devices from detecting the device on the app.
For a more precise calculation, you can further setup other variables, such as your electricity rate amongst other things.

When your power is being used, you can see the real time snapshot of the power used, the consumption over a selected period, as well as the estimated cost over a selected period – all configurable.
After using it for a while, you can then look at your usage report accordingly.
One of a great feature of Efergy Ego is the ability to set various timers for your device, all in the app, including "Random Timer" to turn on/off your device randomly to keep would-be burglars from guessing whether there is anyone at home (or perhaps as a quick prank on your mates?)
One thing that I like the most about Efergy Ego is the ability to detect and eliminate standby power, which many sources say consume approximately 10% of your electricity bill.
The app allows you to control as many Efergy Ego devices as you want. You can also add them into Groups to make it easier to maintain. You can then compare many devices' usage at once.
Efergy Ego is by far the easiest electricity control device I have seen in the market with very easy install (without having to go to your main switch), and its equally easy-to-use app to manage everything else.
For more information about this device, go to Efergy Ego Smart Socket's official page in which you can also this product online.
Disclosure: Sample was sponsored for the review but all opinions are 100% mine.