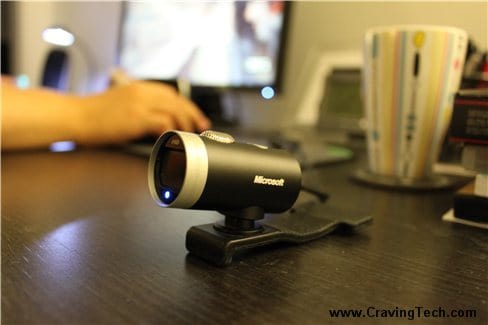 Microsoft LifeCam Cinema is the latest webcam from Microsoft, featuring widescreen recording capabilities with a native 720p sensor (High Definition quality). With everything being in "HD" nowadays, having a web camera that supports both video chat + recording in HD is not a bad idea, really. Although chatting in HD is not a trend yet, it will certainly be in the future, when internet bandwidth can cope better with delivering such high volumes of data.
Let's find out more about Microsoft LifeCam Cinema capabilities, build qualities, and other bits and pieces.
Microsoft LifeCam Cinema Overview
Microsoft LifeCam Cinema's base is made of high quality rubber materials and can be both bendable and foldable. You won't find a webcam stand or a clip in the packaging. That's because the LifeCam Cinema's base could be moulded as a stand or even as a clip to your monitor. Basically it's up to your imagination on where you want to attach the LifeCam Cinema to.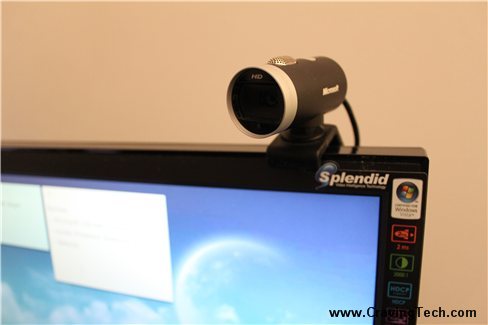 The aluminium body of the webcam is sturdy and durable. The size of the LifeCam Cinema is compact and easy to carry.
Now, I'm not a fond of round-shaped webcams because they look so old fashioned. Microsoft LifeCam Cinema looks great, modern, and stylish. I especially like the Digital Microphone on the top of the camera. It gives that "finishing touch" to the design really well.
Microsoft LifeCam Cinema Picture and Video Quality
Microsoft LifeCam Cinema delivers the best quality from any other webcam that I've ever tried. It delivers a similar quality to the LifeCam Show, but LifeCam Cinema supports HD quality and also widescreen. Every time I use the webcam for video chatting with my friends, they always asked what webcam I was using. The video quality is that good especially if you used to have a low-end webcam or a "made in china" webcam like my old webcam that I bought for $14.
HD Quality
I did some unboxing videos using the webcam some time ago on 2 gaming mouses and you can judge the qualities for yourself on YouTube. This is the Non HD version but on the original YouTube link, there is an HD version to it.
There is plenty of ghosting (motion blur) though if you are moving too quickly as you can see from the video. However it's good enough to make video reviews or if you simply want to express your opinion in front of a camera and upload it online.
Microsoft LifeCam Cinema Audio Quality
Whenever an application supports audio recording or any audio input, the light on Microsoft LifeCam Cinema wakes up from its standby mode (the light is lit automatically). This also works if you are playing computer games which support microphone input to talk in-game.
The audio produced by the webcam is very clear and crisp, thanks to LifeCam Cinema's digital microphone with noise cancelling technology. Unlike older webcams with crappy built-in microphones, I find that I don't even need to shout or raise my voice whenever I want to talk in game. The microphone is quite sensitive though, so any 'accidental' sounds you make will be heard by the other parties (burp, fart, snort, you name it). When I had my Dyson's bladeless fan turned on about 2 metres away blowing air to my back, my friends could actually hear it on the other end. With such a great microphone, you can have a whole family standing together for a video chat and they don't even have to shout or lean closer to the webcam to make their voices heard.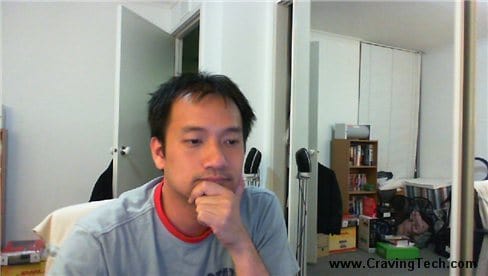 Microsoft LifeCam Software
The software that comes with the LifeCam Cinema is the same as my previous LifeCam Show. If you want to know more about the software and its features, feel free to read them on my Microsoft LifeCam Show post.
Microsoft LifeCam Cinema Review Conclusion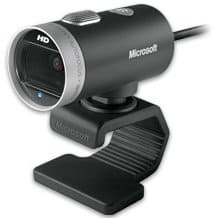 Microsoft LifeCam Cinema delivers the best quality among any other webcams that I've ever tried so far. The quality is highly similar to a LifeCam Show, but the LifeCam Cinema is able to deliver in HD and Widescreen. Even though there aren't any applications that support video chatting in HD, I'm sure there will be in a few months' time. There are also rumours that the upcoming video chat in Gmail might support it. We'll see but even when it does, I don't think our bandwidth can cope with it at this stage.
With the LifeCam software, it's easy to record both audio and video. This means that you can record your voice message and even your hidden talents in HD, ready to be uploaded to YouTube. The recorded audio is also crystal clear and you don't even have to shout or make your voice louder for the webcam to record it properly.
Microsoft LifeCam Cinema is also small, yet made of durable materials. Its base is unique and can be folded/bended to your will. It means that you can put the webcam on your desk or even clipped to a laptop or any other objects near you.
If you are looking for a high quality webcam, it's easy. Get Microsoft LifeCam Cinema. You won't regret it.
Microsoft LifeCam Cinema Pros
+ Great video quality
+ Support HD video recording and chatting
+ Widescreen
+ Great quality built-in microphone
+ Flexible base
+ Light and compact
+ Looks great
Microsoft LifeCam Cinema Cons
– Plenty of ghosting if you move too quickly
Note: Review unit was provided by Microsoft. Photos taken with Canon EOS 500D.