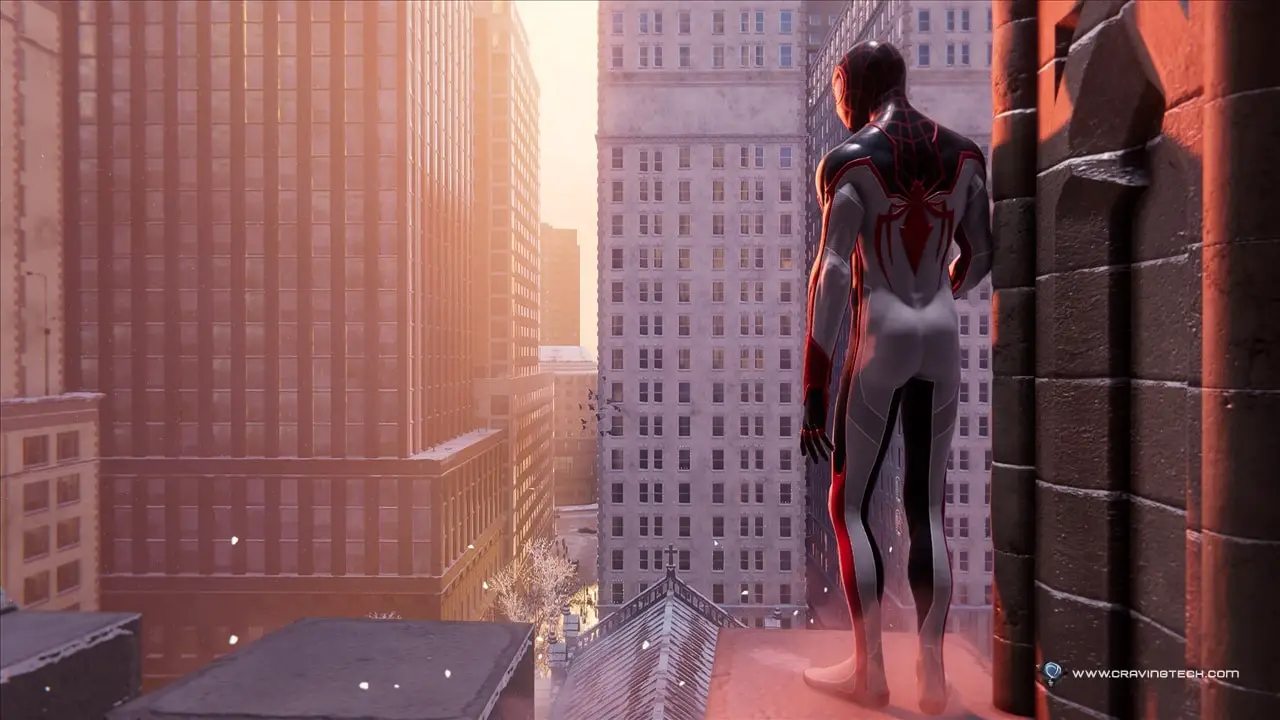 Marvel's Spider-Man: Miles Morales PC Review – Spider-Man: Miles Morales was out around 2 years ago on the PlayStation but the game gets a PC edition with all the new bells and whistles, thanks to Sony Interactive Entertainment, Insomniac Games, and Nixxes Software.
The port gets PC optimised graphics and supports technology like NVIDIA's DLSS3/DLSS2, Reflex, and of course, Ray-tracing and shadows which make the New York city come to life with even more stunning graphics.
Miles Morales PC version also has an ultra-wide monitor support including 16:9, 16:10, 21:9, 32:9, and 48:9 resolutions. plus 48:9 resolutions with triple monitor setups (and compatible with NVIDIA Surround or AMD Eyefinity).
And while I've been playing with a mouse and keyboard just fine, the game also supports playing with a PlayStation Dual Controller if you have one, so you can experience its immersive haptic feedback and dynamic trigger effects. This is available on a wired USB connection to the PC.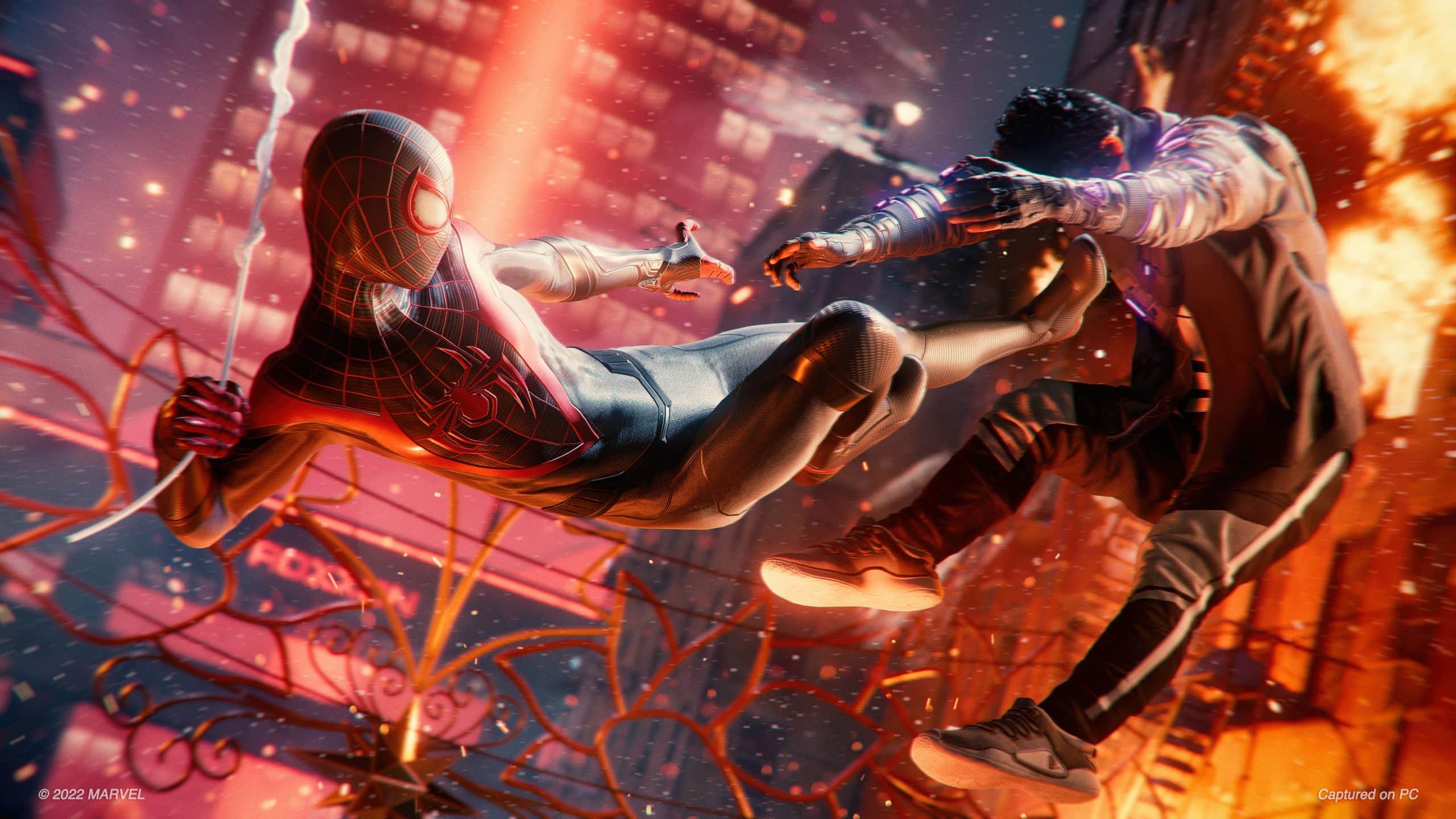 Marvel's Spider-Man: Miles Morales for PC is an excellent port and I've never noticed any FPS drop or slowdown while playing the game, even as I swing through the gorgeous-looking, expansive Marvel version of the New York city. Quick-time events where you have to mash the buttons quickly and repeatedly or in this case, click the left mouse buttons, sometimes give a feeling that this game is definitely meant to be played with a controller. During the car chase missions for example, I somehow can never be able to get it perfectly no matter how fast I click.
But honestly that's my only complaint because all the other movements, actions, and abilities work quite well with the mouse and keyboard setup. The main story is only about 7-8 hours long, unfortunately (I finished the game in 9.8 hours, doing just one side mission in between stories, finishing all the Combat challenges, and collecting resources here and there). However, there are tons of things to do in the game (it's an open world game) and the game doesn't shy to reveal these different activities and missions to you as you complete the main missions. And you can complete these after you've finished with the main story.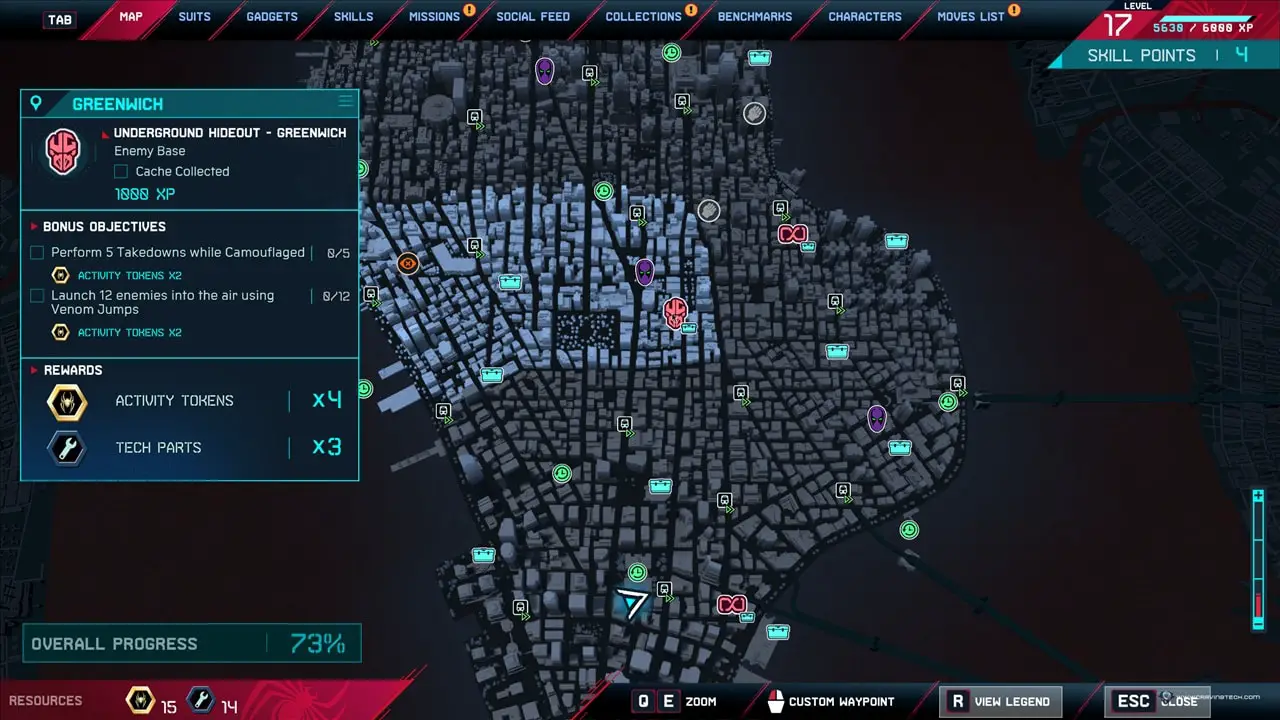 Of course, you can choose to or not to do all of them as they are all optional, but completionists would want to. Some can definitely give you advantage by being able to make new Spider-Man suits that has different passive ability (and requires resources) or giving you the extra experience you might need to level up. Some missions also actually give you more NPC interactions and open up personal stories with the characters you'll meet in the game.
There are fast travels in the game (travelling by subways) so you don't have to keep swinging between buildings to reach from one end of the city to another.
If you haven't played the previous game (which I haven't), there is a nice, quick recap menu before you start the game. It's surely a good way to introduce new players to Miles Morales who becomes a second Spider-Man, under Peter Parker's guidance.

Miles can do what the original Spidey can do except that he also has Venom abilities which can electrocute enemies (and other things). Combat feels very fluid, dynamic, and smooth. Dodging at the right time feels rewarding as it gives you a charge to use your Venom abilities, among other skills later in the game.
There is also a Stealth element in the game and the game never forces you to be stealthy. It has its own reward as a stealth kill basically gives an instant kill, but if your cover is blown, you can always fight your ways out (or in).
Marvel's Spider-Man: Miles Morales for PC Review Conclusion
The Spider-Man: Miles Morales for PC is an excellent PC version of the original Spider-Man: Miles Morales and I'm glad that the team took this seriously and carefully. There are many console games with a PC version tag but not having any significant rework – such as sluggish performance at certain times, awkward keyboard controls, or don't have any difference in terms of graphics.
Thankfully, The Spider-Man: Miles Morales for PC doesn't have those problems at all and the game shines brightly on the PC at its maximum settings (I have an RTX 3080 card to accommodate all that). I've never experienced any glitches and crashes so far, and the game is easily one of those AAA games that you need to play and into your game collection if you haven't played it yet.
Disclosure: Marvel's Spider-Man: Miles Morales for PC review code was supplied for reviewing
Marvel's Spider-Man: Miles Morales for PC Review
Summary
A satisfying PC port for an awesome, Marvel's Spider-Man game