SteelSeries Aerox 5 Wireless Review – The Aerox 3 Wireless was launched almost a couple of years ago and it's now time for a comeback. SteelSeries is releasing newer models in the series: Aerox 5, Aerox 5 Wireless, and Aerox 9 Wireless.
We've got the Aerox 5 Wireless here for a review – a new light-weight wireless gaming mouse with longer-lasting battery and the Honeycomb shell design that you love about the Aerox 3. The Aerox 5 Wireless also has an extra, programmable DPI-clutch lookalike paddle and an up/down flick switch for you to use.
SteelSeries Aerox 5 Wireless Review – Unboxing and Packaging Contents
SteelSeries Aerox 5 Wireless Review – Design & Features
The new SteelSeries Aerox 5 weighs 74 grams which makes it light enough to glide across the mouse mat. The honeycomb shell design is definitely one of the reasons why the mouse can be that light, but it also means less sweaty hands during Summer. The shell covers pretty much your whole palm so the airflow is more than good.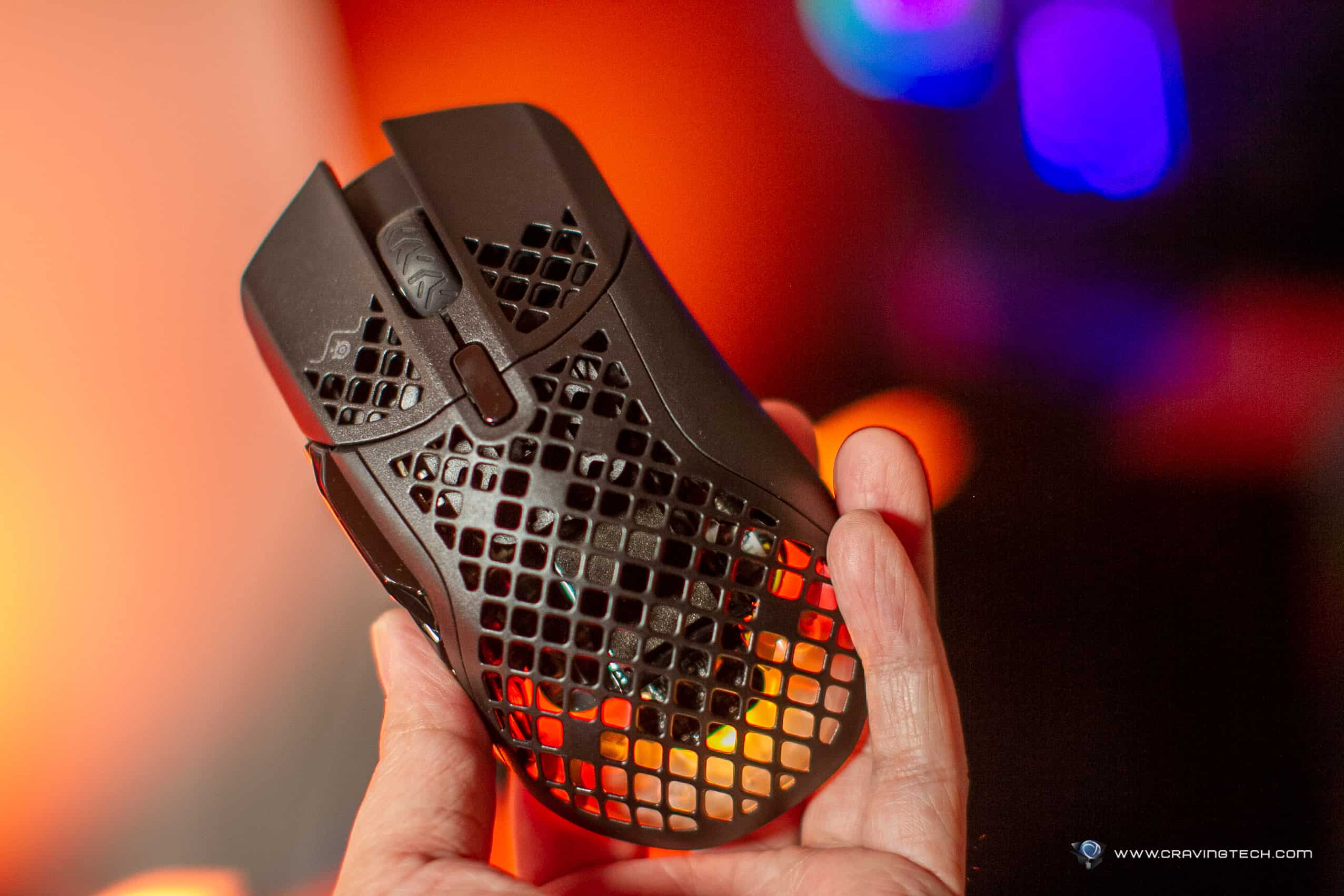 And if you worry about water or your sugary drinks make it to the internal components through the holes, worry not. The mouse is IP54-rated thanks to the AquaBarrier technology which protects your mouse not just from water, but also dust, dirt, oil, and debris. So if you usually have your can of Coke nearby while gaming, you are safe from any mishaps.
The mouse is designed for right-handed gamers so it has the right contours around the sides to rest your right thumb, and there are no buttons on the right side to avoid accidental clicking with your pinky. Also note that the Aerox 5 Wireless is designed more for Palm and Claw Grip users.
I'm a Fingertip/Finger gamer myself and while I can comfortably hold the Aerox 5 Wireless and happy to use it for more than 2 weeks during the review period, I can definitely see why the Aerox 3 design suits me better. The Aerox 5 Wireless body feels longer and heavier to lift repeatedly compared to the Aerox 3 Wireless. For Claw and Palm grip users, this is actually great because the mouse would feel sturdier to glide on the mat.
And no matter how I try, I can barely reach that paddle located on the far front of the mouse unless I change my grip mid-game and it's not practical during a fast, frantic battle. But if you are a Palm and Claw grip gamer, you'll no issue at all. You may also utilise the up/down flick switch located above the side buttons. I didn't find a need for it and the placement feels rather awkward for me to utilise.
Sensor wise, the performance is great and accurate. SteelSeries Aerox 5 Wireless is powered by the SteelSeries TrueMove Air Optical sensor with 400 IPS, 40G, and up to 18,000 CPI/DPI. The sensor never failed me even when I did a lot of flicking and swiping while playing Overwatch and Overwatch 2 Beta – fast-paced, competitive, online FPS games from Blizzard.
Here are some gameplay clips with Overwatch while I was using the SteelSeries Aerox 5 Wireless:
The Aerox 5 also has up to 80 hours of battery life (on the 2.4GHz wireless) and can be charged for 15 minutes to get around 40 hours.
If you are not gaming, you can also switch to a more efficient Bluetooth 5.0 connection which offers you up to 180 hours of battery life. And yes, having Bluetooth support means you can pair the mouse to a non-PC Bluetooth-supported device.
SteelSeries Aerox 5 Wireless Review Conclusion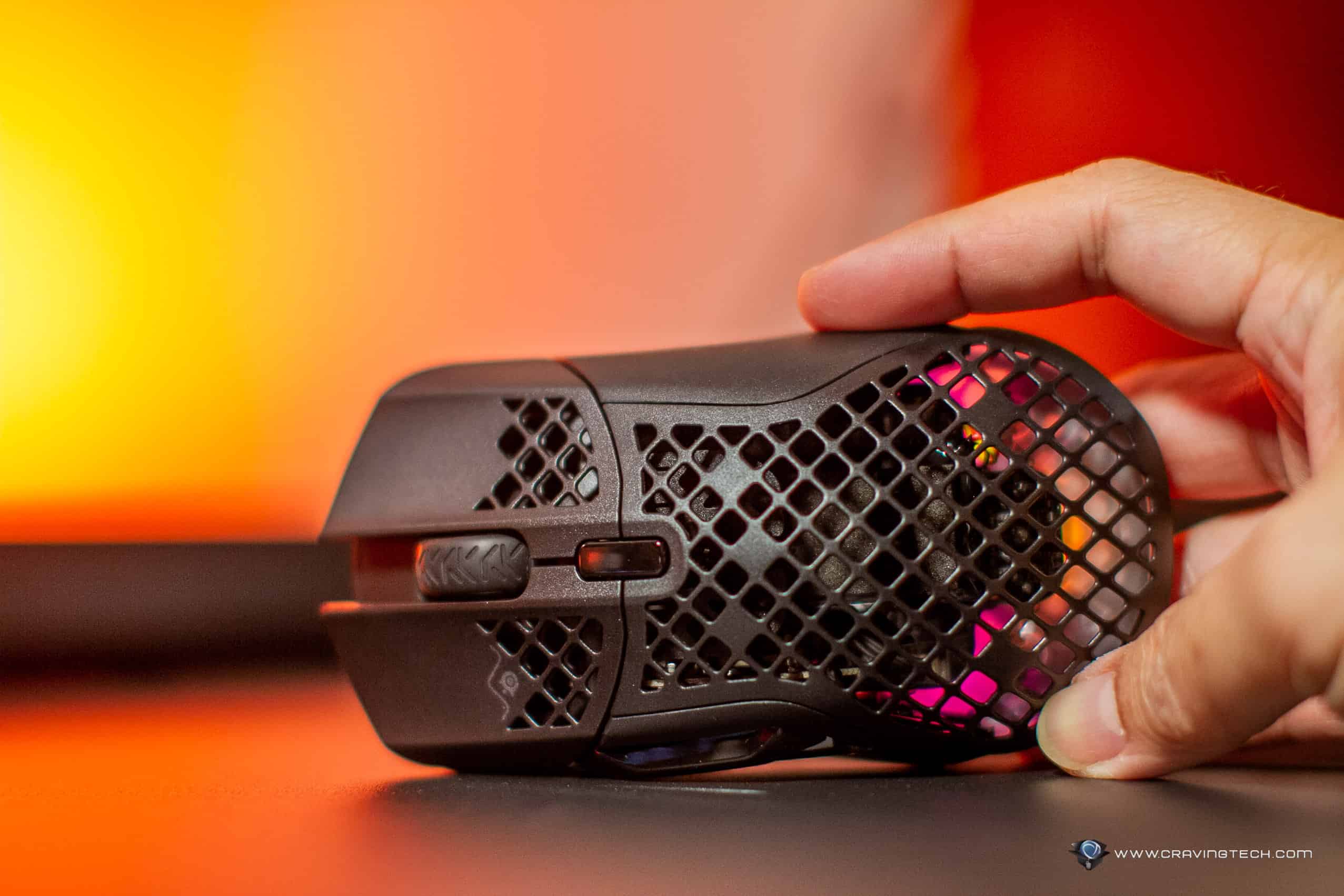 SteelSeriex Aerox 5 Wireless is a good all-around wireless gaming mouse for Claw and Palm grip gamers with 5 extra action side buttons that you can program to be used in different games. The TrueMove Air optical sensor has a great performance, the mouse is IP54-rated, and I've never had any wireless latency issue while playing mostly Overwatch during 2-3 weeks period of reviewing the mouse.
It also offers 2.4GHz and Bluetooth, so you can use the same mouse for any regular desktop work that doesn't require lightning-fast performance as you can save more battery this way. However, with up to 80 hours of battery life on the 2.4GHz wireless, you should have plenty of time before you have to recharge the mouse using the included USB-C cable.
SteelSeries Aerox 5 Wireless retails for A$269 and available at retailers around Australia like JB Hi-Fi and also at Amazon.com
Disclosure: SteelSeries Aerox 5 Wirelss review sample was supplied for reviewing
SteelSeries Aerox 5 Wireless Review
Summary
A lightweight, wireless gaming mouse with extra programmable buttons for Claw and Palm grip gamers
Pros
Lightweight design
IP54-rated
Honeycomb shell design means great airflow for your palm
Fast & accurate sensor performance
Has Bluetooth 5.0 support
No noticeable input lag or wireless latency
Has a handy DPI switch button underneath the scroll wheel, plus a few more programmable buttons
3 RGB Zones
Cons
Not suited for fingertip gamers, or those with small hands due to the long-body design
Feels a bit slippery if you have to lift your mouse frequently
Right-handed only