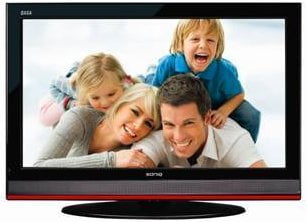 About 10 years ago, I remember going to JB HiFi, a famous electronic store here in Melbourne, and stood in front of a big plasma TV (or was it an LCD TV?). The TV had a $10,000 price mark on it. The shopkeeper asked me whether I'm interested in getting one. I laughed and said "Not for another million year".
From $10,000 to under $1,000 for a 40″ Full HD 1080p LCD TV from Soniq, there's no reason not to get one. Check out the press release on the Soniq QSL400XT and Soniq QSL460XT

Sydney, Australia – March 15, 2010 – Soniq has today delivered on their commitment to offer affordable and user-friendly large screen televisions by offering their price breakthrough of $798 for a 40″ Full HD 1080p LCD TV and $1198 for a 46″ Full HD 1080p LCD TV.
The large model televisions, sold at JB Hi-Fi stores throughout Australia, are offering prices substantially lower than competitors on Full High Definition displays. This price breakthrough means quality large model televisions are no longer confined to a select few buyers and Soniq is pleased to deliver on this.
"Soniq is delighted to be able to offer its customers quality products at the lowest prices. With our latest price breakthrough we're offering Australians the opportunity to buy and own a large TV previously thought to be unaffordable. We have models that come in Full High Definition, never before seen at this price level." said Dominic Neo, Business Development Manager, Soniq Australia.
In this latest range Soniq is offering two Full High Definition LCD TVs, the QSL400XT and the QSL460XT, all with quality design and features you've come to expect.
Soniq QSL400XT
The 40 inch Soniq QSL400XT features full 1080p high definition resolution advertised for a "so cheap!" $798 at JB Hi-Fi stores. The television is tastefully framed with a glossy black border and matched with features such as HDMI input and built in high definition tuner. Also included is an Ultra High Resolution Panel WXGA to complement the resolution and offer superior display. The Soniq QSL400XT is perfect for young couples or movie lovers that want an all-rounder offering quality, design, size and price.
Model Number Soniq QSL400XT
Screen Size 40" (101 cm)
Resolution 1920 x 1080 pixels
Contrast Ratio 3000:1
Brightness (cd/m2) 500
Support Color 16.7M
Response Time (ms) 8
Audio Output 8W+8W
Audio Stereo Type NICAM Stereo
Dimension ( L x W x H ) (mm) 1065 x 380 x 800
Weight (KG) 27
Power Supply AC 100 – 240V @ 50/60Hz
Power Consumption Max. 200W, Standby < 1W
Other Features:
Built-in HD Digital (DVB-T) Tuner
Ultra High Resolution Panel WXGA
HDMI x 3, Input TV antenna, S-Video, PC, Composite x 1, Component x 2
Soniq QSL460XT
Like its little sister the QSL400XT, the Soniq QSL460XT LCD television, offers full 1080p high definition resolution and an Ultra High Resolution Panel WXGA for complete viewing pleasure. The QSL460XT is Blu-Ray ready and features 3 HDMI inputs and high definition digital tuner. With ample screen size of 46 inches and a price under AU $1200 the Soniq QSL460XT is the best value LCD in the market today. The QSL460XT has a stunning contrast ratio of 2000:1 and a response time of 15ms.
Model Number Soniq QSL460XT
Screen Size 46" (117 cm)
Resolution 1920 x 1080 pixels
Contrast Ratio 2000:1
Brightness (cd/m2) 500
Support Color 16.7M
Response Time (ms) 15
Audio Output 8W+8W
Audio Stereo Type NICAM/A2 Stereo
Dimension ( L x W x H ) (mm) 1215 x 380 x 900
Weight (KG) 39.5
Power Supply AC 100 – 240V @ 50/60Hz
Power Consumption Max. 280W, Standby < 1W
Other Features:
DVB-T Digital TV
Compatible HD Signal Input: 720p, 1080i, 1080p
HDMI x 3, Input TV antenna, S-Video, PC, Composite x 1, Component x 2
Product Pricing and Summary
Vendor: Soniq
Model: QSL400XT, QSL460XT
RRP:
QSL400XT: AU $798
QSL460XT: AU $1198
Website: http://www.soniqav.com/index.html
Distributors: JB Hi-Fi nationwide
Customer Care Hotline: 1300765663
Availability: Now