JBL PartyBox On-The-Go Review – JBL PartyBox On-The-Go looks like just a big, portable, Bluetooth speaker with big sound. But upon a closer look at its features, design, and controls, it's clear that this is way more than just that big, portable speaker that you may think of.
Ok, for sure, you can play and stream music from your phone to the speaker via Bluetooth – as you'd have expected. However, it also comes with two wireless microphones and a jack to plug your acoustic guitar in.
It's great for partying, yes, but also for a small gig where you can travel lightly, plug your guitar in, and sing along as well to enhance the event mood.
JBL PartyBox On-The-Go Review – Packaging & Unboxing
JBL PartyBox On-The-Go Review – Design & Features
JBL PartyBox On-The-Go actually has a good size being an "on-the-go" speaker. It's not as big as the BlueAnt X5 I've reviewed early this year (which has similar feature sets and purpose) but also not too small that it doesn't have enough power. The size is just perfect in my opinion and the weight makes it easily transportable with even just one hand. Okay, it's actually 7.5kg but the packaging includes a shoulder strap so you can easily carry it over your shoulder.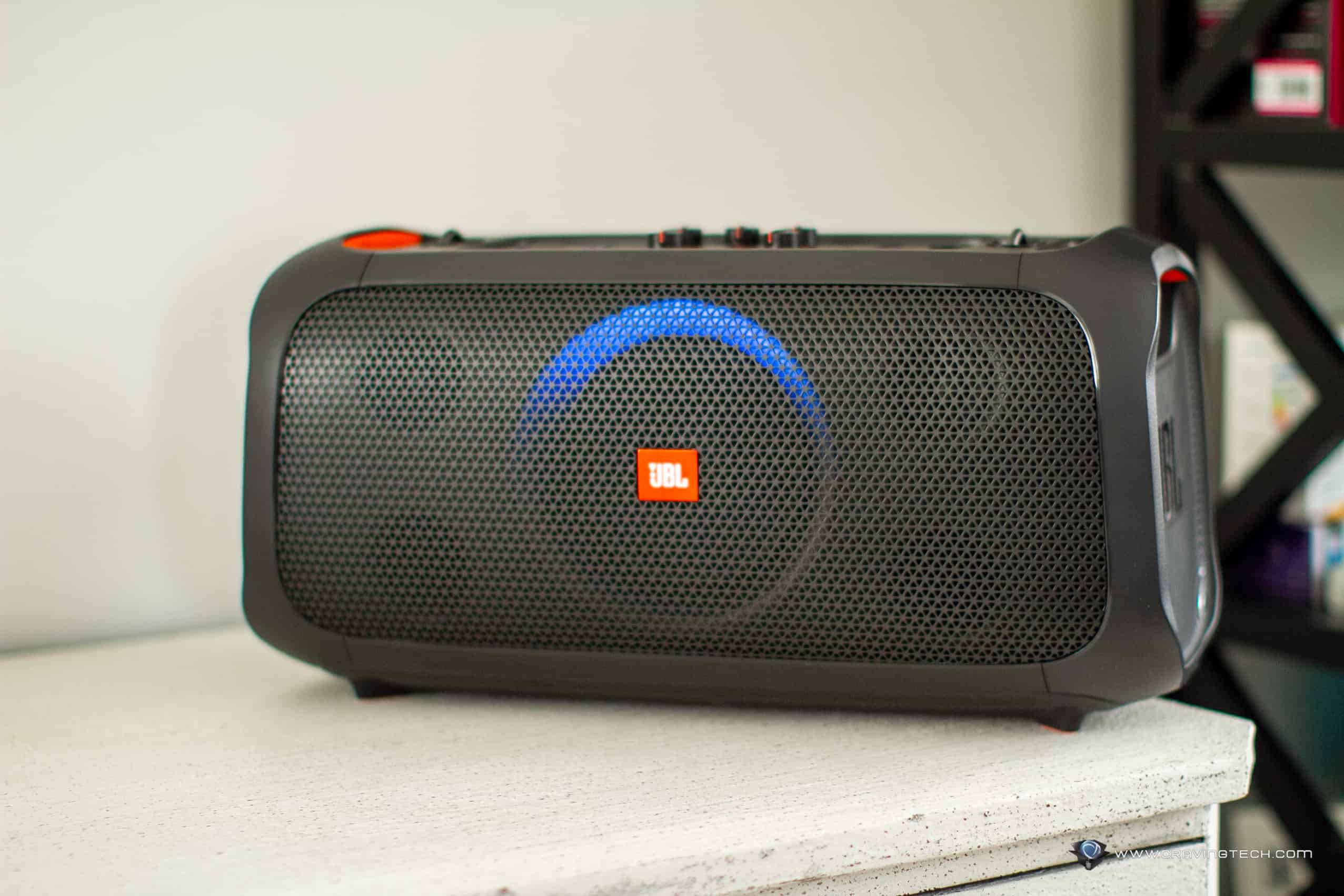 The speaker features 133mm woofers and two 44mm tweeters and also houses a big battery to output 100W of power with a maximum of 6 hours music playing time. Obviously, this depends on the volume and some other settings which include what device is currently plugged in or connected.
And of course, you can also plug a USB charging cable to your phone and use that big battery to charge your device as well.
Thanks to the JBL Pro Sound and the 100W of power, the sound coming from the speaker is loud and clear. For an easy, regular music listening at home, I find that I only need to turn the notch up a few steps only (like a 1/5th of the maximum volume). It's amazing how loud the speaker can go – perfect for a small type of events, and should be good outdoor too (would have to test one day after the lockdown is over).
JBL includes two sets of wireless microphones, powered by 2x AA batteries. This allows you and a friend to sing along with the currently played music. According to the guide, the wireless microphones have a good range of 10 metres – and that's pretty generous.
If you have your own wired microphone, you can also plug it into the microphone jack.
There's one more thing. You can also plug an acoustic guitar into the JBL PartyBox On-The-Go. This is pretty amazing for a wireless, portable speaker to have this feature. If you are a musician and being offered a gig to a small event, you can come with just your guitar and the PartyBox On-The-Go to play and sing. Rather than having to carry a dedicated amp or big speakers, you basically have everything you need here.
Sure, for a more professional or bigger events, you might want to invest more. However, for beginners or if you are leading praise and worship on Sunday Schools, the speaker is perfect. Set the microphone up, plug your guitar, and sing along with the kids.
UPDATE (February 2022): I had a chance to use the speaker on an actual wedding ceremony and reception (of around 30-40 people) and everyone had a blast. We used it for the ceremony, singing performance (see the video below), and some karaoke-fun after dessert.
All the controls are located on the speaker, and you have separate controls (and volume) between the wireless microphones, guitar, and the music played. This way, you can control how loud you want your microphones be and all that (there is even a control to add Echo and adjust the Treble and Bass).
JBL PartyBox On-The-Go Review Conclusion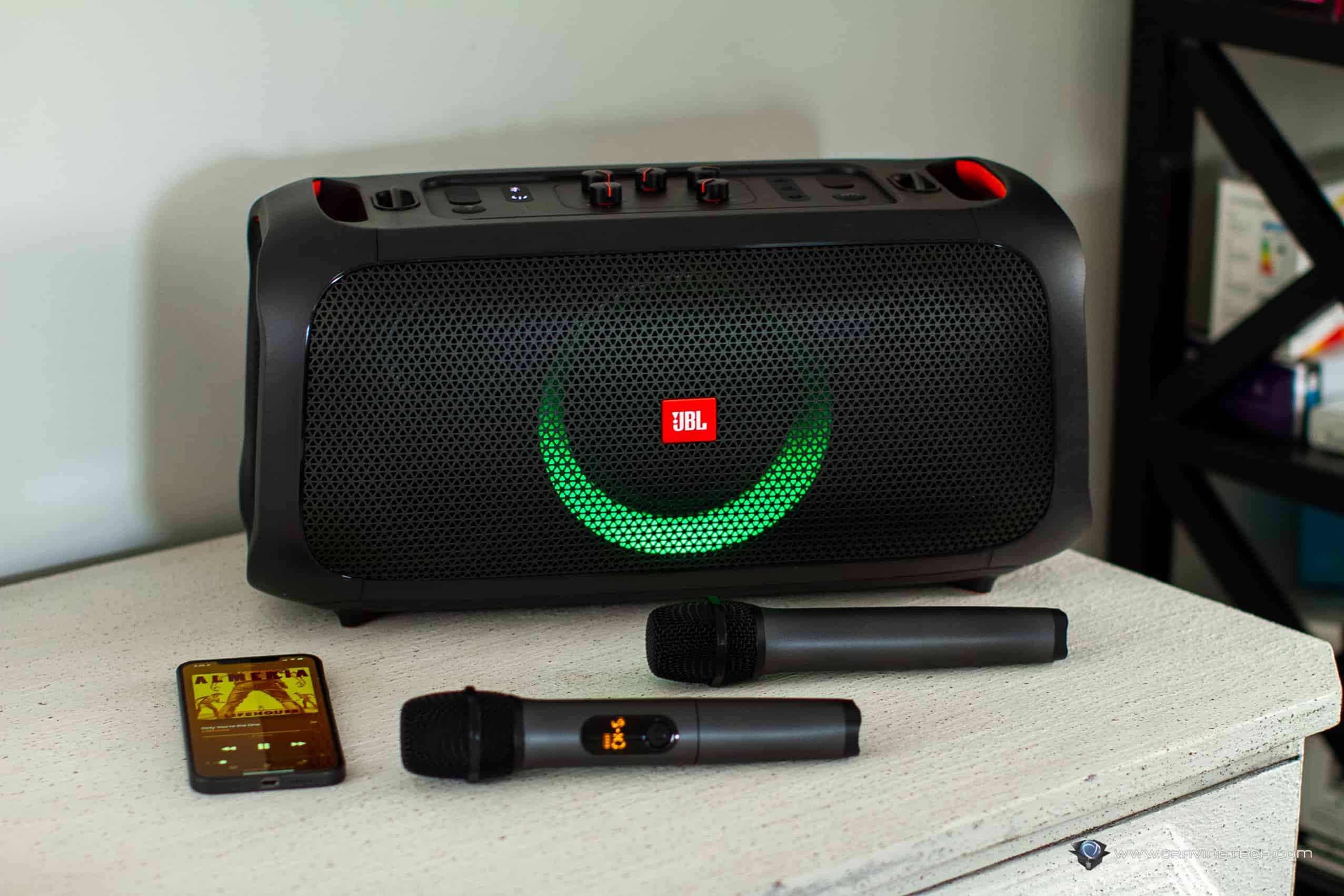 JBL PartyBox On-The-Go is one of the most useful, portable speakers I've ever come across. Apart from the big and clear sound it outputs, you can also plug a guitar to play on the speaker, and use the two wireless microphones to sing along (or you can just use them to make announcements as MCs on small events like birthdays, engagement party, etc).
The speaker is IPX4 rated which offers splashproof protection so you can use it on beach or poolside parties – just make sure it doesn't fall into the pool.
JBL PartyBox On-The-Go's versatility and features-rich makes it one of the best portable speakers out there if you want to do more than just listening to music. It retails for AU$525 currently at Harvey Norman. Also available at Amazon.com
Disclosure: JBL PartyBox On-The-Go review sample was supplied for reviewing
JBL PartyBox On-The-Go
Summary
A great portable speaker that can be used for many things: partying, a small gig, conference or meetings, chilling, sunday schools, and more.
Pros
Great speaker for partying or doing a small gig
Can be used wireless
Portable, though a bit heavy
Comes with a shoulder strap & bottle opener
Synced light show with a few presets to enhance party mood
You can plug a guitar to the speaker
Two wireless microphones included that work as soon as you turn them on. There's also an option to plug a wired microphone
Can be used to charge a phone and you can also place a phone on the speaker while playing music
Cons
Only 6 hours of battery life max (and probably less depending on settings such as lights, Bass Boost, connected devices, etc). But you can leave it connected to power
Echo, Treble, and Bass controls are only for the microphones
Bluetooth 4.2