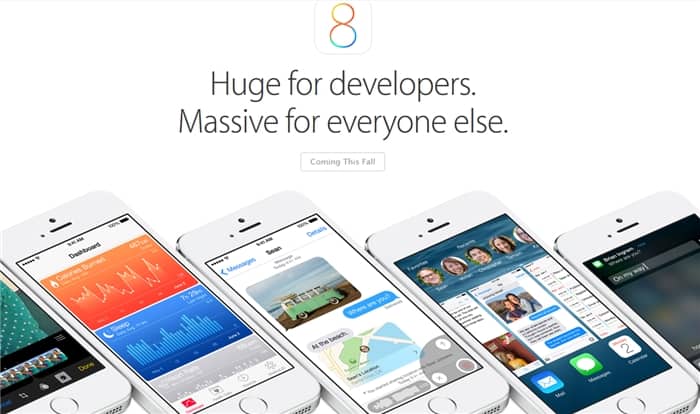 Despite of some rumors saying there was a high probability that one of Apple's new devices would be unveiled  during the WWDC 14, there was none. This morning at San Fransisco, Apple announced iOS 8 which doesn't change the look of iOS in general, but laying the foundations for developers to create even better apps and some subtle changes.
The useful new features for everyone are the ability to do some quick actions to your notifications (such as Liking a Facebook notification or doing a quick reply to someone's message sent to you). You can also do this on the lock screen. For calendar event invitations, you can even accept or reject it directly. Or do a quick delete of an incoming email notification, which is going to be handy.
Other big changes include the abilities for installing third party keyboard apps (about time!) such as SwiftKey, which is my favorite third-party keyboard app on Android. In fact, SwiftKey already confirmed that they will make sure SwiftKey is coming to iOS 8 on a blog post!
You can read about all other new features over at Apple's iOS 8 page but here are some of the useful features that may not be major, but pretty cool nevertheless, such as:
"Hey Siri" (like the "OK, Google" on Android). Great when you are driving and want to make a quick call to someone.
Search everything through Spotlight, even a movie currently playing in cinemas nearby.
Handy favorite contacts on the task switcher screen (double tapping the Home button).
Access to TouchID to third party apps (so you can login to certain apps using TouchID, which is going to be handy).
Self-destruct photos and videos on Messages (a la Snapchat).
Better Safari tabs view on iPad, like the new Mac OS.
Do not disturb on a Messages thread.
Widgets-ish support
More
Overall, iOS 8 does not seem to offer much. However, the hidden gems are actually for the app developers, having access to new stuffs to include and play around with. These will allow them to make prettier, better, and more powerful apps. And we all know how good iOS apps are in terms of quality and aesthetics.
It looks like Apple is laying the foundations for the future (or playing a catch game with Android, if you see it that way). Nevertheless, let's wait to see what great iOS 8 apps are waiting for us.