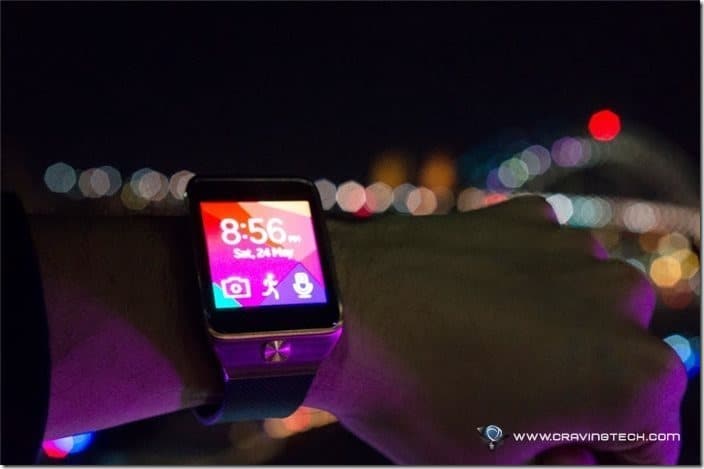 Samsung Gear 'smartwatch' has definitely matured since its first launched in 2013. The recently launched Samsung Gear 2 had addressed many of the expected features from its predecessor, as well as adding new things to its horizon.
There are some noticeable changes on the hardware alone:
1. The camera is now on the top of the main body and is no longer located on the strap.
2. With the camera being moved, the strap can now be interchangeable, so you can use any standard watchstraps.
I was actually quite surprised as to how easy it is to replace the strap. There were some toggles at the ends of the straps — you pull those with your nail and it's done.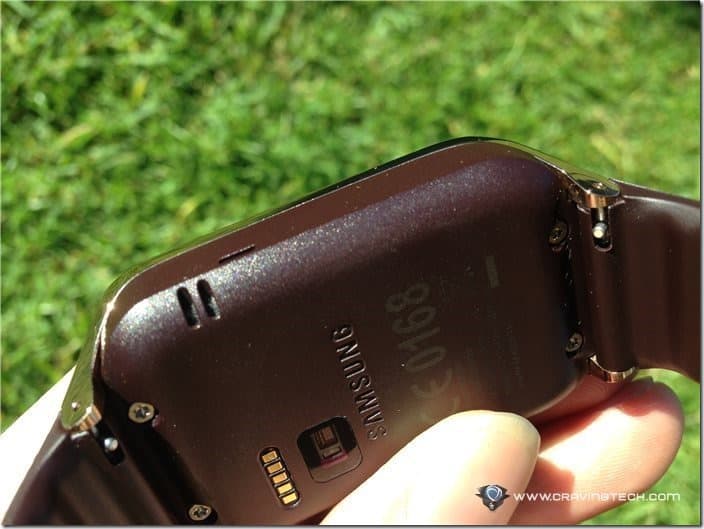 But sadly, just like any other watchstraps, the metal part of the included strap is easily susceptible to scratches due to your normal day-to-day use.
3. It now has a heart rate monitor, as well as apps to support the function.
The Heart Rate app allows you to do a "snapshot" of your heart rate at a given point of time, whilst Exercise takes it further and throws in a pedometer on top of the heart rate functionality, allowing you to monitor the change in your heart rate while you are exercising.
I personally think that these supporting apps have a lot of room for improvement. For example, the Exercise app only allows you to select from four exercise categories: running, walking, cycling, and hiking, forcing you to categorise other exercises (e.g. weights session) into one of these categories.
For the Exercise app, you can also retrieve your exercise history, and it's all available right from the watch, in both graphical mode and detail mode.
For me, the historical date is missing some information that I usually get from my other heart rate monitor watch, such as the lowest and the heart rates during my session. It also doesn't have an option to remove a particular session history.
As for the most important thing, a.k.a. the accuracy of the heart rate, I find it highly inaccurate. During my exercises, it would go up and down considerably it just could not make sense. Maybe it happens to all heart rate monitor watches that detect heartbeats on the wrists, but it is certainly not good enough for when you want to gather serious data.
4. Gear 2 is now IP67 certified, which means it is dust and water resistant, which makes sense since you can now use the watch during exercise for heart rate monitoring function.
5. There is also a physical Home button to let you to navigate straight to your home screen without having to repeatedly navigate backwards (by swiping down on the screen).
6. There is also an infrared capability to allow you to use the watch as your TV remote.
7. Sadly, the camera itself had barely received any improvement, receiving a measly upgrade from 1.9MP to 2MP and still without flash and any further picture-taking functionality. This still means that taking pictures using the watch might be a hit and miss on a lot of grounds, including lighting and stabilisation.
8. One thing that I am still getting used to doing is charging my watch. On my regular usage (including constantly connected to the smartphone via Bluetooth), the battery life lasts around 3 to 4 days. However, since I ran out of juice on my Gear 2 one morning (and the watch suddenly became an accessory instead of time teller), I have been making conscious decisions to check the battery level every night before I go to sleep just to make sure it'll last for another day.
Charging Gear 2 requires a mini cradle that then connects to a universal microUSB cable. Whilst it is quite common to find a spare microUSB cable lying around, not same can be said for this specific mini cradle.
In terms of software, although it is quite unfortunate that Gear 2 is only compatible to select Samsung products, I find the auto sync of the contents created from your Gear 2 to be quite seamless with only a few moments delay as they are immediately transferred via Bluetooth.
There are of course some aspects of the watch that I don't really use. Take the music player for example. Since the watch is very limited without the smartphone nearby, I usually use the music player from my smartphone instead. However, if you happen to go out for a run and would like to leave your smartphone behind, this feature might be quite useful when coupled with a Bluetooth headset.
I am also not a big TV watcher, so the TV remote function is not of high value. Furthermore, when I watch TV, I have my sleep-or-slouch position and my TV remote in one hand operation. I think I am not ready just yet to sacrifice that comfortable position by having my one hand next to another just so I can control my TV from my smartwatch. Also, with no physical buttons you really have to stare at the screen before you press – when was the last time you actually stare at the remote to change the channel?
That aside, Gear 2 has definitely stepped up its game and is signalling other smartwatch makers out there that Samsung mean serious business. This new iteration really puts a confidence into what we could expect out of the next Samsung Gear.