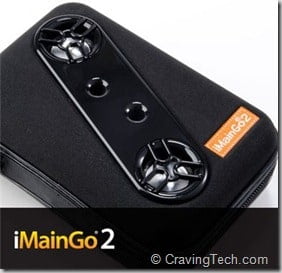 Sometimes it's just so much nicer to listen to your music through speakers compared to using earphones. If you are in a hotel room or probably having a picnic outdoor with family and friends, a portable speaker with good powerful sound is what you need to brighten your day.
iMainGo 2 is powerful, portable, and also serves as a protector for your media player when you need such experience.
iMainGo 2 is designed so that you can carry your iPod, iPhone or any other portable media player you have inside iMainGo 2 but at the same time, giving you access to control your media player from the outside. Unfortunately, the power button is inside iMainGo 2 so you have to open up the case first before you can turn it on/off.
If you have a 3.5 mm audio cable, iMainGo 2 can be used on supported devices such as a laptop, an electric guitar, and others. Of course, they will not fit inside the case but you can still experience the greatness of iMainGo 2 incredible sound quality.
The sound is crystal clear, loud, and has some bass thumps as well. I was quite amazed at how loud can small speakers such as these go. According to iMainGo 2 specifications, these are what support the great sound behind the scene:
Maximum Speaker Output: 2.5w x 2 (5w total)
Speakers: premium high output titanium stereo
Amplifier: premium state-of-the-art digital
Bass: Tuned porting
The idea is that you store the player inside the iMainGo 2 (using the included foam and strap) which is quite padded and sturdy. The front part of iMainGo 2 is a see-through thin plastic so you can press through it to access your media player playback controls.
Of course, this is assuming you do have touch screen supported devices or at least devices which have their playback control buttons in front of the device. Controlling the iPod Nano wheel control with that layer of plastic feels a bit weird though.
iMainGo 2 is powered by 4 x AAA batteries only, which is a bit unfortunate. I'd prefer an option where you can either choose to use a rechargeable built-in battery or the AAA external batteries. According to the specification, the battery life is up to 30 hours though so you'll have plenty of juice before you have to buy extra batteries if you want to keep it going.
iMainGo 2 may not look sexy from the outside but it packs a lot of punch. It also serves as a protector to your media players if you want to listen to your music outdoor.  iMainGo 2 will definitely give you a peace of mind, knowing that your media player is safe and sound inside the protected case. Rather than carrying portable speakers with their dangling cables, iMainGo 2 definitely offers a great alternative. Controlling the media player through the plastic layer is a bit clunky but if you don't have to change the tracks too often, it's not such a big deal.
Note: Sample unit provided for the review