Note: This is a guest post written by Filberto Morales – People set a passcode on their iPhone for security. They want to keep the intruders away and ensure their privacy and important data. But when they forget the passcode of their device, they lock out of the iPhone. After several wrong attempts, the device shows the iPhone 15 unavailable screen.
You can fix this issue on your own. We are going to discuss how to fix iPhone 15 unavailable using different methods and tools. We will share the step-by-step methods so that you can follow them without any hassle.
What Does iPhone Unavailable Mean on iPhone 15?
iPhone 15 unavailable message means that you cannot use your device without restoring it. It happens when you enter the wrong passcode multiple times. After five wrong attempts, the iPhone 15 is disabled temporarily. But after the 10th wrong attempt, the device is permanently disabled and you see the iPhone unavailable try again message.
4 Methods to Fix iPhone 15 Unavailable Screen?
We are going to discuss four working methods that can help you get rid of the unavailable screen. You can choose any of them and follow the steps.
Method 1. Fix iPhone Unavailable Screen with iPhone Unlocker
An iPhone unlocker can unlock any type of lock and solve the issue of iPhone 15 says unavailable in no time. It is perfect for beginners who want to save time and get rid of the problem without any hassle.
You can use Tenorshare 4uKey. It is an incredible iPhone unlocking tool. It will remove the passcode and unavailable screen from your device in a few simple steps. Whether there is a 4/6 digit passcode, Face ID, Touch ID, or anything like that, your device will be unlocked. It supports all iPhone and iPad models and iOS versions, including the iOS17.
Tenorshare 4uKey offers an incredible success rate. It can also be used to remove the MDM profile, Apple ID, and screen time passcode. After using this tool, you can use your iPhone as a new device.
Let's see how to fix iPhone 15 unavailable.
Step 1: Download the latest version of Tenorshare 4uKey on your computer. Install the software.
Step 2: Launch it. Click on the Start button to continue.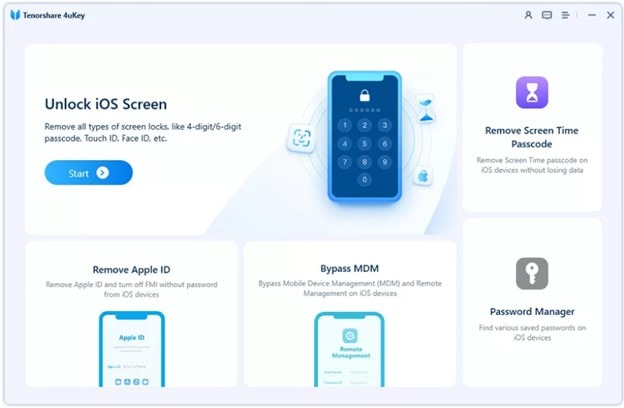 Step 3: Connect your iPhone to the computer. Click Next.
Step 4: The software needs to install the firmware package. Select the path and click on the Download button.
Step 5: Click on Start to Remove. The software will start removing the passcode from your device. It will take several minutes, and after that, you can use the device.
Method 2. Directly Erase iPhone 15 (Apple ID Required)
If you want to reset your iPhone 15 without any hassle or third-party tool, then you can use the built-in feature of Erase iPhone. iOS 15.2 and later operating systems offer this option when your device is unavailable or disabled after entering the wrong passcode.
Step 1: When your iPhone 15 becomes unavailable, you see two options at the bottom. One of them is the Erase iPhone. Tap on the button.
Step 2: You will see a new screen. Tap Erase iPhone again.
Step 3: It will ask you to sign out from the Apple ID. You need to enter the password.
Step 4: Tap Erase iPhone.
Now, the device will automatically erase the device. Once it is done, you can set it up like a brand-new phone.
Method 3. Using Find My to Fix iPhone 15 Unavailable
This is the simplest method to reset your iPhone 15 remotely. Yes, you can reset the device from any computer or iPhone in no time. But Find My iPhone should be enabled on your device, and you should know the Apple ID and password.
Step 1: Use any computer and go to icloud.com.
Step 2: Enter the credentials of your account.
Step 3: Click on the Find My app. Click on All Devices and select the device you want to erase.
Step 4: You will see multiple options. Click Erase iPhone. Now, you need to enter the credentials again to confirm.
After that, your device will be reset in no time. Then, you can complete the setup and start using it again without any passcode issues.
Method 4. Unlock iPhone 15 Unavailable via iTunes
iTunes can also fix this issue. You can connect your device to the computer and restore it. However, your device should be synced with the computer if you want to use this method.
Step 1: Make sure iTunes is up to date. Then, connect your device to the computer.
Step 2: On iTunes, click on the smartphone icon. Click on the Summary tab You will see the device information here.
Step 3: Click on the Restore button. You will see a new window. Click on Restore.
Now, iTunes will automatically restore your device.
Conclusion
We have discussed how to fix iPhone 15 unavailable in detail. There are multiple methods to fix the problem, and you can choose the right one according to your situation. Tenorshare 4uKey is the ultimate solution for unlocking your iPhone 15 or any other model. If you want to save time and unlock the device without any hassle, you should use this tool in the first place.
FAQ
What time will iPhone 15 be available?
September 15 is the date for pre-orders. If you want to try iPhone 15 as soon as possible, you should never miss this date. The early online orders will be delivered on September 22. From then, the phone and its accessories will be available in stores.
How do I fix my iPhone unavailable without a computer?
You can use the Erase iPhone method that we have discussed in this article. It does not require a computer. Secondly, you can use Find My on any other iPhone to erase the device.
How do I get my iPhone out of security lockout?
When you enter the wrong passcode, your device will be locked. You can use Tenorshare 4uKey to get out of the iPhone security lockout in no time.