I wasn't promoting Amazon products hard enough a couple of years ago in this blog. I put up some Amazon widgets here and there, got zero conversions, and gave up. I found that Amazon's product widgets were not sexy and flexible enough to attract buyers to click the ads (or so I thought). Copying and pasting the product links' codes were messy too. Not until I found a WordPress plug-in called "Amazon Product in a Post".
Since then, I've started promoting Amazon products quite heavily, especially on my review posts. Does it make a difference?
Aesthetically, the Amazon product ad looks much better now with the plug-in's help compared to the Amazon's default widget code. It's also flexible because you can modify the CSS to further customize the ads appearance: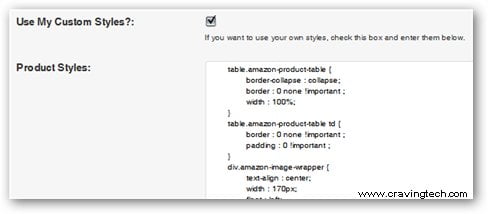 Adding one or more Amazon products in a WordPress post is easy too. At the bottom of your Post editor, you'll find Amazon Product in a Post widget where you can set a few settings and also enter the product you want to display to your readers. Of course, you need to enter your Amazon ID first on the settings so that the sales can get tracked.
If you need to display more than 1 product, you simply add a specific code inside your post (read more on the plug-in FAQ page). The plug-in will then automatically grab the products and display them for you in a nice order like this:
Easy, eh? I also like the fact that it occupies the width of my post layout nicely, compared to the not-so-flexible Amazon's default widget ads.
So the question remains: DOES THIS MAKE ANY DIFFERENCE AT ALL??
Statistics speak louder than words so here is my Amazon earning report summary from last year:
05/2009: I earnt $2.92 using the default Amazon widgets. I then stopped using Amazon ads on this blog.
08/2009: I decided to give Amazon another try. I earnt $1.16 that month.
09/2009: I found this plug-in and converted all my Amazon ads. I earnt $12.01 that month!
10/2009: I earnt $10.38.
11/2009: I earnt $17.03.
12/2009: I earnt $21.83.
01/2010: I earnt $14.30.
02/2010: I earnt $49.02.
So, there you go! The figures prove that ever since I used the plug-in, my Amazon earnings have increased by ten-fold due to the increased number of clicks. Whether or not the clicks are converting is another story, of course. So I'm not gonna give you any promise here. You'll still have to do the work in writing good posts and put the right positioning of the ads.
Of course, the figure is still too low to brag about. Lots of bloggers are earning thousands from Amazon. But they've gotta start somewhere, right? The fact that I'm going to receive my first Amazon check by the end of the month is already good enough for me. Besides, I've been giving honest reviews, not some fake reviews to make people buy the products through my affiliate links.
If you still haven't tried the Amazon Associates program, perhaps this is the time to start? (Don't worry, I don't get any commission if you sign up through that link. There is no such offer at the moment :)) If you like this post, please share it to your blogging friends (tweet, stumble, etc).