There were probably times when you wanted to take shots with either your smartphone or camera but required a certain, awkward angle. Sure, sometimes you can lie down on the floor or even climb a tree to achieve that perfect composition, but there is nothing easier than using a flexible, sturdy tripod like this one from GooFoto.
GooFoto Tripod Stand is designed and made with seven aluminium cores and rubber, making the stand strong and light, but also flexible at the same time. It offers the best of both worlds really: a sturdy and flexible tripod that you can wrap around anywhere to get that perfect photo or video clips.
The tripod is pretty simple to use and straightforward. The tripod legs with rubberised foot grips can be bent to your will so they can adapt to any terrain or object you want to attach it to. They are kind of stiff – good for durability and stability, yet at the same time can be bent and moulded.
Of course, the simplest use of the GooFoto Tripod is to use it as a standard tripod. Since legs are really sturdy, you can also make sure that the tripod stays even during windy days (by bending a couple of legs to match the wind direction, for example) or secure it to an object on the scene by "hugging" it with the legs.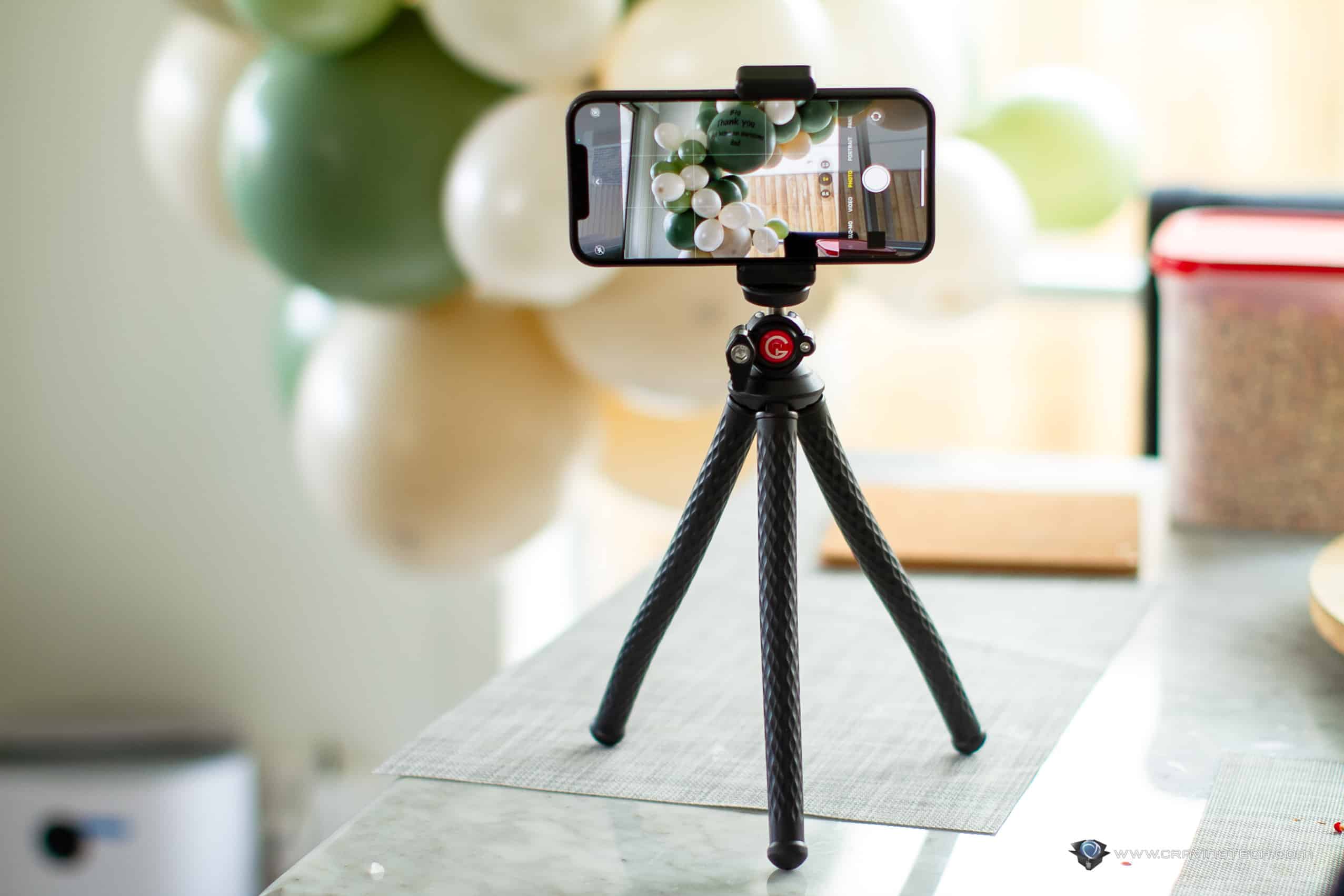 You can change the orientation of your phone or camera to either Portrait (for video calls, etc) or Landscape (for group photos, etc). You can do a 360-degree panning and 180-degree tilt so you can attach the tripod to a pole above ground or a tree branch and point your camera all the way down.
These flexibilities offer a variety of shooting angles that otherwise can't achieve without a flexible tripod such as this.
You can use it for other things too. For example, use the flexible legs to wrap them around an escooter steering handle and use it as a phone holder. You can then use Google Maps while you travel with the escooter and the tripod will make sure your phone stays there. Pretty handy in all situations.
The tripod is also supposed to be waterproof though there is no official IP rating as such.
GooFoto Tripod is compatible with smartphones (I tested it using my iPhone 12 Pro Max), digital cameras, and GoPro cameras too.
It only retails for $15.99 at Amazon which is more than a bargain as it comes with a wireless remote. Definitely recommended to grab one if you don't have a phone tripod yet or like to shoot at awkward angles.
Disclosure: GooFoto Tripod review sample was supplied for reviewing