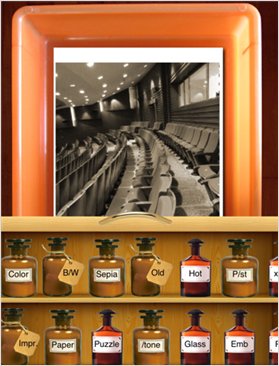 Dear Craving Tech readers, I have 5 promo codes of the Palm Lab application for iPad to distribute to you. No contests or whatsoever, just first come first serve. Simply put a comment below and ask for it.
Palm Lab is a fun application on the iPad that makes you feel like real photographers back in the non-digital era where photos are processed in a dark gloomy room. The app allows you to put nice effects on your photos but it's the process of doing it that makes this application fun.
There are more than 20 chemicals to play around with which transform your photos into old photos or other effects. Mix the chemicals and the photos with water (in the app, of course) with the touch of your hand, complete with sound and noise. Then see the magic happens.
Five promo codes are available, be quick or be sorry! :)
NOTE: You must have a U.S iTunes account