Who doesn't like getting freebies? There are many free applications (including games) for iPhone/iPad/iPod but not all of them are really good to use and keep. How about paid apps that are free for a limited period of time? Some are good and some are not. It's for you to decide. I just want to let you know that you need to visit AppShopper.com every day to check for:
New apps (normally free for a limited duration)
Apps on discount (slashed price for a limited time)
Normally paid apps but free for a limited time
I've got so many great apps and games, thanks to AppShopper.com. They have also released a free AppShopper app but I still find it easier to just browse their website for great deals or freebies. There are many other sites that let you know of free apps like this but I haven't found one that is better than appshopper.com. You can also monitor specific apps (if you register and all that) if you are waiting for a good moment to purchase the app when it's on sale.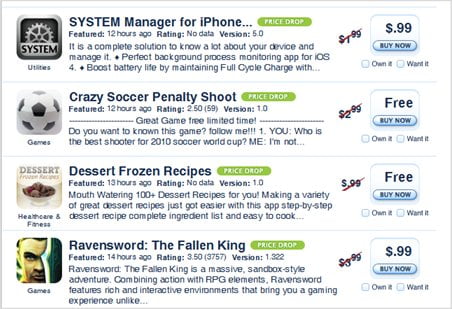 For example, these are great apps/games that I got for free, thanks to AppShopper.com:
It may not much to pay $1-2 for an app but if you've been on a shopping spree, you may have paid $100 or more in total for buying apps and games (and how many of those games that you are really playing so far? :)). Some of that amount can definitely be saved by visiting appshopper more often.