How to disable Google Talk on Android – So you've got a new Android device and all is fancy. The problem is, once you add a Gmail account to the phone, you will automatically be "online" in Google Talk (GTalk) and start receiving notifications on the phone when someone calls you for a chat.
If you don't like to chat on Google Talk or does not want the notifications to come up on your Android phone/tablet, then there is an easy setting to disable it completely.
To disable Google Talk or its notification on Android
[1] Go to Settings -> Applications Manager
[2] Just in case, go to the "ALL" section on top (next to "Downloaded" and "Running") to list all applications installed in your Android device.
[3] Find "Talk" and press it
[4] Now you can untick the "Show notifications" (Even if you "Disable" it, you still have to untick the "Show notifications" or else you will still get it somehow)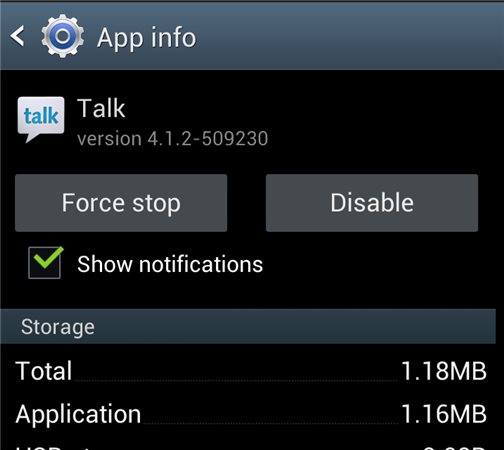 Done! No more annoying notifications from Google Talk on your Android phone.
Update: Apparently, you have to sign out first from it before you do the steps above. So, go to your Applications and open the "Talk" app. Then sign out from it.
If it still doesn't work, sign on first and then turn off the notifications from the Talk settings (use your Settings button)