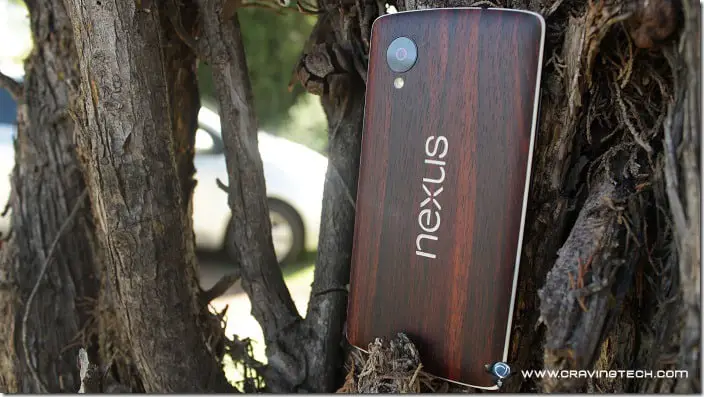 I don't know about you, but to me Nexus 5 is one of the best looking device back in 2013. It's sleek and slim, and having black and white colour combinations, the Nexus 5 will truly stand out in the crowd. However, there's just one moment where our phone just gets very stale. As an Android user, I love customisation which is why I was excited when the folks at dbrand sent me these vinyls for the Nexus 5.
dbrand isn't new when it comes to phone vinyls. In fact they are the one's to beat! They are Canadian based company known for making precised skins for your phone. Made from 3M vinyl, expect dbrand skins to be long lasting and adhesive.
Dbrand provided us two skins with different finishes for review, the brushed titanium and mahogany wood. I wasn't quite sure with the wood finish but I thought it would somehow make it look like an Ebony wood finish Moto X.
The installation can be tricky especially if you're a first timer. Thankfully, dbrand has a video on how to install it, in which they showed the step-by-step process.
Removing it can be as tricky as installing it, but I do suggest you to use a blow dryer to soften it, that way it will be a lot easier to peel off. You don't want to end up detaching the back of your Nexus 5, right?
TITANIUM
The first skin I installed was the Titanium. To be honest this has been my favourite out of the two. It's metallic pattern and looks compliment the design and colour of the Nexus 5. It does feel a little odd at first because of the textured finish, but after days of using it, I've gotten used to it that I forgot about how it feels.
The cut outs are very precised just as we would expect and in terms of the way it's been attached on the phone – it's spot on. The only annoyance of this skin is that if you have sweaty hands then it's going to be very noticeable.
MAHOGANY WOOD
Until now I'm still not quite sure whether I like the Mahogany vinyl simply because of it's dark colour whereas if it was lighter like Maple wood then it would've been more attractive. What do you think of it? Make sure to let us know in the comments below. I wasn't also satisfied with how it feels. To me fake wood just doesn't work for me at all.
Again, all the cut outs are at its best and also has the same effect if you have sweaty hands. But, that's a good sign that these vinyls will stay adhesive until you've decided to peel it off.
Personally the phone looked better with out the frame vinyls installed as it contrasts the glossy finish along with the white back of the Nexus 5.
There's no doubt that dbrand skins are the best I've used yet. There's nothing to argue with the quality of the product. The skins are not slippery and gives the phone a nice grip especially if you have a phone that has a glossy finish. It's a great way to hide those shattered glass on the back of your Nexus 4 and iPhone 4/4S if you happen to have it.
dbrand has a wide variety of compatible devices over their website, and has a different skins to choose from. So, do we recommend it? We certainly do. They're not the cheapest but you know the saying "You get what you pay for?". Think of it that way. Head over to dbrand.com to get yourself your very own dbrand skins.