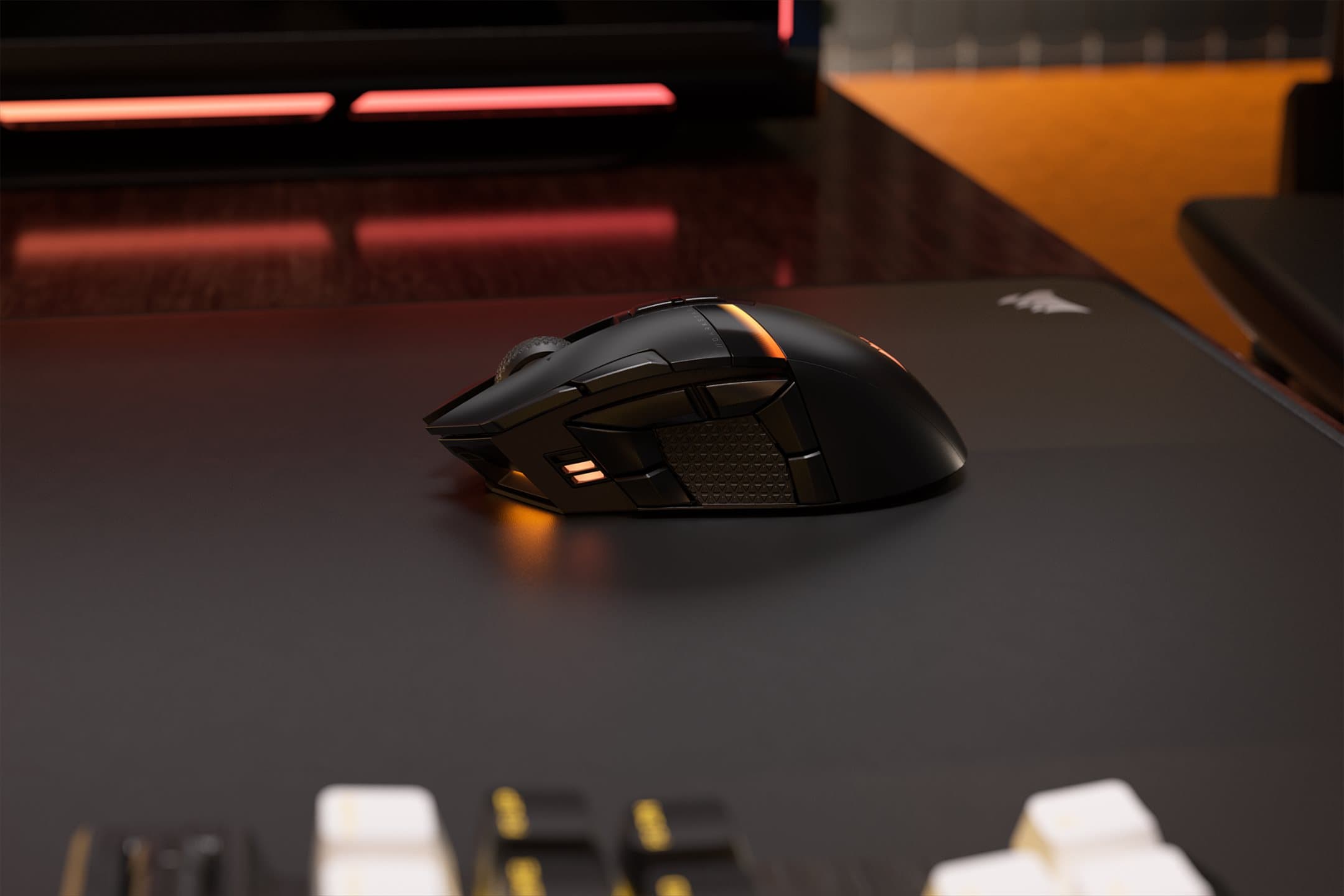 Introducing DARKSTAR WIRELESS, the latest addition to CORSAIR's awesome collection of gaming mice designed for top-notch performance in the gaming and content creation realm. This wireless mouse is a game-changer, reimagining how gaming mice are built with its cool side button setup that makes executing mind-blowing attacks a breeze.
DARKSTAR WIRELESS has whopping 15 programmable buttons that put all your spells and actions right at your fingertips. It has a super convenient six-button side cluster surrounding a textured grip, making it easy to control without straining your thumb during marathon gaming sessions.
DARKSTAR gives you the freedom to play your way without sacrificing speed or responsiveness. You can experience the lightning-fast 2,000Hz hyper-polling with sub-1ms SLIPSTREAM WIRELESS technology or effortlessly connect to various devices using Bluetooth. Plus, the battery life is epic, lasting up to 80 hours, and you can keep the battle going even while charging via USB.
Its super-accurate CORSAIR MARKSMAN 26,000 DPI optical sensor tracks every movement and flick with incredible precision, and you can customise it in tiny DPI steps. It has spring-loaded CORSAIR QUICKSTRIKE buttons, allowing you to unleash rapid-fire attacks without missing a beat, thanks to those snappy optical switches.
Advanced players know the importance of personalising their gear, and that includes the amazing RGB on DARKSTAR. With iCUE, you can customize the RGB lighting effects on your mouse, set DPI levels, assign macros, calibrate the sensor to different surfaces, and so much more. DARKSTAR WIRELESS can store up to five profiles onboard, ensuring easy access while you play different games.
CORSAIR DARKSTAR WIRELESS Australian Pricing and Availability
CORSAIR DARKSTAR WIRELESS will be available at the end of July 2023 and will have a retail price of AU$249.