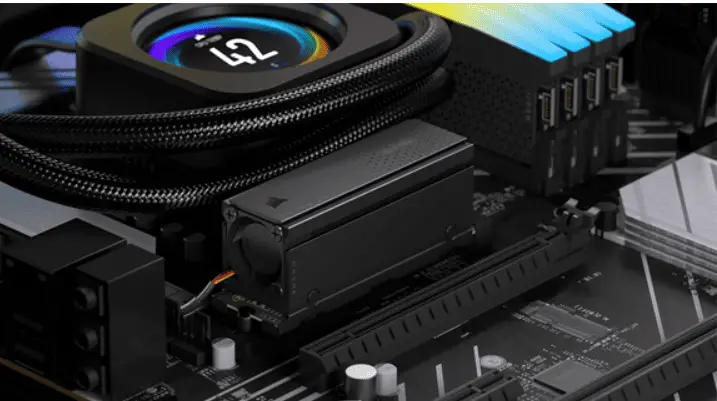 CORSAIR has just unveiled its most advanced PCIe Gen5 M.2 SSD yet: the MP700 PRO. Offering up to 4TB of storage and three distinct cooling options, the MP700 PRO is redefining the landscape of next-gen storage with its remarkable speed and performance.
The MP700 PRO's sequential read and write speeds reach an astounding 12,400MB/sec and 11,800MB/sec, respectively. This is a staggering 75% increase in speed compared to PCIe 4.0 SSDs. The random read and write performance also sets new benchmarks with up to 1.5 million read and 1.6 million write IOPS, significantly outperforming top PCIe Gen 4 drives.
Compatibility and future-proofing are key, as the MP700 PRO is backwards compatible with PCIe 4.0 motherboards, ensuring longevity for your investment. Microsoft DirectStorage support ensures gamers extract maximum performance from the latest titles, while Windows file copying and application loading times are noticeably reduced.
The MP700 PRO, using the industry-standard M.2 2280 form factor, fits seamlessly into most desktop motherboards. For optimal performance, additional cooling is recommended. The standard version utilises the motherboard's built-in M.2 cooling. For more demanding cooling needs, a version with a fully-assembled Air Cooler is available, maintaining peak performance even under heavy loads.
For those with custom cooling setups, the MP700 PRO Hydro X Series variant includes a pre-assembled water block. This version integrates smoothly into your custom cooling loop, offering top-tier cooling efficiency and maintaining high performance, free from throughput throttling. The water block fits standard 1/4″ fittings and meets CORSAIR's high custom cooling standards.
Like all CORSAIR SSDs, the MP700 PRO comes with the convenience of the free CORSAIR SSD Toolbox software, facilitating easy secure erasing and firmware updates. The five-year warranty provides additional assurance of the drive's durability and reliability.
The MP700 PRO's 1TB and 2TB versions are available now through CORSAIR's webstore and authorised retailers. A 4TB version is set to hit the market later this winter.