SAP, one of the most successful technology companies operating in more than 130 countries including Australia and New Zealand, and has helped 20 million users from more than 600 customers across major industries (including public sector, manufacturing, retail and consumer packaged goods, utilities and telecommunications, and financial services) with their enterprise software solutions and software-related service.
One of the exciting solutions that they offer is SAP Cloud, a comprehensive cloud computing solution that manages your entire business (inventory, customers, etc) that also integrate with your existing solutions. Rather than buying different software for different solutions (which gives you more headache), SAP Cloud is a complete package without hefty investment and headache.
Apart from the obvious convenience and agility of the could, SAP Cloud harness crowd-sourced knowledge from a network of partners and peers and transform them into useful analytics using in-memory database technology, and are accessible on mobile platforms.
SAP implements plug-and-play cloud solutions to suit your business requirements without the need to immediately abandon your established business elements but to gradually evolve to high productivity at your own pace. For example, you can start with SAP Sales OnDemand and recruiting solutions, and then add learning and travel to first fully equip your sales team.
You can then take SAP Cloud for Social Engagement solutions to arrive at better customer satisfaction levels by helping you find the relevant messages and intelligently respond to them in a matter of minutes, engaging with them in places where they like to hang out. Whilst doing that, you can also add procurement offerings from Ariba (an industry leader in online sourcing buying and selling) and manage worker performance and knowledge with SuccessFactors™ Employee Central.
SAP also provides further value-added solutions with SAP Jam, an enterprise social network solution which allows your business to connect with your customers, partners and employees with key information and processes in the cloud.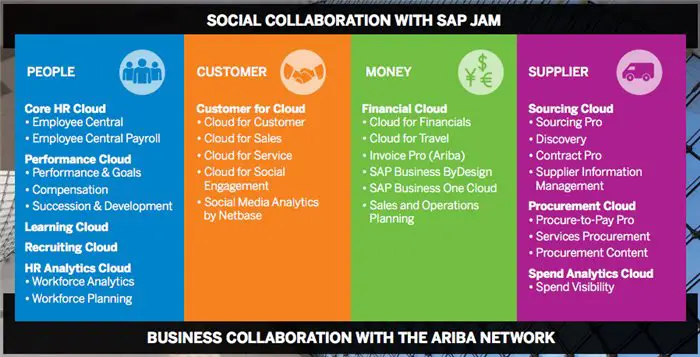 SAP and partner solutions powered by the SAP HANA in-memory computing platform can help you dramatically accelerate analytics, business processes, sentiment data processing, and predictive capabilities. SAP HANA is built on a completely new architectural design, built to support real-time business.
Accelerate and transform your business, running your business in the cloud. Go big, go fast, go cloud, go SAP.
To find out more about SAP Cloud, click here.
Disclosure: This post is sponsored by SAP. All opinions are 100% mine.