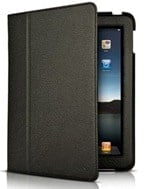 If you are looking for a slim case with good leather quality, you've come at the right place. The Executive Case is the latest iPad case from BeyzaCases and its slimness is one of its greatest strength compared to the other cases.
There is also a rather unique design that keeps your iPad more protected than ever.
It's 205mm x 257mm long and padded your iPad well even if it looks slim:
I'm not a fond of the padded design surrounding the case though, as they make the case look funny. However, after thinking why they would have designed it this way, I found that it's actually quite a smart design. If you drop the iPad accidentally, the extra padding will keep your iPad safer. Most of other cases have flat surfaces so if you drop it high enough, the iPad might get the crack from the force even if the case gets in contact first. With this design, you actually have an extra secondary layer of protection on the case itself.
The BeyzaCases iPad Executive case covers the inner surface of the iPad but keeps the ports and jacks open and accessible. You can also charge the iPad straight without having to take the iPad out of the Executive case.
There is also an opening to store a few papers or business cards, which are perfect for executives.
The Executive case for iPad can also be used with a couple of various positions: to watch movies and also to type on a desk: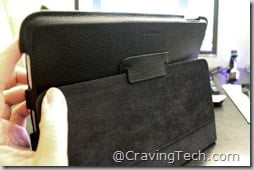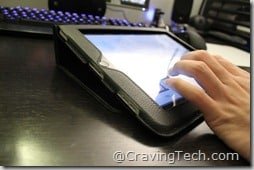 BeyzaCases iPad Executive Case is designed with great quality, just like any other BeyzaCases that I've reviewed so far. The surface is well textured and I always love the embossed BeyzaCases logo on their cases, adding an extra nice touch (even if it's meant for marketing purposes).
The design on the edges of the case makes it look a bit out of place but it adds extra degree of protection should you accidentally bump the case hard on the wall or drop it from a high floor.
If you decide to get a case from BeyzaCases, don't forget to use CRAVINGTECH10 coupon code to get a 10% discount of the retail price.
Note: Sample provided for the review