ASUS ROG Azoth Review – The Asus ROG Azoth sets the standard as the first 75% custom wireless gaming keyboard, catering to both typists and gamers alike.
I spent nearly two weeks using the Asus ROG Azoth for both work and leisure. Below are the highlights and my thoughts on this innovative device.
Asus ROG Azoth Review – Unboxing and Packaging Contents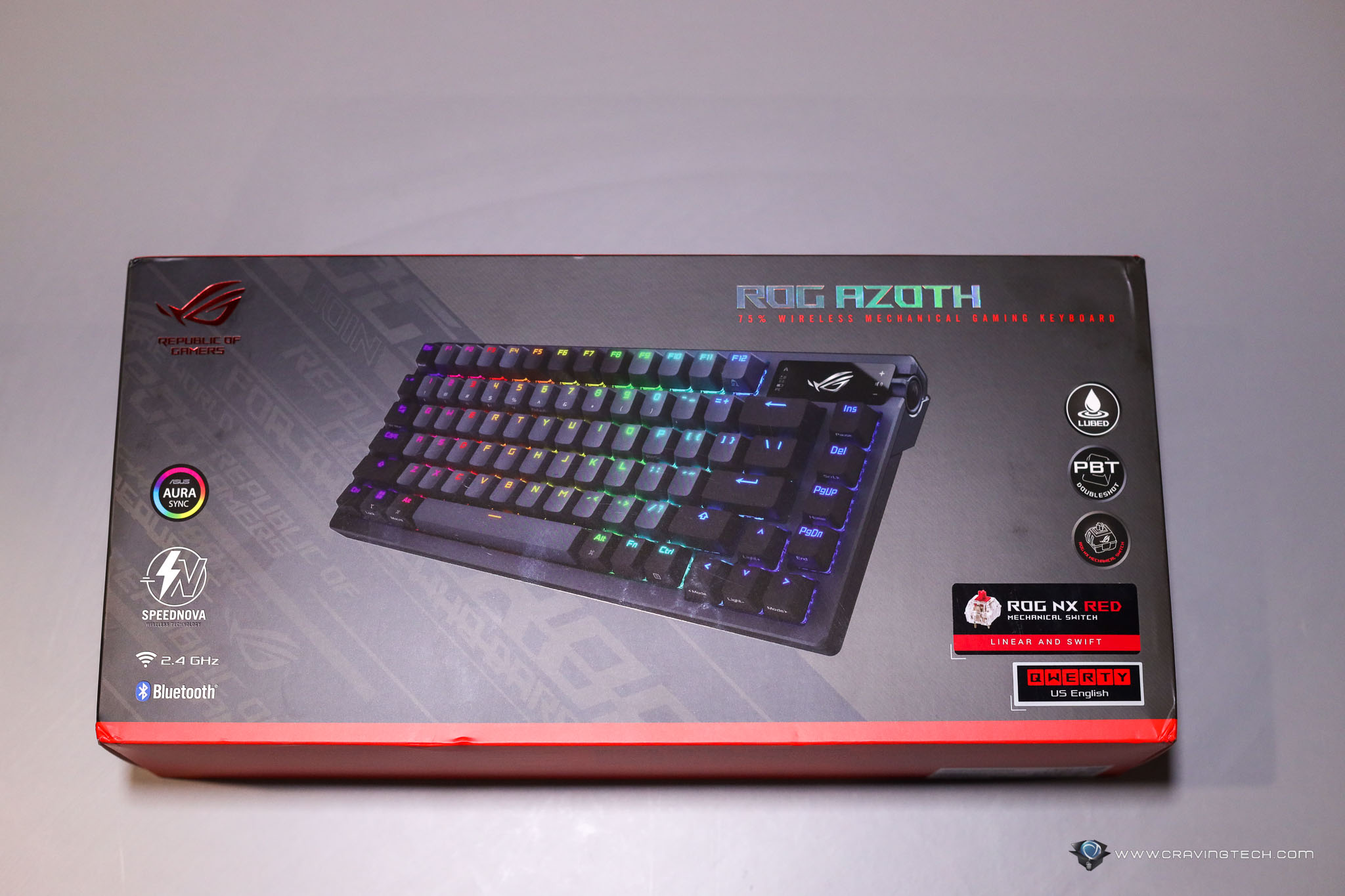 Asus ROG Azoth Review – Design and Features
Tri-Mode Connectivity
Free yourself from the limitations of cables and seamlessly switch between three devices using low-latency 2.4 GHz ROG SuperNova wireless technology, Bluetooth 5.1, or a fail-safe traditional wired connection.
The ROG SpeedNova wireless technology offers over 2,000 hours of low-latency gameplay in 2.4 GHz RF wireless mode. During my gaming sessions, I connected the Asus ROG Azoth via a wired connection, similar to my gaming mouse, the ROG Chakram X. For work, I used a wireless USB dongle and Bluetooth for my mobile phone. I appreciate that Asus ROG offers this versatility across their product line.
Functionality and Form Factor
The 75% layout of the Asus ROG Azoth includes dedicated function keys, which are invaluable for both gaming and professional tasks. Compared to a 60% keyboard that lacks function keys, this keyboard makes activities like spamming voice lines in Overwatch or using keyboard shortcuts for video editing and programming significantly easier. If you're not an Overwatch fan, you'll still appreciate the dedicated function keys in MMORPG games like World of Warcraft.
Being a 75% keyboard also means it is both compact and portable. While TKL keyboards are space-saving, a 75% form factor provides even greater portability; it easily fits in your backpack and leaves ample space for mouse movement. This design minimizes the likelihood of strain during prolonged gaming sessions.
Customisation and Personalisation
The Asus ROG Azoth is a premium custom keyboard offering a high level of personalization. It comes with swappable switches for all keys. The review unit features ROG NX Red switches, which are linear and quiet—my personal favourites. However, you can easily swap out individual keys for tactile switches if you prefer.
Keycaps are made of PBT doubleshot material, which is standard for custom keyboards.
Onboard OLED Display and Software
Though it may seem like a gimmick, the onboard OLED display serves its purpose, allowing for adjustments to lighting effects, multimedia, and brightness with three adjustment levels. The keyboard works perfectly out of the box without requiring Asus's proprietary Armoury Crate software, although installing it will unlock additional features. You can, for example, replace the default, animated ROG logo to something else.
RGB and Typing Experience
The Asus ROG Azoth is equipped with Asus Aura Sync for customizable RGB lighting. All keys come pre-lubed, saving you the time of oiling each keycap. Its gasket mount design, switch stabiliser, and layers of dampening foam offer excellent noise dampening and keypress stabilisation, resulting in a satisfying and pleasant typing experience.
Asus ROG Azoth Review Conclusion
The Asus ROG Azoth is an ideal addition to any ROG setup. The keyboard's tri-mode connectivity and exceptional low-latency performance make it a standout choice for those who demand the best in both wired and wireless options. Its dedicated function keys add a layer of convenience that is often missing in smaller form factors, making it a good choice for productivity tasks if you must have a 75% size keyboard.
If you're seeking a visually stunning gaming keyboard or are a typist who demands a high-quality mechanical keyboard, the Asus ROG Azoth is precisely what you've been looking for. Priced at a premium AUD 399, it is available at local computer stores like Mwave.