Note: This is a guest post written by Nuur Hasan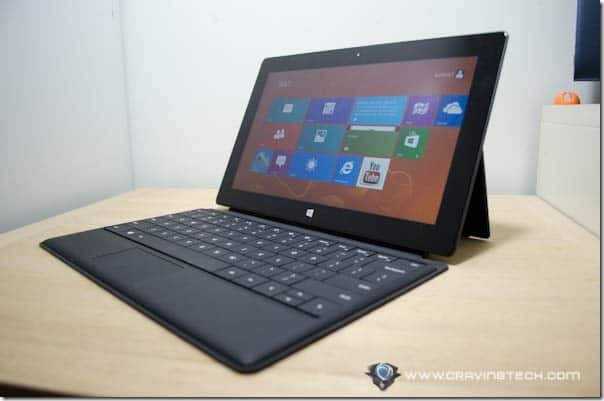 Android and Windows are neither friends nor bitter enemies. Their rivalry is fierce but it is not brutal like Samsung and Apple. Both these tech giants are OK with Windows and Android platforms splitting into one phone, but as for computers; they both want hands off each other.
It's obvious why Microsoft isn't keen on this hybrid approach as they want to push their own operating system. With Windows Phone achieving record sales in Q4 2013, it'd be a real knock back as the hybrid approach contradicts the whole Windows 8.1 concept.
This irritation on the part of Microsoft has at least affected one PC maker to abandon their line of hybrid. ASUS gave us machines like Transformer AiO series which despite seamlessly switching between Windows and Android, weren't truly groundbreaking. And sadly that might be it for the hybrids. The wall Street Journal claims that not only the eagerly awaited Transformer Book Duet TD300 is headed for the dumpster, but the entire line of hybrids will no longer be pursued any further.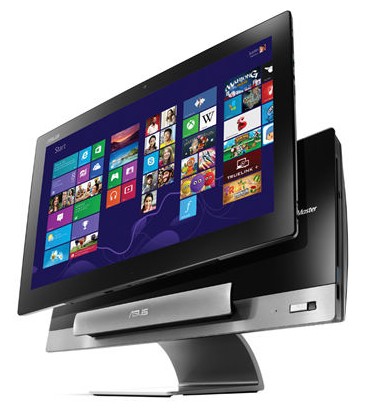 The AiO series switch from Windows to Android upon undocking the screen of flipping over the laptop. Simple as that! The idea behind the hybrid is to present the users with the best of PC and tablet experience. However, unfortunately the devices failed to please both Microsoft and Google.
Microsoft's take on these tablets is understandable. The sole purpose of two UIs for Windows 8 devices was to ensure that a single device can provide a traditional PC desktop interface as well as the more modern interface for touch devices. Microsoft users are still trying to wrap their heads around the switch between interfaces and the providing an Android UI for tablet based use would only undermine the entire concept of modern Windows 8 touch screen UI.
However, the reason why Google showed displeasure is somewhat of a surprise. As per the journal, Google simply weren't keen on sharing the device with another Operating System. But Google didn't voice any discontent at Canonicals concept phone, a hybrid between Android and Ubuntu.
Huawei have also lined up a Windows-Android hybrid to be introduced pretty soon. Hence, we can only speculate as to why Google would frown upon a hybrid PC. Maybe playing second fiddle to Microsoft put Google off. Android and Windows are both complete operating systems for mobiles, however when it comes to a PC, it's not hard to imagine users preferring Windows for primary PC functions and Android left to a supporting role.
Microsoft and Google have objected a little late to the hybrid PCs as ASUS have already launched two models (P1801 & P1802) in the past year and Samsung nearing the shipping of its AtivQ. However as mentioned before, these machines have are by no means ground breaking. In tablet mode, the ASUS machines weigh near to six pounds and have a massive 18 inch screen. Not exactly providing the mobility you'd expect from a tablet. The fact that it's priced at $1000 is somewhat of a turnoff also.
The Transformer Book Trio is of a more tablet-appropriate size, however being a measly Atom powered device, only a tiny gentry of users would opt for it.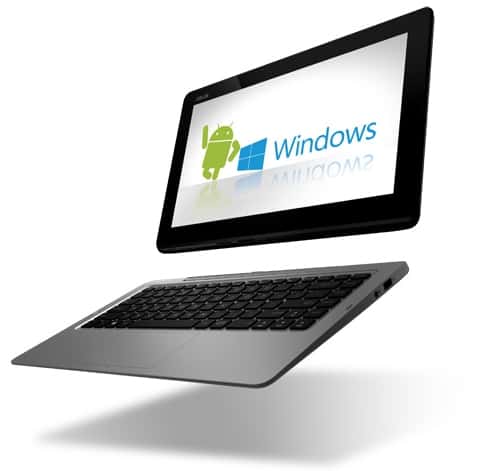 The Duet TD300, however, would've been a different story. Lightweight and powerful, the TD300 boasts an Intel Core processor with 4GB RAM and a support for up to 1TB of storage. Unfortunately, if The Journal is right, we'll never find just how successful the TD300 might've been.
Note: This guest post was written by Bedar Hasan. He is a graphic artist, designer and animator. He is currently working as Creative Designer for Gloria9 Technologies. He is a huge sports fan, a cricket and football enthusiastic – a Gunner (Arsenal) for life. In his free time, he likes to share his experiences through blogging.