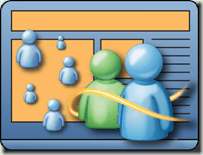 The developers at Microsoft Live Services released the Windows Live Messenger Toolkit yesterday.
The toolkit basically allows you as a webmaster (or blogger) to add controls and libraries to enable Windows Live Messenger users to connect, use, and chat on your site.
To web owners, it means that you are making it easier for people to bring their WLM friends to your site using the widget. You also allow them to chat with each other on your site (although I fail to see why it isn't easier to chat on the client itself).
Adding this functionality to your site/blog unfortunately is not a copy paste job. You need to read the manuals and know some programming knowledge in either C#, Visual Basic .NET, Java, Perl, PHP, Python, or Ruby.
Nevertheless, if you think that your site is going to reap the benefits, feel free to read more on Live Services blog post.