Philips Hue Dimmer Switch Review – I have lots of smart lights at home, probably around 15-20 ranging from Philips Hue lights, LIFX, Nanoleaf, and LASER Connect SmartHome. While I can always use my phone or voice assistant (like Siri and Alexa) to control them, there's nothing quicker and straight-to-the-point like flicking a switch.
Well, in this case, probably tap on a switch. Philips Hue Dimmer Switch is a smart switch that can turn your Hue smart lights on and off, dim them, or trigger your favourite presets (for movie watching, chilling, party, etc).
Philips Hue Dimmer Switch Review – Packaging & Unboxing
The packaging includes a wall back plate in case you want to mount the switch onto the wall (works with adhesive tape). I really like this approach because many do not want or know how to change their current light switch to a smart switch.
With the Hue Dimmer Switch, you can just place it next to your existing light switch, on another wall, or just place it on the table.
Philips Hue Dimmer Switch Review – Design & Features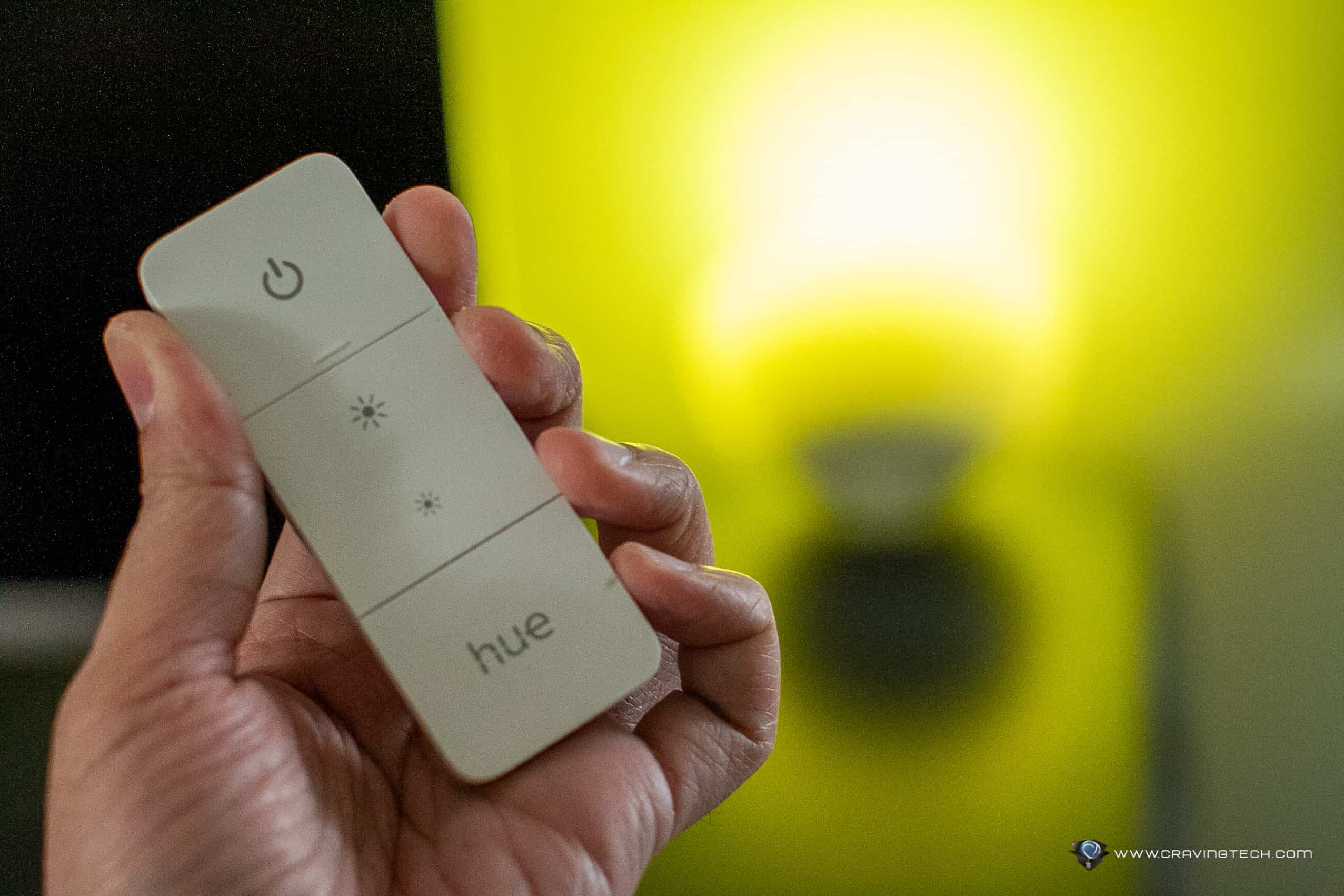 Speaking of the "wall mount" option, you can easily snap the dimmer switch out of the back plate as it is magnetised. You can then use it as a remote control and snap it back on the plate after. It's also useful when you need to replace the battery within (1 x CR2450).
I personally prefer that it has a built-in, rechargeable battery so I don't have to keep buying new batteries but Philips does state that the battery can last 3 years or more. I'm sure it depends on the usage too but I guess we'll find out in a few years time!
The Hue Dimmer Switch can be added from the Philips Hue app and obviously, if you have a Philips Hue Bridge set up at your wireless network, you can add up to 50 lights on it (or 10 without a Bridge). Adding the switch as an accessory is quick on the Hue app and you can also program the buttons within the app.
It has four buttons: Power (on and off), Brightness Up, Brightness Down, and a Hue button for your presets. The Hue button supports up to 5 consecutive presses so you can set 5 different scenes to quickly switch to any of them instantly. For example, you might have a scene perfect for reading and a different one when you are about to go to bed (e.g dimmed lights). I honestly only use 3 presets and it's more than enough.
We used to rely on our Amazon Echo Show 5 on our bedside table to switch our bedroom lights on and off every night. There were definitely times where we were really tired and wished we could just tap on a switch next to our bed (rather than asking Alexa with our voice). Well, now we can!
Being able to quickly dim the lights within an arm reach is tremendously helpful.
Philips Hue Dimmer Switch Review Conclusion
Philips Hue Dimmer Switch is an easy to use Hue smart switch that can be used like a remote control or as a wall switch. The smart, magnetic-design plate also means you can use it as both back and forth.
There are a few buttons on the switch that give you all the actions you need from a Hue smart switch: turning it on and off, dimming the lights, and even instantly switch to a favourite scene that you've set up from the app.
I honestly can't find any fault with the switch and have been using it every night to change our bedroom lights (Hue Lightstrip Plus V4 I'm still reviewing, and the Hue Go that I've set up with my Hue Play HDMI Sync Box). In one occasion, the Hue Dimmer Switch was unreachable but it can quickly reconnect back by holding and pressing the four buttons for a few seconds.
It retails for A$39.95 which is quite affordable and available now for purchase on Hue website or retailers around Australia. Also available at Amazon.com.
Disclosure: Philips Hue Dimmer Switch review sample was supplied for reviewing
Philips Hue Dimmer Switch Review
Summary
A smart switch for your Hue lights that can be mounted on a wall, or as a wireless remote control. Has plenty of customisations to dim the lights and instantly select your favourite light presets or scenes
Pros
Includes a wall plate that can be mounted anywhere with adhesive tape
Switch can be used like a remote or placed on the wall plate (magnetised)
Has dedicated dimming buttons and multiple presets