RØDE VideoMic GO II Review – Back in 2012, I was involved in a movie project where we used professional, full gears like a few DSLR cameras and audio recording devices that we rented back then: a RØDE NTG-2 Shotgun Microphone with RØDE Boompole and Blimp (see the photo above).
But years later, smartphones are already good enough at times to create both professional video and audio contents. While the video quality of a smartphone still can't be compared to the pricier DSLR cameras (especially with the depth of field effect), there is no shortage of great movies and short videos made using just a smartphone.
For this reason, RØDE has released the new VideoMic GO II – an ultra-lightweight and compact shotgun microphone that you can use to capture high-quality audio on a DSLR camera, boompole, tripod, and even straight on your phone.
RØDE VideoMic GO II Review – Unboxing and Packaging Contents
RØDE VideoMic GO II Review – Design & Features
RØDE VideoMic GO II features the same revolutionary acoustic design as the VideoMic NTG and NTG5 shotgun microphones with annular line tube technology. However, it has a 3.5mm TRS output to be used with cameras and also a USB-C output for use with smartphones, tablets, and computers.
Its simplistic plug-and-play approach means there is no complicated setup to perform, no charging in-between sessions, and you can move between one recording device to another with ease. The included 3.5mm cable can be used on your camera right away as it is self-powered.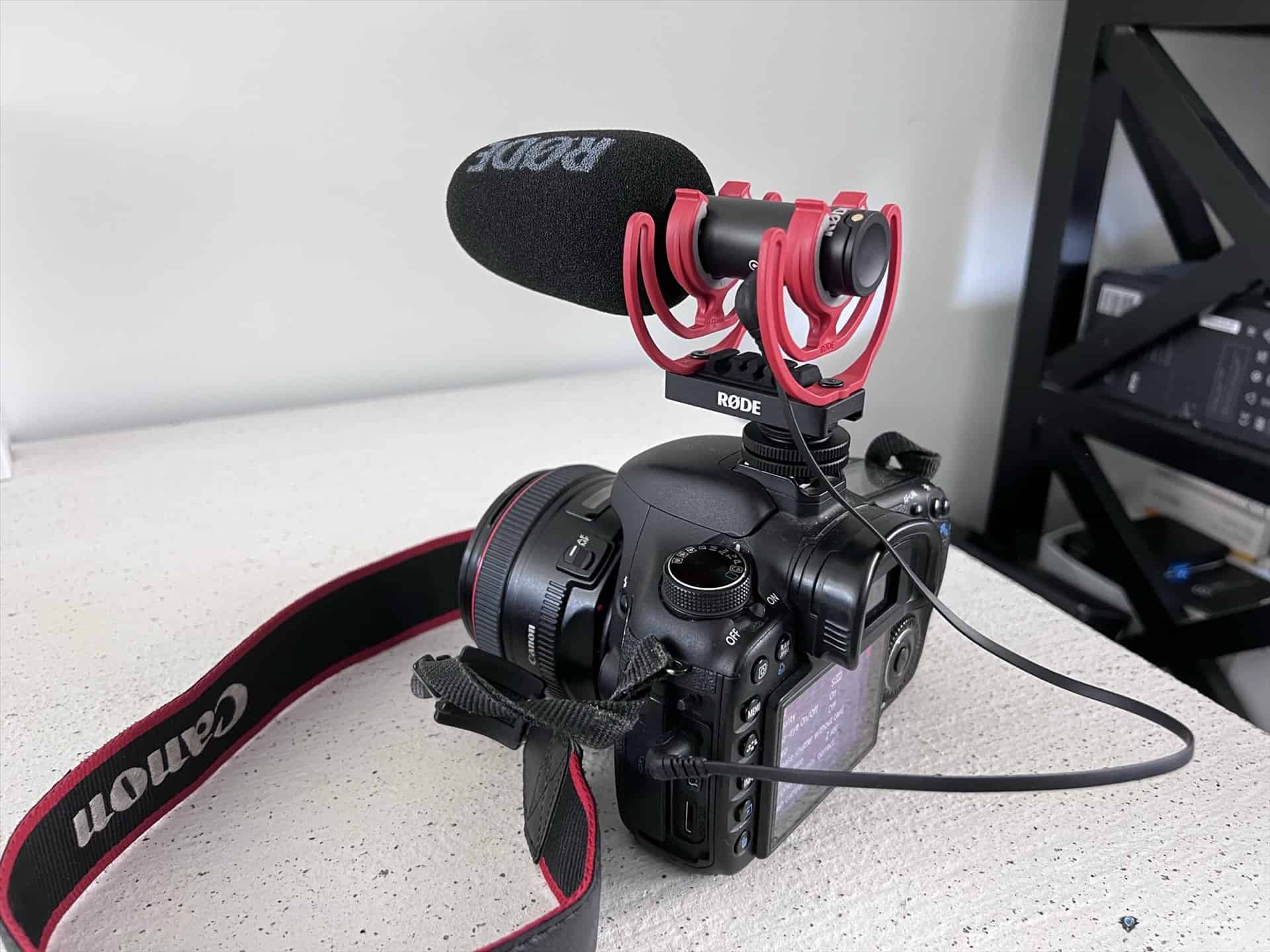 Similarly, you can plug the VideoMic GO II to an iPhone directly using a USB-C to Lightning cable though you need to purchase this separately (I'm using the RØDE SC15 Lightning Accessory Cable). And if you want to use it for vlogging, there is also a separate accessory purchase to "mount" it on your phone:
When tested on my desktop PC, I was using the RØDE SC18 USB-C to USB-A cable. Again, everything is plug and play and there is no need to install any driver or software on the PC. High-pass filter, high-frequency boost and pad are also accessible in USB mode.
Thanks to this versatility, you can use the VideoMic GO II with your desktop PC or laptop not just for content creation, but for Zoom or video calls. If you have a mini tripod that you can place on your desk, the VideoMic GO II can elevate your voice quality over these video/audio calls too.
And when the shotgun microphone is used in USB mode, the 3.5mm port doesn't just go to waste. It will be transformed into a headphone output for zero-latency audio monitoring and playback, like those fully-featured USB microphones like the RØDE NT-USB Mini.
The VideoMic GO II is a directional microphone so it focuses on capturing on what you have it pointed, meaning you can reduce background noise and let the microphone focus on your subject. When I tested this, I had my family playing with our son downstairs while having my desktop PC humming nearby.
When recording with RØDE lapel microphones at the same spot, my humming PC in the background can be heard quite clearly but it's barely noticeable on the VideoMic Go II. I still can hear the background noise of my family but only if I crank the volume up.
Here's an audio recording sample from VideoMic GO II:
For professional audio and video creation where you want to use your VideoMic GO II with a boompole, you'll appreciate how lightweight it is (89 grams). Sure, the NTG5 might be a better purpose for professional use but since you already have the VideoMic GO II, it's good to know that you have these variety of options available for you.
RØDE VideoMic GO II Review – Conclusion
RØDE VideoMic GO II is definitely one of the most compact and versatile shotgun microphones ever created and in this digital era where many content creators are making quality contents with their smartphones, you'll want the RØDE VideoMic GO II around.
Planning to use it with your camera? Check. Use it with your phone? Check. Use it directly to your PC or laptop? Check. Hanging it on the PSA1+ boom arm in front of your monitor? Check. The options are limitless and you can use it for other non-content creation purpose too as a good, versatile, USB microphone.
Ok, so maybe you can't use it as a desktop microphone for interview purposes as it's not omni-directional. However, having a high-quality, directional microphone means you can reduce background noise as you go live, such as the sound of your keyboard typing and other noise in your house.
The product is compatible with the entire RØDE app suite – RØDE Connect, RØDE Central (desktop & mobile) and RØDE Reporter.
RØDE VideoMic GO II is available now for purchase in Australia for AU$149 RRP.
Disclosure: RØDE VideoMic GO II review sample was supplied for reviewing
RØDE VideoMic GO II Review
Summary
A versatile, directional shotgun microphone that can be used with any devices in many kinds of situations
Pros
High-quality, directional shotgun microphone
Included shockmount and Foam Windshield
Can be used on USB devices (smartphones, tablets, laptops) and/or cameras
Lightweight
Crystal clear audio
Self-powered, no battery to replace, no charging required
Cons
Need to purchase additional accessory cables if you are using it on USB devices