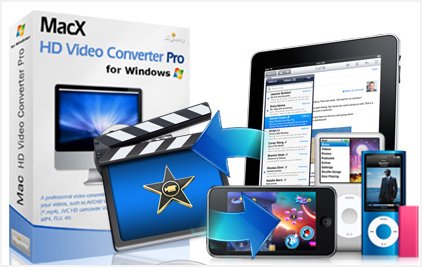 That's right, 50 (fifty) licenses to be given away for Craving Tech readers who win this contest.
With 50 licenses as the prize, you will definitely get a big chance to win this one. The license is for Video Converter Pro (for Windows) software from MacX DVD, titled MacX HD Video Converter Pro for Windows.
The software basically converts among HD & SD videos and also videos to iPhone/iPad/PS3/Xbox/Android, and more.
With an easy to use interface and support for multiple audio and video format, the software is a perfect addition to your software collection even if you don't need it just yet.
To find out more about the features, feel free to browse MacX HD Video Converter Pro for Windows page.
How to win HD Video Converter Pro for Windows licenses
Answer the following: "What did you use to convert your videos before and what did you dislike about it?"
Post on the comment section form that you are participating
NOTES:
The FIRST 10 people who do the 3 points above will automatically get the license!
The other 40 licenses will be given to the ones with the best answer (for question 2).
You MUST activate the key before 18th of January 2012 and it cannot be reactivated afterwards (so if you reformat your computer after 18th of Jan, you cannot activate the key anymore). But not to worry, I'm sure we'll have more giveaways from MacX so you can get a newer license.
Full terms and conditions:
Contest will run from 20th December, 2011 at 9 p.m AEST until 3rd of January, 2012 at 9 p.m AEST.
Prizes are valued at 50 x $34.95 = $1,747.50
Prizes cannot be redeemed for cash or exchanged.
Feel free to share this giveaway to your friends, whether you are interested in participating or not :)