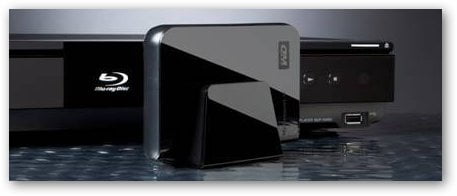 The My Passport AV from Western Digital seems to be pretty handy especially if you do lots of video recording because you can simply plug-and-play your camcorder, transfer the files across, and do more video shooting.
Sydney, Australia: May 24, 2010 – WD®, the world's leader in external storage solutions, today introduced its new My Passport™ AV portable media drives. Designed specifically for video storage and playback, the new My Passport AV portable media drives deliver a plug-and-play experience for digital media enthusiasts. Available now at select retailers. The My Passport AV portable media drive is offered with 320 GB of capacity.
A large and increasing number of game consoles, camcorders, TVs, DVRs, Blu-ray players and media players, including the WD TV® Media Player family, allow consumers to connect a USB drive and play the multimedia content from the drive on an HD TV. The My Passport AV portable media drive is designed to meet the requirements of this demanding video streaming environment. It delivers the formatting and low-power consumption that assures out-of-the-box compatibility with many leading CE (consumer electronics) devices.
WD worked to ensure that the My Passport AV portable media drives operate seamlessly with the Direct Copy feature offered in Sony's new Handycam® video recorders. Direct Copy lets Handycam users offload and archive HD video directly to a My Passport AV portable media drive without a computer, creating room to shoot more HD videos when their Handycam hard drive becomes full.
Consumers can then play back their stored videos using Sony's latest Blu-ray players or any of the WD TV media players by just connecting the My Passport AV portable media drive via the USB port on these players. Specific Handycam and Blu-ray model compatibility information is available on the WD Web site.
With its small footprint, the My Passport AV portable media drives are designed to fit neatly in a home entertainment center. The included stand and extra long cable makes it easy to position the drive neatly in entertainment centers, maximizing the airflow and minimizing heat around the drive.
"With more and more devices capable of generating and playing back HD video – camcorders, Blu-ray players, game consoles – portable hard drives are the best solution for this 8 GB-per-hour capacity-intensive content. The My Passport AV portable media drive is optimized for a better digital video experience with a growing list of consumer electronics, starting with Sony's latest camcorders and Blu-ray players," said Dale Pistilli, vice president of marketing for WD's branded products group.
Price and Availability
The New My Passport AV portable media drives feature a 3-year limited warranty and are available now at select retail stores.

Product Pricing and Availability
Manufacturer: Western Digital
Product Name: WD My Passport AV
RRP:
AUD 320GB AU $129.99
NZD  500GB  NZ $179.99
Website: www.westerndigital.com
Warranty: Three-year limited warranty
Australian Distributors: Synnex Australia
New Zealand Distributors: Ingram Micro NZ and Synnex NZ
Availability: Now

My Passport AV Compatibility
My Passport AV portable media drives are formatted FAT32  and are compatible with Windows® XP, Windows Vista™, Windows 7, Mac® OS X® and Apple's Tiger®, Leopard®, and Snow Leopard®. My Passport AV portable media drives utilize the same drive technology found in WD AV drives inside leading cable and satellite set-top boxes and DVRs (digital video recorders) around the world.
The My Passport AV portable media drives are compatible with the following devices:
–  WD TV family of media players;
– 2010 and later Sony camcorders with Direct Copy functionality;
– Sony 2010 Blu-ray Disc Players including BDP-S370, BDP-S470, BDP-S570;
– Sony 2010 Blu-ray Disc Home Theater Systems including BDV-E370, BDV-E570;
– JVC LT-32P689 television;
– Samsung® LN32A550 television;
– Phillips® 42PFLA332D television;
– Microsoft Xbox 360® (compatible with the USB media playback feature); and,
– Sony PlayStation®3.
For a complete list of devices compatible with the My Passport AV portable media drives, please visit the WD Web site. A product specification sheet and photos of My Passport AV drives are available on the company's Web site at http://www.westerndigital.com/MyPassportAV.