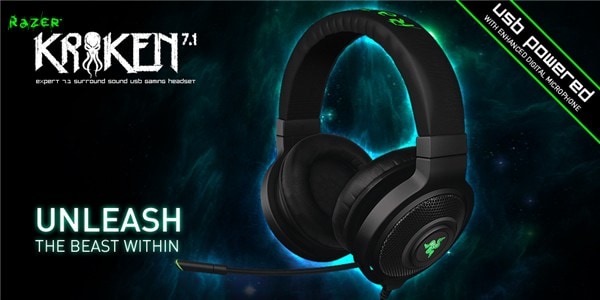 Razer Kraken with 7.1 surround sound gaming headset – Today, Razer was unleashing the beast all over again. The Kraken was already in the market for a while now, but gamers who are longing for a surround sound headset experience can get the Kraken reborn with 7.1 surround sound.
The Razer Kraken 7.1 is a USB gaming headset which is perfect for those who can't afford a good sound card on their PC. Through the Synapse 2.0, you can also customise each surround sound channel to your liking, boost more bass, and more.
For more information about the Razer Kraken 7.1 Surround Sound USB Gaming Headset, and to hear samples of the 7.1 surround sound engine and digital microphone please visit www.razerzone.com/kraken71.
I recommend you to give the listening a try to find out how immersive your gaming experience can be.
If you have a great 7.1 sound card, then you might want to utilise it and grab the Razer Tiamat 7.1 headset that I reviewed before instead of the Kraken 7.1's simulated surround sound.