Note: This is a guest post written by Ethan Patterson
A new password can be challenging to choose. When it comes to passwords, you cannot be negligent. You want your data safeguarded and personal information secured, so it's dangerous to rely on the primary number or your name as a password. Those who want to steal your information have the password-cracking skill, so you must be careful to protect your accounts.
You can use Dualsafe Password Manager, etc. password management tools unless you want to manually remember all your unique passwords. A password manager can help you in maintaining strong password security while easily managing all of your login information for every online account.
It may be simpler than you think to keep track of all of your account passwords. A reliable password manager will store everything and serve as your first line of security against hacking.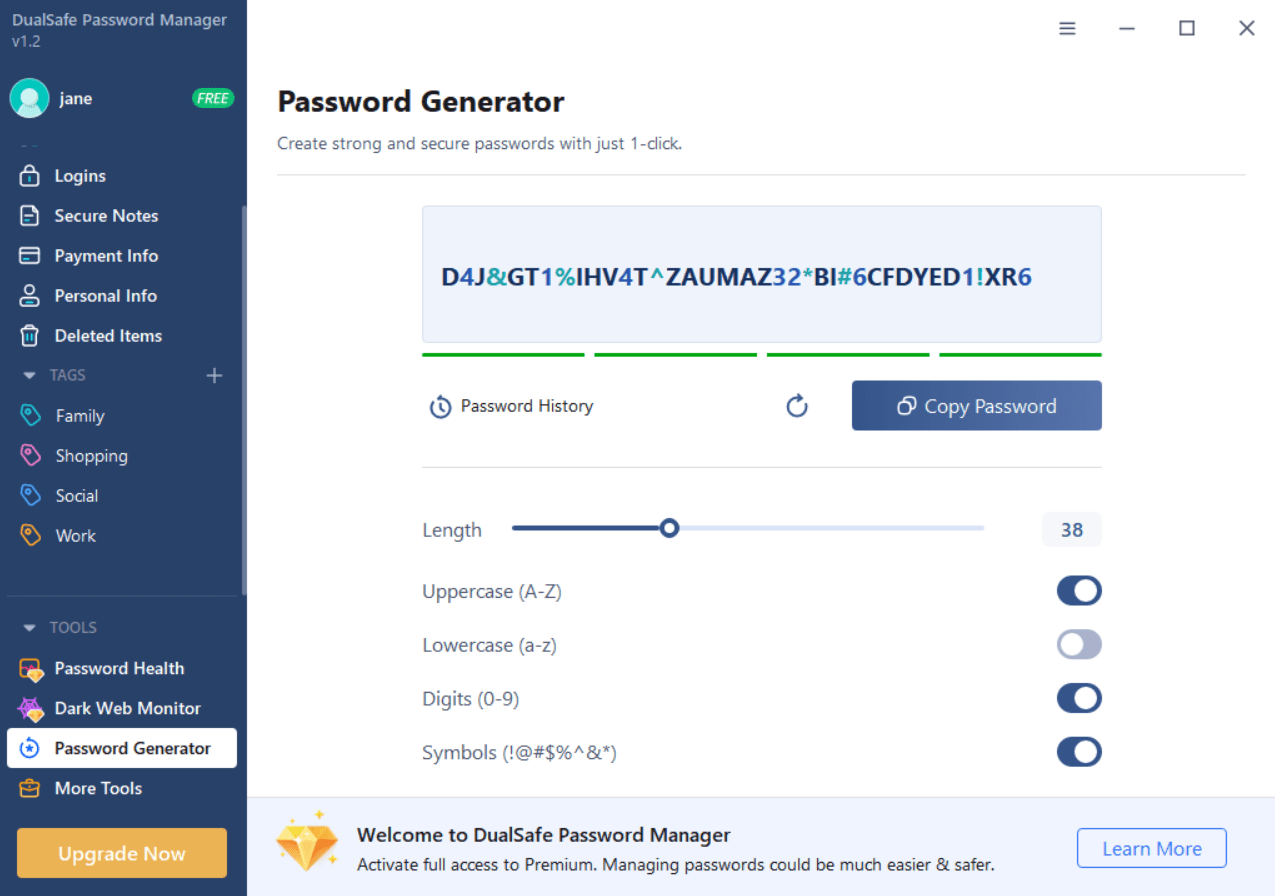 Why do you need a password manager?
The safe password login information you use to access accounts on websites is stored in an encrypted digital vault called a password manager. The best password managers offer a password generator to help you create strong, unique passwords and make sure you aren't using the same password across many accounts, besides, it can protect your identity, credentials, and data from being hacked.
 Having a different password for each location is crucial since you constantly hear about security breaches and identity theft. If one site is hacked, your stolen password won't be able to be used on other websites. In this situation, you build your own security features by using numerous passwords.
All of our top selections for password managers allow you to securely store credentials for a single device and often have free versions or free trials available?
DualSafe Password Manager: The best free password manager 
Due to its unrivaled free version, DualSafe Password Manager is at the top of the list of the best password managers for 2022. No credit card is required, and you can use the free service on an unlimited number of devices while storing and managing an unlimited number of passwords. With competitive security strength, this lightweight encryption program can create, save, and automatically fill your passwords across all of your devices and browsers.
A premium subscription for $24.99 a year comes with cutting-edge security tools. Your information will be scanned in the breached database to see if it was compromised. It also has a Password Health tool to check for compromised websites, reused passwords, and weak passwords. With a quick password scan, you can quickly change the passwords for secure accounts.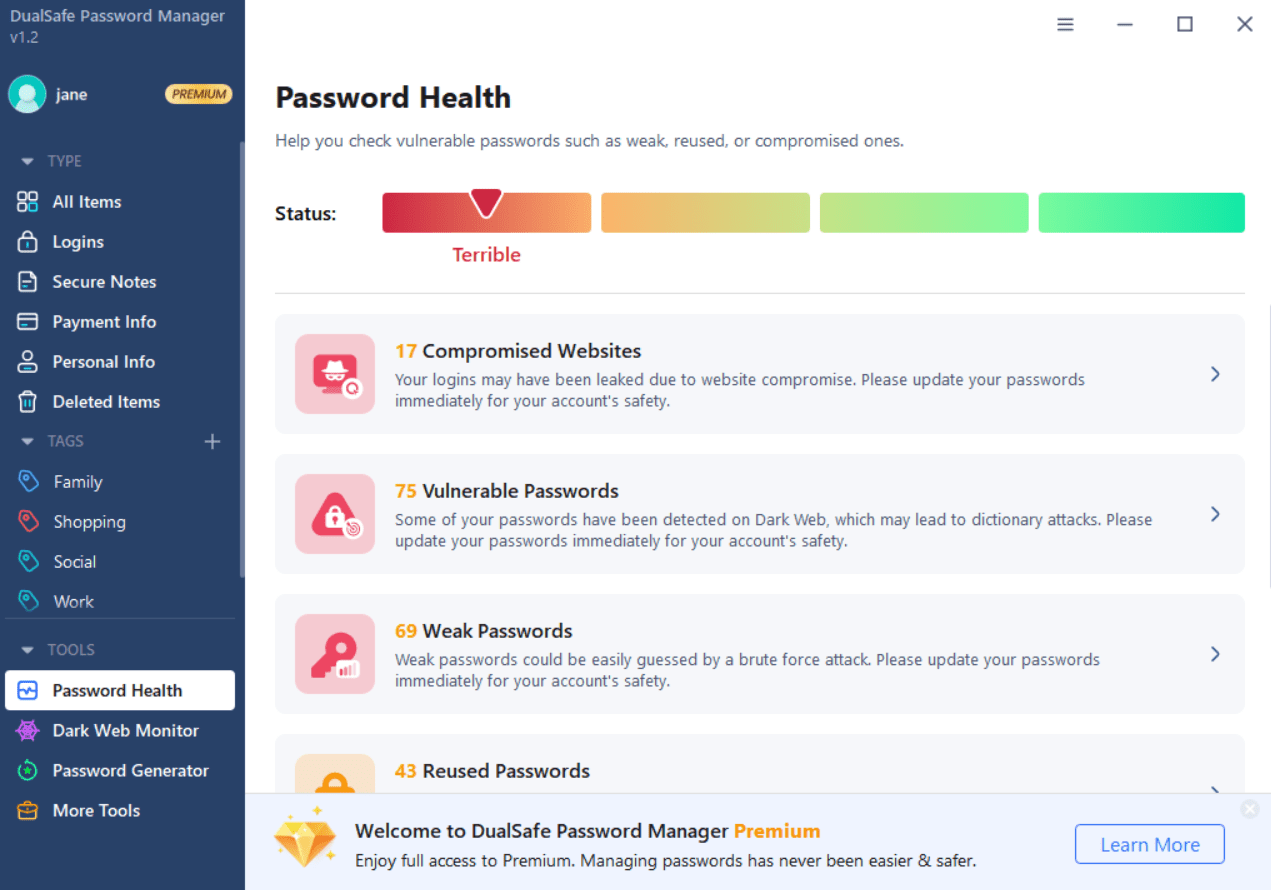 LastPass: The best paid password manager 
LastPass can store passwords, user login information, and credentials, as well as sync everything to wherever you choose across mobile devices and browsers. The features make it stand out as the best password manager in this area.
You can use your LastPass account on any phone and tablet if you select mobile. However, unless you upgrade to Premium, you cannot use the app on your laptop or desktop.
You can share passwords, logins, memberships, and other information with dependable family and friends if you have the Premium version of the password manager. Additionally, it has one gigabyte of encrypted storage and uses multifactor authentication. The Families plan, however, gives you access to six separate accounts. You can monitor the security of your account and share folders.
1Password: The best password manager for various platforms
1Password is the best password manager for the job, which lets you access all of your accounts and services with a single master password. If you're looking for a reliable password manager tool to keep your login information secret and secure, look no further than 1Password. It supports all popular device platforms.
Although there is no free version of this attractively designed password manager, you can try it out for 14 days before committing. For $36 a year, an individual subscription offers 1GB of document storage as well as the choice of two-factor authentication for added protection. When traveling, you can disable the sensitive data on your 1Password device and then quickly enable it again when you get back, protecting it from border checks.
On iOS and Mac operating systems, you can use Face ID and Touch ID to open 1Password, and you can use biometric authentication to access your password vault.
How does a password manager work?
A password manager will initially save the login and password you use to log in to a website or service. The website will then automatically fill in forms with your saved password and login details the following time you visit. A password manager allows you to copy the password and paste it into the password field for those websites and services that do not support an automatic filling.
If you're having trouble choosing a strong password, a manager can create one for you and keep track of the services where you might be using it. If you use many devices, you should look for a manager that works with all of them and all web browsers so you can access your login credentials and passwords from any location using the manager's browser extension or app. Some offer safe storage so you can keep other things as well, including documents.