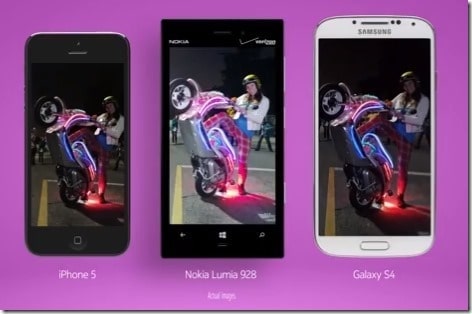 With all the latest and hottest smartphones out there, we have seen many comparison photos from one phone to another. Megapixels don't really matter, I have to say that again here, and you can probably see a huge difference of quality in a smartphone which has a lesser Megapixel count.
Nokia Lumia 920 was already leading with its awesome camera for low light photography but Nokia has recently released a slimmer, lighter, better version of its Lumia series, the Nokia Lumia 928.
The Nokia Lumia 928 has a 4.5 PureMotion AMOLED display with 768×1280 resolution (334 points-per-inch). It has an 8.7 Megapixel back camera with Carl Zeiss lens and Optical Image Stabilization, capable of recording 1080p HD videos and you guess it, even better low-light photos.
Apart from that, it has a long battery life (17 hours talk and 457 hours standby according to the product specification), 1.5GHz dual-core processor, wireless charging, and also powered by the latest Windows Phone 8.
The video below highlights how awesome it is to be able to take great photos, especially in low lit conditions. Compared to the other smartphones with grainy results, Lumia 928 takes clearer shots. It gives endless possibilities such as recording a live concert beautifully, take amazing night party photos without the overblown flash, or even fun moments with old friends inside a dim cafe.
Of course, you don't buy a smartphone just because of its camera. Nokia Lumia 928 is one of the most powerful smartphones out there to play your games, create documents, edit photos and videos, and more. Windows Phone 8 also allows integration with lots of Microsoft services such as the SkyDrive so you can automatically upload your photos and videos.
If you own a Lumia 928, I'd love to hear your experience with the phone below.
Disclosure: This post is sponsored by Microsoft