This is a Sponsored post written by me on behalf of Fellowes, Inc. for SocialSpark. All opinions are 100% mine.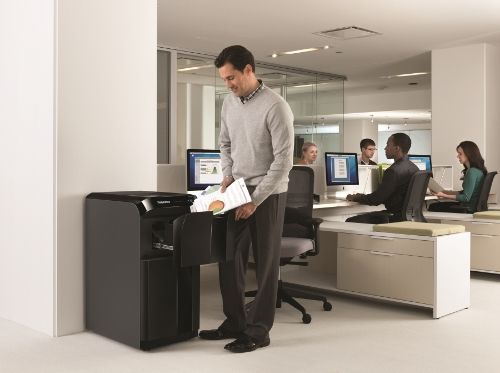 I don't know how many times I tore papers and documents with different angles, trying to break them into unrecoverable pieces. Of course, someone who was trying hard enough could indeed put the pieces back together. I mean, for a start, most likely you'll throw the pieces into the same bin, right?
Now, if you are only writing your shopping lists down on a paper, then there is no need to get worried. However, if they are clients' contracts, details of a customer such as credit card numbers, or a confidential information about your new product, then you are in trouble. Big trouble. That is why you should have a paper shredder handy in your office. And, it should not be just any paper shredder.
Fellowes AutoMax shredders can shred 500 sheets of papers (the AutoMax 500c model) into 5/32" x 1-1/2" cross-cut particles, almost impossible to put back together even if they try. Now, the machine can actually do much more. For a start, it can shred almost anything you can think of: stapled documents, paper-clipped documents, glossy paper, CDs, and more. Chucking in a whole 100-page contract into its drawer never gets easier than this.
You can then leave the shredder to do its job, so you don't have to waste time waiting for it to finish. It has a SmartLock system to lock the drawer while it's doing its job, so no one can stop it and grab your confidential documents or CDs while you are away.
Do you take confidentiality seriously in the office? Do you normally throw your software installation CD away just like that in the bin? Or perhaps you only rip a document with your signature into 2-4 pieces? These days, thieves are getting smarter and smarter. Identity theft, for example, can be used by scammers to trick you into giving your details away over the phone.
In fact, this afternoon, someone called my colleague trying to scam her into giving her bank details over the phone. The caller only called her "mam" instead of her name, which gave him away. Should he be able to grab her details somewhere before he made the call, it could have been a different conversation.
So, shred those papers away for good!