I know a few gadget sites that sell cheap gadgets with free shipping. You can even buy a $1.50 item and have it shipped for free. As crazy as it may sound, so far all sites are genuine and not a scam, including MiniInTheBox.
MiniInTheBox.com launched earlier this year but it's actually a subsidiary of LightInTheBox.com. I have the honor of tasting their product samples earlier and here are my "reports" of the sample items.
Who does not need a USB hub? Most of us do. We have so much USB devices in our room that sometimes we need more USB slots in the computer.
This 10 ports USB 2.0 hub is powered by an adaptor and the spec says "Single port supply 500mA power". It means that each USB port will be powered. Other USB hubs often mislead you by thinking that power is supplied to all ports.
There are plenty of extra ports here without having to squeeze your computer's power supply. Each port also has a nice red LED which lit when a USB device is plugged in. No problem with any of the ports so far and the hub works great with my Microsoft LifeCam Cinema webcam, Cisco WUSB600N wireless adapter, and many more.
As long as the name sounds, this small alarm clock is sexy and packs a punch. It's both an alarm clock and also an FM radio receiver.
You can listen to the radio through this small gadget (powered by 3 AAA batteries) or just use it to display the time and sound the alarm (you only need to insert 1 AAA battery if you don't need the radio).
It looks elegant and unique on the table but I'm not really a fond of the display. It's hard to see what time is it on the display because of its transparency. Unless if you put the clock in front of a bright object, you may not be able to see the time unless if you look really close (see the photo on the bottom left here to see what I mean):
This elegant metal business card case is very cheap. It doesn't hold many cards inside and the surface is a finger print magnet. But $2 to store your business cards?? What a bargain.
I'm definitely going to store my Craving Tech business cards inside this nice and cool case in the future.
Probably the handiest item I've ever seen in my life (a bit exaggerating but you've got the idea) – a battery-less flash light!
When it runs out of power, you just need to press the crank a few times to recharge the dynamo inside the flashlight.
It's small, handy, and cool to play around with. If you like to go camping, outdoor, or live in a country where electricity gets cut off too often (where I came from), this flashlight is a must to have. I left the flashlight on for a couple of days to test but I was surprised that it just kept on going. The product description on the packaging is a bit lame: "…it can benefit your palm, arm, and shoulder stretching and blood circulation, so as to let your hands relax and brain clever, hand and brain coordinate and promote your brain memory and health composition"
So just ignore the package and grab the thing. How much? $3.69 when I wrote this article.
This USB LED light is handy to carry if you are always working on your notebook/laptop. The 3-LED light is pretty bright so you can type comfortably even in a dark room.
The USB cable is around 150 cm long and the light also has a clip, so you can clip it on a laptop or on any other clip-able surface.
For example, it can be clipped on my MacBook:
The light is quite bright as you can see below. In reality, it's not as bright as the photo shows somehow but it's still bright nevertheless. The head can also be swiveled/adjusted easily.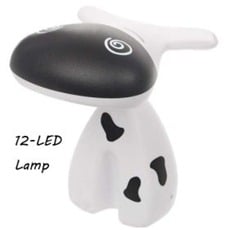 My most favorite item of all the samples (which is why I'm saving it for the last): a 12-LED desktop lamp in a shape of a cute cow!
As soon as I post a photo of this on my Facebook and Instagram, every one (mostly girls) was asking me what it was and where to get it :) So you can say, this thing is a chick's magnet!
This cute cow desktop lamp has 2 modes (6-LED or 12-LED).
It's also powered by a rechargeable battery, meaning you don't have to plug this lamp into the power all the time. I haven't tested how long can the battery last in one go though. The full charging time is about 8 hours (according to the product spec). The power cable is included but the USB cable isn't (there is a mention about connecting it to USB on the packaging).
The lamp is super cute looking and although the material quality feels alright, overall it's a must have if you are looking for a cute lamp on your table. You can also carry this lamp everywhere since it's rechargeable and does not have to be plugged into the power or a USB slot to be turned on.
Unfortunately, this cute cow is so popular that it's now already sold out when this article was written. I'm so glad I ordered it first before it ran out. Hopefully it's already available by the time you read this.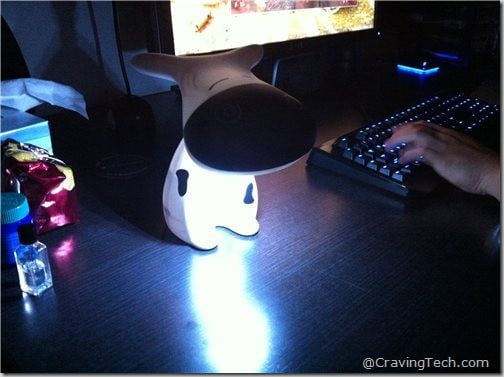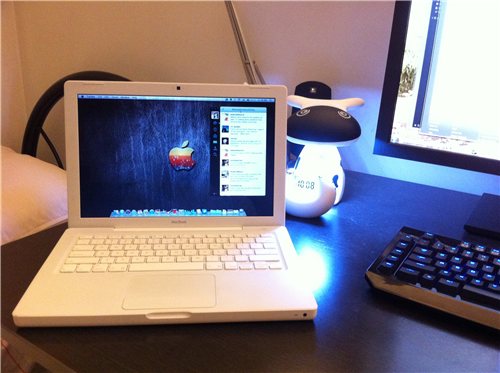 All these goodies were only $50 in total with a worldwide free shipping! I was sponsored by MiniInTheBox to pick any items up to $50 and it took me almost an hour just to browse through all of their products (Yes, all!). I'm definitely very happy with the samples I picked and all items arrived safely.
Delivery took around 2-4 weeks but with free shipping, who cares? :) Happy shopping at MiniInTheBox!