With millions of gamers using Steam (forced or unforced) to purchase, manage, and play their games, it's well fitting for the team to upgrade the old interface to a brand new one. The interface is still in beta but if you are itching to experience it (like I did), feel free to opt in for the new interface. The new interface is Zune-alike and focus in managing your games and also your friends.
Library
This is where all of your games are located now. You can view all installed games, just your favourites, and so on: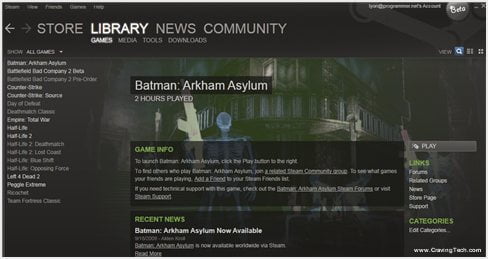 If you select a game, it will tell you the details of the game and also how many hours have you spent playing that game. Thanks to this, I could see clearly how I've wasted 170 hours of my life playing Left 4 Dead 2 :( Thanks, Steam…
Friends
You can now track your friends (or friends of friends) easier on Steam. You can even check what games your friends have so if you have the same game, you can have a gaming session together.
Plenty and plenty more cool updates on the interface, which I like, except for the new gradient Steam icon :( but hey, it's just an icon, I'll live with it.